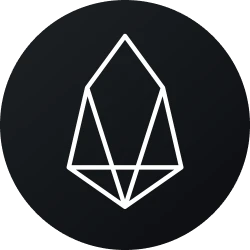 EOS is an industrial-scale blockchain platform emphasizing speed and flexibility. EOS provides the infrastructure for the development of dApps (decentralized applications) with high throughput and zero transaction fees.
About
EOS (EOS)
EOS is more than just a new name in the cryptocurrency world. Since its launch in 2017 by Brendan Blumer and Dan Larimer, EOS has been a major highlight in the crypto industry. Compared to its competitors, EOS doesn't only serve as a digital currency but also as a foundation for developing decentralized applications (dApps).
With the ambition to address key challenges faced by other cryptocurrencies, like transaction fees and confirmation speeds, EOS aims to shape the future of blockchain technology.
How Does EOS Work?
One of EOS's main strengths is its infrastructure, which is backed by the Delegated Proof-of-Stake (DPoS) consensus model. Within the DPoS system, EOS token holders can vote for representatives, known as "witnesses," to confirm transactions. This contrasts with the Proof-of-Work method used by Bitcoin and many other cryptos, which demands significant computational power.
The primary advantage of DPoS is its efficiency. Not only does it allow EOS to process transactions at an impressive speed, but it also enables the elimination of transaction fees, giving EOS a significant market edge. However, the DPoS system has been criticized for potentially concentrating power among a small group of "witnesses." Still, EOS believes that with proper governance, this system can work effectively and fairly.
What Makes EOS Unique?
EOS is recognized for its innovative approach. One example is its zero transaction fee approach, which has attracted many developers to invest in the EOS ecosystem. By removing transaction fees, EOS facilitates the development of decentralized applications without financial barriers.
Furthermore, EOS employs on-chain governance, allowing token holders to directly participate in decision-making about the platform's evolution. This promotes a deep sense of ownership and community involvement. Another advantage is the flexibility EOS offers developers. With advanced features like separating authentication from execution, EOS provides a higher level of security and efficiency for those wanting to develop dApps.
Strengths and Weaknesses of EOS
When analyzing EOS, it's crucial to consider both its benefits and drawbacks. While EOS has the potential to shape the future of blockchain technology, like all innovations, it also faces challenges.
Strengths of EOS:
Fast and Feeless Transactions

: One of EOS's major strengths is its ability to process transactions swiftly without any fees. In the crypto world, where transaction speed and fees often pose challenges, EOS offers an efficient solution.

Scalability

: EOS has an architecture designed to support millions of transactions per second. This means the platform can accommodate a surge in user volume without performance issues.

Developer-friendly Ecosystem

: EOS makes it easy for developers to create and launch decentralized applications (dApps). The tools and resources provided allow for continuous innovation within the ecosystem.

Strong Community Governance

: With on-chain governance, EOS empowers its community to participate in decision-making, fostering a sense of ownership and collective responsibility for the platform's direction and evolution.
Weaknesses of EOS:
Power Concentration

: EOS's DPoS consensus model has been criticized for potentially concentrating power among a few "witnesses." This can compromise decentralization and may increase vulnerability to attacks.

Technical Complexity

: While EOS offers many features and tools for developers, there's a steep learning curve. Developing on EOS may require a deep understanding of the platform's internal mechanisms.

Competition with Other Platforms

: There are numerous other dApp platforms on the market, such as Ethereum and Tron. While EOS has its advantages, fierce competition could impact its long-term adoption and growth.

Governance Criticism

: While on-chain governance empowers the community, there are concerns that it could become a source of conflict and polarization among token holders.
Key Features of EOS Currency
Delving deeper into EOS, we find several features that make it stand out from other cryptocurrencies:
1. Delegated Proof-of-Stake (DPoS) Consensus Model
When discussing EOS, one often-debated feature is its DPoS. While many blockchains rely on a Proof-of-Work system that demands significant computational power, EOS adopts a more energy-efficient and faster approach with DPoS. In this system, token holders elect specific representatives, often called "delegates", to confirm transactions. This way, EOS enhances transaction speed and efficiency while maintaining security.
2. Horizontal and Vertical Scaling Abilities
Scalability often poses challenges for many blockchains. However, EOS elevates it by implementing a two-dimensional approach. Through vertical scalability, EOS expands the capacity of each individual node.
Meanwhile, horizontal scalability allows the addition of more nodes to the network. The result? The capability to accommodate millions of transactions per second, a truly groundbreaking achievement in the blockchain universe.
3. On-Chain Governance
EOS isn't merely a technical platform. It introduces a novel approach to community decision-making with on-chain governance. Unlike many blockchains that separate decision-making processes from the blockchain itself, EOS integrates it directly into the network. This empowers token holders to actively participate in decisions that shape the platform's future.
4. Web Assembly (WASM) Support
Technology constantly evolves, and EOS ensures developers can keep pace by providing support for Web Assembly (WASM). This allows dApps development using various programming languages, offering developers the freedom to select their preferred tools.
5. Freezing and Fixing Faulty Apps
No technology is perfect, and encountering faulty or problematic apps is inevitable in the blockchain world. However, EOS has an innovative solution: the ability to 'freeze' problematic apps, fix them, and then resume their operation without disturbing the entire network. It's not just about efficiency, but also about ensuring the platform's security and stability for all users.
Key Figures Behind EOS
While many figures in the crypto world remain shrouded in mystery, here are three individuals or entities that played pivotal roles in EOS's history and evolution:
Brendan Blumer

: CEO of Block.one, the company behind EOS. Blumer started his tech journey young, focusing on virtual assets. With his solid business and tech background, Brendan significantly influenced EOS's vision and strategy.

Dan Larimer

: A co-founder of EOS and the chief architect behind its technology. Larimer had previously contributed to other blockchain projects like BitShares and Steemit. With his vast experience, Larimer introduced innovative consensus mechanisms and EOS architecture.

Brock Pierce

: Though not an original founder, Brock played an essential role in EOS's early development and funding. A pioneer in the crypto industry, Pierce extensively supported EOS in various capacities.
History and Developments of EOS
EOS, envisioned to reshape the blockchain technology landscape, emerged as an answer to challenges faced by other crypto platforms. Yet, like most innovations, its journey comprises ambition, hurdles, and pivotal moments that molded it into what we recognize today.
Origins: EOS was first announced in 2017 by Brendan Blumer and Dan Larimer through their company, Block.one. The goal? To deliver a blockchain platform capable of scaling decentralized applications with unparalleled speed and efficiency.
Early Development and Initial Coin Offering (ICO): In mid-2017, EOS initiated one of the largest and lengthiest ICOs in crypto history. Spanning a year, this ICO amassed over $4 billion in funding. This not only highlighted the community's trust in EOS's vision but also provided substantial resources for its further development.
Mainnet Launch: June 2018 marked another pivotal moment in EOS's evolution. After months of development and anticipation, the EOS mainnet was launched. However, it wasn't without obstacles. A critical bug was discovered shortly after the launch, necessitating swift intervention by the development team. This served as a reminder that even the most advanced technologies are not immune to errors.
Continuous Development and Innovation: Post mainnet launch, EOS continually attracted developers with its array of tools and resources. Boasting unprecedented transaction speeds and zero fees, numerous dApps started favoring EOS as their platform of choice.
Governance and Consensus Challenges: Over time, EOS faced challenges related to its on-chain governance and DPoS consensus model. Governance decisions and concerns over power concentration became hot topics within the community.
How to Buy
EOS (EOS)
Interested in purchasing this particular crypto asset? You can buy EOS (EOS) by following these steps:
Install Nanovest app on the App Store or Play Store.

Register according to the instructions.

Verify your identity for security and convenience when buying crypto through the

KYC feature

which you can do in just 1 minute.

Top Up your balance to your Nanovest account.

Go to the Crypto menu, search and select

EOS (EOS)

.

Click the Buy button and confirm the purchase with your desired amount. You can start with only IDR 5,000.
Before investing in the crypto asset you want, be sure to conduct research and analysis first. You can do this by checking the crypto asset profile, industry conditions, monitoring price movement trends, and observing its liquidity and trading volume. Performing this analysis is crucial so you can formulate an accurate investment strategy and minimize losses.
Is it Safe to Buy
EOS (EOS)
on Nanovest?
Absolutely. Nanovest is supported by a number of professional partners with a strong reputation for providing quality services. One of these includes the technology backing of the S-Quantum Engine by Sinarmas Financial Services.
For global and US stocks, Nanovest collaborates with brokers registered with the Financial Industry Regulatory Authority (FINRA) in the United States – which ensures Nanovest users' broker accounts up to US$500k by the Securities Investor Protection Corporation (SIPC) in the United States.
As for crypto assets, Nanovest is an Indonesian crypto exchange registered with the Commodity Futures Trading Regulatory Agency (Bappebti). The Nanovest platform itself is also insured through a partnership with Sinarmas Insurance.
Disclaimer
All content on this website is for informational purposes and doesn't constitute a recommendation to buy/sell any stock or crypto. Investors should understand the nature of stocks and digital assets, including return and risk requirements of the assets. We encourage investors to fully understand the assets and risks before making any investment. Always do your own research.
See More Cryptocurrency
---