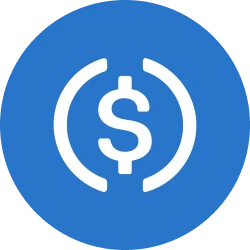 The USD Coin is another type of stablecoin that is pegged to the value of the US dollar. USDC was created by Circle and Coinbase, two well-known fintech companies. Like Tether, USDC is designed to have a stable value and is used as a means to quickly enter or exit crypto positions.
About
USD Coin (USDC)
Cryptocurrency has dramatically changed the face of the financial world. Among thousands of types of cryptocurrencies circulating, there is one that is unique and catches attention, namely USD Coin (USDC). This digital currency was created in response to the volatility that often haunts investors and general crypto users.
USDC is a type of stablecoin, a type of cryptocurrency whose exchange value is always pegged at parity with a fiat currency, in this case, the US dollar. USDC was launched in September 2018 by the Centre Consortium, a collaboration between fintech company Circle and crypto exchange Coinbase.
USDC was created with the purpose of combining the flexibility of cryptocurrencies with the stability of fiat currencies. In other words, USDC is a digital transformation of the US dollar.
Utility of USD Coin
Ease and practicality are two words that describe the utility of USDC. As a stablecoin, USDC can be used for various purposes, ranging from a method of payment, a store of value, to a hedging tool.
Most interestingly, you can transfer USDC to anyone, anywhere, anytime, with relatively low transaction costs and a speed much higher than traditional fiat currency transfers.
In the realm of DeFi (Decentralized Finance), USDC is an important instrument. You can lend and borrow USDC, as well as use it as collateral in transactions. Besides, you can also do yield farming and liquidity mining using USDC.
Operating Mechanism of USD Coin
Each circulating USDC is guaranteed by US dollars held in regulated bank accounts. This means that every time USDC is issued or exchanged, there is a mechanism that ensures the amount of US dollars in the bank account will always match the amount of circulating USDC.
USDC is built on the Ethereum blockchain using the ERC-20 token standard. This allows USDC to take advantage of Ethereum's infrastructure, including wallets and smart contracts. As an ERC-20 token, USDC can be easily integrated into applications and services built on Ethereum.
The working mechanism of USDC, basically, is like this: to issue USDC, you must deposit US dollars with a regulated service provider. Once the US dollars are verified, an equivalent amount of USDC will be created and sent to your Ethereum wallet address. To exchange USDC for US dollars, the process will run in reverse.
Uniqueness of USD Coin
USD Coin (USDC) is a unique cryptocurrency, especially because of its status as a stablecoin. This uniqueness lies in the fact that the value of USDC is always pegged 1:1 with the US dollar, providing a stability of value rarely found in the crypto world.
Even more unique, USDC is monitored by various leading financial institutions and regulated by strict legal regulations. This ensures that every circulating USDC is backed by an equivalent amount of US dollars, providing a guarantee of trust for USDC holders.
Advantages of USD Coin
Value Stability

: In the often unstable crypto world, USDC offers value stability inherent in the US dollar. This means you can hold your asset value in US dollars, without having to sell your crypto assets.

Transparency

: Transactions and balances of USDC are fully transparent and can be tracked on the Ethereum blockchain. In addition, the US dollar reserves supporting USDC are regularly audited by independent auditors.

Speed and Efficiency

: USDC enables fast and efficient transactions, not limited by time or location. This is a great benefit for those who want to send money abroad or transact outside of bank hours.
Disadvantages of USD Coin
Dependence on Ethereum

: Because USDC is an ERC-20 token, its operations heavily depend on the Ethereum network. If there are problems with Ethereum, such as rising gas fees or scalability issues, this can affect USDC.

Regulatory Limitations

: Although regulation ensures the security and stability of USDC, it can also be a hindrance. For example, to issue or exchange USDC, you must go through a quite strict KYC (Know Your Customer) process.

No Large Profit Potential

: Unlike Bitcoin or Ethereum, which have potential for price appreciation, USDC does not offer the same profit potential. Its value is stable and pegged to the US dollar, so there is no opportunity to profit from price fluctuations.
Considering the uniqueness, advantages, and disadvantages of USDC, it can be concluded that this cryptocurrency has great potential in the crypto world and more broadly, in the financial world in general.
Although there are some disadvantages, the advantages of USDC could be a strong reason for you to consider it as part of your crypto portfolio.
Features of USD Coin
Here are 4 features of USD Coin.
1:1 Exchange with the US Dollar

: Every issued and circulating USDC is backed by an equivalent US dollar held in regulated bank accounts. This ensures the stability of USDC's value, with each coin always equivalent to one US dollar.

Integration with the Ethereum Ecosystem

: USDC is an ERC-20 token that runs on the Ethereum network, which means that USDC can be used with all wallets, exchanges, and other services that support ERC-20 tokens.

Transparency and Security

: All USDC transactions are recorded on the Ethereum blockchain and can be verified by the public. Furthermore, every US dollar backing USDC is stored in a law-regulated bank and regularly evaluated by independent auditors.

Use in DeFi

: USDC is an important instrument in the DeFi ecosystem. This currency can be used for borrowing and lending, yield farming, and as collateral in transactions.
Key Figures in USD Coin
Here are 3 key figures behind USD Coin.
Jeremy Allaire

: As the founder and CEO of Circle, the fintech company that, along with Coinbase, formed the Centre Consortium, Allaire played a key role in the creation of USDC. Allaire envisions realizing open and decentralized financial transactions by utilizing blockchain technology.

Sean Neville

: Sean is another founder of Circle who contributed to the development of USDC. He and Allaire guided Circle through various stages of product evolution and introduced several innovations, including the USDC stablecoin.

Brian Armstrong

: Brian is the CEO and one of the founders of Coinbase, one of the largest crypto exchanges in the world and a partner in the Centre Consortium. Brian and his team at Coinbase played a significant role in implementing and popularizing USDC in the crypto ecosystem.
This trio led the initiative to create a trustworthy and transparent stablecoin that could leverage the potential of blockchain for global transactions. Through USDC, they have succeeded in realizing this vision and made a significant contribution to the development of the crypto world.
History and Development of USD Coin
USD Coin (USDC) was born from the vision to create a stable digital currency that could be used in daily transactions. Circle founders, Jeremy Allaire and Sean Neville, saw the potential of blockchain technology in creating a more open, transparent, and efficient global financial system. However, they recognized that the price volatility of Bitcoin and other cryptocurrencies was a major obstacle.
Starting from this thought, in September 2018, the Centre Consortium, formed by Circle and Coinbase, two leading fintech companies, launched USDC. This currency was designed as a stablecoin, a cryptocurrency whose exchange value is always equivalent to a certain fiat currency, in this case, the US dollar.
Since its launch, USDC has seen significant adoption. The use of USDC grew rapidly, especially in the DeFi (Decentralized Finance) sector, where it is used for transactions, lending, and yield farming. The reliability and transparency of USDC make it one of the top choices for DeFi users.
Another significant development occurred in 2020 when USDC was introduced to various other blockchains outside of Ethereum, including Algorand, Stellar, and Solana. This move aimed to increase the efficiency and scalability of USDC.
In 2021, Visa announced it would accept direct payments in USDC, a significant recognition from traditional financial institutions towards cryptocurrency.
Looking at the history and development of USDC, it is undeniable that this cryptocurrency has made a significant contribution to realizing the vision of a cryptocurrency that can be used in daily transactions. Through USDC, the world sees the potential of blockchain in creating a more open and efficient global financial system.
How to Buy
USD Coin (USDC)
Interested in purchasing this particular crypto asset? You can buy USD Coin (USDC) by following these steps:
Install Nanovest app on the App Store or Play Store.

Register according to the instructions.

Verify your identity for security and convenience when buying crypto through the

KYC feature

which you can do in just 1 minute.

Top Up your balance to your Nanovest account.

Go to the Crypto menu, search and select

USD Coin (USDC)

.

Click the Buy button and confirm the purchase with your desired amount. You can start with only IDR 5,000.
Before investing in the crypto asset you want, be sure to conduct research and analysis first. You can do this by checking the crypto asset profile, industry conditions, monitoring price movement trends, and observing its liquidity and trading volume. Performing this analysis is crucial so you can formulate an accurate investment strategy and minimize losses.
Is it Safe to Buy
USD Coin (USDC)
on Nanovest?
Absolutely. Nanovest is supported by a number of professional partners with a strong reputation for providing quality services. One of these includes the technology backing of the S-Quantum Engine by Sinarmas Financial Services.
For global and US stocks, Nanovest collaborates with brokers registered with the Financial Industry Regulatory Authority (FINRA) in the United States – which ensures Nanovest users' broker accounts up to US$500k by the Securities Investor Protection Corporation (SIPC) in the United States.
As for crypto assets, Nanovest is an Indonesian crypto exchange registered with the Commodity Futures Trading Regulatory Agency (Bappebti). The Nanovest platform itself is also insured through a partnership with Sinarmas Insurance.
Disclaimer
All content on this website is for informational purposes and doesn't constitute a recommendation to buy/sell any stock or crypto. Investors should understand the nature of stocks and digital assets, including return and risk requirements of the assets. We encourage investors to fully understand the assets and risks before making any investment. Always do your own research.
See More Cryptocurrency
---