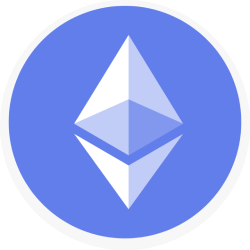 Ethereum is a decentralized open-source blockchain system that features its own cryptocurrency, Ether. ETH works as a platform for numerous other cryptocurrencies, as well as for the execution of decentralized smart contracts.
About Ethereum (ETH)
Ethereum (ETH) has risen to be one of the most popular and innovative crypto assets since its launch in 2015. Contrary to other crypto assets, Ethereum offers more than just a digital transaction tool. This platform serves as the foundation for numerous decentralized applications and second-generation blockchain technology.
Ethereum was founded by Vitalik Buterin, a young Canadian programmer inspired by the potential of blockchain technology initially introduced by Bitcoin. However, Buterin saw limitations in Bitcoin's ability to develop decentralized applications and foster further innovation. Consequently, he created Ethereum, designed to be a more flexible and customizable blockchain platform.
Ethereum was launched in 2015 via an initial coin offering (ICO) that successfully raised approximately $18 million. Since then, the platform has grown rapidly, attracting many developers and companies interested in leveraging Ethereum's blockchain technology to create new applications and services.
Ethereum Blockchain Technology
As a second-generation blockchain platform, Ethereum introduced the concept of Smart Contracts and DApps (decentralized applications), allowing users and developers to create and manage digital assets in a more automated and decentralized manner.
Smart Contracts are computer protocols that automatically execute, control, or document events or actions relevant to a contractual agreement. Smart Contracts enable users to embed business rules and logic in the contract's code, which the Ethereum network then automatically enforces, eliminating the need for intermediaries.
DApps are applications running on a blockchain network like Ethereum, enabling users to interact directly with smart contracts and data stored on the blockchain. Popular examples of DApps include CryptoKitties, a digital game allowing users to collect, breed, and sell unique virtual cats, and decentralized token trading platforms like Uniswap and SushiSwap.
Ethereum 2.0: Ethereum's Major Upgrade
To address scalability and energy efficiency issues, Ethereum is undergoing a significant upgrade process known as Ethereum 2.0 or Eth2. Ethereum 2.0 will introduce several technical changes aimed at enhancing performance, security, and network resilience, allowing the platform to support larger transaction volumes and more applications.
A significant change in Ethereum 2.0 is the transition from the current Proof of Work (PoW) consensus mechanism to a more environmentally friendly and efficient Proof of Stake (PoS) via the Beacon Chain.
PoS will allow validators, rather than miners, to secure the network by staking their Ether tokens as collateral. Successful validators proposing valid blocks will receive rewards in Ether.
Furthermore, Ethereum 2.0 will implement Shard Chains, partitioning the Ethereum network into multiple "shards" capable of processing transactions and smart contracts in parallel.
This change will significantly enhance network transaction capacity and speed, enabling Ethereum to compete with large-scale platforms like Visa and Mastercard.
Ethereum Use Cases and Real-Life Applications
Ethereum has successfully attracted interest from various industries, ranging from finance to art and entertainment. Here are some real-life Ethereum applications:
DeFi (Decentralized Finance):

Ethereum has become the backbone of the rapidly growing decentralized finance industry, with platforms like MakerDAO, Compound, and Aave allowing users to borrow, lend, and swap crypto assets without involving traditional financial institutions.

NFT (Non-fungible Tokens):

Ethereum has also become a popular platform for creating and trading NFTs, unique digital assets that cannot be exchanged for other assets of equal value. NFTs have been used in various contexts, such as digital art, games, and virtual collections.

Voting Systems:

Ethereum can be used to create transparent and tamper-resistant voting systems, as demonstrated by projects like Aragon and DAOstack. Using smart contracts, votes can be recorded and counted automatically, eliminating the risk of fraud or human error.

Digital Identity:

Ethereum can also be used to create a reliable and decentralized digital identity, as proposed by projects like uPort and Civic. Using the Ethereum blockchain, users can control and manage their personal data, eliminating the need to rely on third parties vulnerable to hacking or data misuse.
Ethereum is supported by a large and active developer community that regularly collaborates to improve the platform and create new applications.
The Ethereum Foundation, a nonprofit organization established by the Ethereum core team, plays a crucial role in supporting and coordinating ecosystem development.
They provide funding, resources, and technical support for developers, as well as organizing various Ethereum-related conferences and events, such as ETHGlobal and Devcon, allowing community members to meet, share ideas, and learn from each other.
The Ether (ETH) token is the underlying crypto asset of the Ethereum platform and serves as fuel for operating smart contracts and DApps. Users must pay transaction fees in Ether to use the network, while developers must pay fees in Ether to issue new smart contracts or modify existing ones.
Ether can be obtained through mining (until the transition to PoS), purchased on crypto exchanges, or acquired through exchange with other crypto assets. The token can be stored in various crypto wallets, both software and hardware.
Ether's price has fluctuated significantly since its launch, with periods of high volatility triggered by market events or changes in investor sentiment.
Factors influencing Ether's value include the adoption and use of the Ethereum platform, technological developments, and regulatory changes affecting the overall crypto market.
Regulation and Security in Ethereum
Like other crypto assets, Ethereum has been the subject of regulatory attention worldwide, with some countries taking a more proactive approach in regulating the use and exchange of crypto assets.
Furthermore, the security of the Ethereum network is a primary concern, with issues like 51% attacks and smart contract bugs potentially threatening the platform's integrity and trust.
To address these security issues, the Ethereum Foundation and developer community have been working diligently to improve the source code and develop best security practices for users and developers.
Additionally, several initiatives, such as Ethereum Improvement Proposals (EIPs) and the Ethereum Security Community, have been established to ensure the platform remains safe and reliable.
Ethereum is an incredibly innovative blockchain platform that has revolutionized our interaction with technology and digital assets.
With technologies such as smart contracts and DApps, Ethereum has enabled the development of decentralized applications and services in various sectors, from finance to art and entertainment.
The ongoing Ethereum 2.0 upgrade demonstrates the platform's commitment to improving scalability, energy efficiency, and security, ensuring a bright future for the Ethereum community and its worldwide use.
Although Ethereum faces challenges in terms of regulation and security, a strong developer community and the support of the Ethereum Foundation ensure that the platform continues to evolve and innovate.
By understanding Ethereum's profile, its underlying technology, and its applications and uses, we can better appreciate this platform's value and potential in transforming our interaction with the digital world.
Update
How to Buy Ethereum (ETH)
Interested in purchasing this particular crypto asset? You can buy Ethereum (ETH) by following these steps:
Install Nanovest app on the App Store or Play Store.

Register according to the instructions.

Verify your identity for security and convenience when buying crypto through the

KYC feature

which you can do in just 1 minute.

Top Up your balance to your Nanovest account.

Go to the Crypto menu, search and select Ethereum (ETH).

Click the Buy button and confirm the purchase with your desired amount. You can start with only IDR 5,000.
Before investing in the crypto asset you want, be sure to conduct research and analysis first. You can do this by checking the crypto asset profile, industry conditions, monitoring price movement trends, and observing its liquidity and trading volume. Performing this analysis is crucial so you can formulate an accurate investment strategy and minimize losses.
Is it Safe to Buy Ethereum (ETH) on Nanovest?
Absolutely. Nanovest is supported by a number of professional partners with a strong reputation for providing quality services. One of these includes the technology backing of the S-Quantum Engine by Sinarmas Financial Services.
For global and US stocks, Nanovest collaborates with brokers registered with the Financial Industry Regulatory Authority (FINRA) in the United States – which ensures Nanovest users' broker accounts up to US$500k by the Securities Investor Protection Corporation (SIPC) in the United States.
As for crypto assets, Nanovest is an Indonesian crypto exchange registered with the Commodity Futures Trading Regulatory Agency (Bappebti). The Nanovest platform itself is also insured through a partnership with Sinarmas Insurance.
Disclaimer
All content on this website is for informational purposes and doesn't constitute a recommendation to buy/sell any stock or crypto. Investors should understand the nature of stocks and digital assets, including return and risk requirements of the assets. We encourage investors to fully understand the assets and risks before making any investment. Always do your own research.
---