Check out our crypto features in this video below!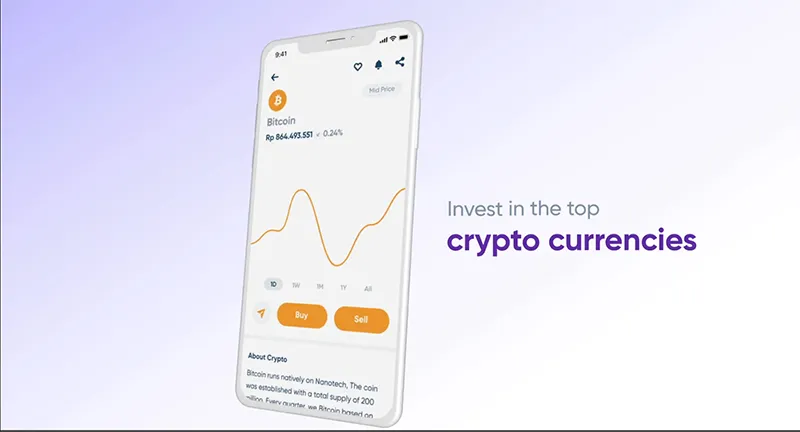 What you should know about investing global stocks in Nanovest
Frequently Asked Questions
Ya. Nanovest (PT. Tumbuh Bersama Nano) telah terdaftar sebagai Calon Pedagang Aset Kripto pada Badan Pengawas Perdagangan Berjangka Komoditi ("Bappebti") berdasarkan Sertifikat Pendaftaran
Sebagai Calon Pedagang Fisik Aset Kripto Nomor 007/BAPPEBTI/CP-AK/3/2022 tanggal 22 Maret 2022M
Ada beberapa keuntungan berinvestasi aset kripto di Nanovest. Kamu bisa jual beli 120+ aset kripto terhits, seperti BTC, ETH, BNB DOGE, SHIB, dll. Minimum transaksi hanya Rp 5.000, dan semuanya bebas biaya transaksi.
Nanovest memberikan kamu banyak pilihan. Ada lebih dari 120 aset kripto yang kamu bisa perjualbelikan di Nanovest, mulai dari BTC, ETH, BNB, DOGE, ADA, TKO, SHIB, dan masih banyak lagi. Lihat aplikasi Nanovest untuk daftar lengkap aset kripto yang tersedia.
Saat ini, semua transaksi aset kripto di Nanovest tidak dikenakan biaya transaksi apapun.
Kamu bisa mulai investasi aset kripto di Nanovest setelah kamu menyelesaikan proses KYC dan KYC-mu diterima. Untuk melakukan KYC, kamu hanya perlu upload KTP dan lakukan semua proses secara online dalam 1 menit saja!
Kamu bisa mulai transfer uang setelah kamu menyelesaikan proses KYC. Untuk melakukan proses KYC, kamu cuma perlu siapkan KYC, dan semua proses bisa dilakukan online, hanya 1 menit saja!
Easy Trading and Investing in Crypto with Nanovest. 100% Safe and Comfortable
Getting to Know Cryptocurrency
Cryptocurrency, also known as digital money, is created using a special technology called cryptography. This technology allows crypto to operate independently, separate from central banks or governments.
In essence, cryptocurrency is digital codes used as money in online transactions. These codes are created through a process known as 'mining', which involves the use of high-powered computers to solve complex mathematical formulas that generate new codes.
In the digital environment, Bitcoin is the most popular cryptocurrency and often serves as a model for other cryptos. However, there are thousands of other types of cryptos, known as altcoins, which include Ethereum, Ripple, Litecoin, and others.