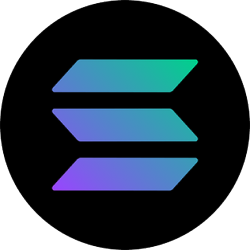 Solana (SOL) is an open-source cryptocurrency asset that has attracted the attention of many investors and crypto enthusiasts worldwide. The Solana protocol was designed to facilitate the creation of decentralized applications.
About Solana (SOL)
Solana is an open-source blockchain platform established in 2017 by Anatoly Yakovenko. This platform aims to enable fast transactions and high scalability at a very low cost.
Solana uses SOL crypto as its primary digital asset to run transactions and smart contracts within its network.
Solana was founded by Anatoly Yakovenko, who has a background in technology and telecommunications. Before founding Solana, Anatoly worked at Qualcomm, Dropbox, and Mesosphere.
His experience helped him develop Proof of History (PoH) technology, one of Solana's unique features.
Proof of History is an innovation in blockchain consensus, allowing Solana to achieve very high transaction speeds, reaching 65,000 transactions per second (TPS).
With such speed, Solana can offer solutions to scalability issues faced by other blockchain platforms such as Ethereum and Bitcoin.
Solana's vision is to be the fastest and most efficient blockchain platform, focusing on scalability, speed, and security.
Solana's mission is to enable the use of blockchain in various applications and industries, ranging from financial systems to information technology.
Solana wants to be a platform that developers and users can rely on to build secure and efficient decentralized applications (dApps) with very low costs and fast transactions.
Key People Behind Solana
Besides Anatoly Yakovenko, there are several key figures behind Solana. Here are some of them:
Greg Fitzgerald

– Co-founder and CTO of Solana. Previously, he worked at Qualcomm as a Senior Staff Engineer Manager.

Raj Gokal

– Co-founder and COO of Solana. Previously, he served as a product director at Omada Health and also worked at Google and Boston Consulting Group.

Eric Williams

– Co-founder and Chief Scientist of Solana. Before that, he worked as a Data Scientist at Omada Health and holds a PhD in Physics.
Notable Solana Price Fluctuations
Throughout its history, Solana has experienced quite notable price fluctuations. Here are some important moments in Solana's price fluctuations:
August 2020 – Solana launched its initial coin offering (ICO) with a price of around $0.22 per SOL. SOL's price then experienced a significant increase in the following months.

May 2021 – Solana reached its all-time high (at the time) at $58.30. This rise was driven by increased adoption and development of dApps on the Solana platform.

September 2021 – SOL's price hit a new record, with a value reaching $214.96. During this period, Solana became one of the best-performing crypto assets in the market, along with the growth of the DeFi and NFT ecosystems on its platform.
As a note, crypto prices are very volatile and susceptible to market changes. Therefore, investing in crypto should be done carefully and with thoughtful consideration.
Solana's Technology and Infrastructure
Solana has several technological features that distinguish it from other blockchain platforms. Here are some of Solana's main features:
Proof of History (PoH)

– This technology allows Solana to record the time and order of transactions more efficiently and accurately. PoH helps reduce latency and speed up transaction processes in the network.

Tower BFT

– The consensus algorithm used by Solana, combining Proof of History with Proof of Stake (PoS) to achieve consensus among validators.

Turbine

– A data delivery protocol that divides and disseminates transaction data across the network efficiently, thus allowing high scalability.

Sealevel

– A parallel execution engine for smart contracts that allows Solana to process transactions faster and more efficiently.
In addition, Solana also has a rich ecosystem with various applications and services. Some applications built on top of Solana include Serum (a decentralized trading platform), Radium (a liquidity and exchange protocol), Mango Markets (a margin trading platform), and many others.
Update
How to Buy Solana (SOL)
Interested in purchasing this particular crypto asset? You can buy Solana (SOL) by following these steps:
Install Nanovest app on the App Store or Play Store.

Register according to the instructions.

Verify your identity for security and convenience when buying crypto through the

KYC feature

which you can do in just 1 minute.

Top Up your balance to your Nanovest account.

Go to the Crypto menu, search and select Solana (SOL).

Click the Buy button and confirm the purchase with your desired amount. You can start with only IDR 5,000.
Before investing in the crypto asset you want, be sure to conduct research and analysis first. You can do this by checking the crypto asset profile, industry conditions, monitoring price movement trends, and observing its liquidity and trading volume. Performing this analysis is crucial so you can formulate an accurate investment strategy and minimize losses.
Is it Safe to Buy Solana (SOL) on Nanovest?
Absolutely. Nanovest is supported by a number of professional partners with a strong reputation for providing quality services. One of these includes the technology backing of the S-Quantum Engine by Sinarmas Financial Services.
For global and US stocks, Nanovest collaborates with brokers registered with the Financial Industry Regulatory Authority (FINRA) in the United States – which ensures Nanovest users' broker accounts up to US$500k by the Securities Investor Protection Corporation (SIPC) in the United States.
As for crypto assets, Nanovest is an Indonesian crypto exchange registered with the Commodity Futures Trading Regulatory Agency (Bappebti). The Nanovest platform itself is also insured through a partnership with Sinarmas Insurance.
Disclaimer
All content on this website is for informational purposes and doesn't constitute a recommendation to buy/sell any stock or crypto. Investors should understand the nature of stocks and digital assets, including return and risk requirements of the assets. We encourage investors to fully understand the assets and risks before making any investment. Always do your own research.
---