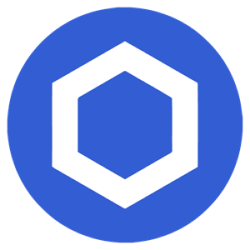 Chainlink (LINK) is a decentralized oracle protocol, established in 2017 by Sergey Nazarov and Steve Ellis, to address a key limitation of smart contracts on the blockchain.
About Chainlink (LINK)
Chainlink (LINK) is a decentralized oracle protocol, established in 2017 by Sergey Nazarov and Steve Ellis. Chainlink aims to address a key limitation of smart contracts on the blockchain – their inability to access real-world data.
Employing secure and reliable oracle technology, Chainlink allows smart contracts to interact with external data and APIs, bridging the gap between blockchain and the real world. 
One of the main factors hampering the adoption of blockchain across various industries is the inability of smart contracts to access real-world data. Chainlink addresses this issue by connecting smart contracts with the external data and resources they need.
With Chainlink, smart contracts can execute commands based on data from trusted sources, such as cryptocurrency prices, weather, or financial market data. This paves the way for the development of broader and more innovative blockchain applications.
Smart Contracts and Oracles: How Chainlink Connects the Blockchain World with Real-World Data
Smart contracts are programmable codes that automatically execute an agreement or specific action when predetermined conditions are met.
However, smart contracts can't access real-world data, which is a major limitation of their usage. Here's where Chainlink steps in as an oracle.
Oracles are software or hardware that connect blockchain with the real world, gathering data from external sources and delivering it to smart contracts.
Chainlink serves as a decentralized oracle, which means the data it provides comes from multiple independent sources that cross-verify each other, thus reducing the risk of data manipulation or attacks.
Chainlink can be utilized across various industries, such as:
Finance: Chainlink enables smart contracts to access prices of cryptocurrencies, stocks, and commodities from trusted sources, useful for automated trading or decentralized financial (DeFi) products. Applications include loans, insurance, and derivatives backed by accurate and secure price data.

Logistics: Chainlink can be used to track goods in the supply chain by linking smart contracts to tracking systems and sensor data. This enhances transparency and efficiency in supply chain management.

Insurance: Chainlink enables the development of decentralized insurance products based on real-world data, such as weather or natural events. This allows for quicker and automatic claim settlements.
Chainlink Staking: How to Earn Passive Income by Holding and Supporting the LINK Network
Chainlink staking is a process where LINK token holders provide network support by running a Chainlink node.
These nodes act as oracles providing data to smart contracts. In return, LINK token holders running nodes receive compensation in the form of LINK tokens.
Integration of Chainlink with Other Blockchain Platforms and Protocols
Chainlink is not limited to a single blockchain platform. Instead, this protocol is designed to work with various platforms, such as Ethereum, Polkadot, Cosmos, among others.
This integration allows developers across different platforms to leverage the power of Chainlink and decentralized oracles in their applications.
Security and transparency are vital aspects of the Chainlink network. Decentralized oracles ensure the data provided to smart contracts comes from many independently verified sources.
Furthermore, Chainlink's incentive system is designed to encourage honest and reliable oracle nodes
Chainlink's competitors in the decentralized oracle space include Band Protocol, Tellor, and API3. Although they all provide similar services, Chainlink stands out in terms of adoption, integration with other blockchain platforms, and number of industry partners.
Future Projections of Chainlink
Chainlink continues to evolve and expand its functionalities to meet diverse industry needs. Future innovations are expected to improve speed, scalability, and security of the protocol.
Additionally, Chainlink plans to continue integrating with other blockchain platforms and collaborate with industry partners to develop innovative oracle-based applications.
Chainlink's growth potential lies in its wider adoption across various sectors and deeper integration with the overall blockchain and crypto ecosystem.
With the growth of the DeFi industry and the increased use of smart contracts in real-world applications, demand for decentralized oracles like Chainlink is projected to rise.
Chainlink (LINK) is a critical decentralized oracle protocol that plays a crucial role in connecting the blockchain world with real-world data.
By enabling smart contracts to access reliable external data, Chainlink opens the door to more innovative and extensive blockchain applications.
Update
How to Buy Chainlink (LINK)
Interested in purchasing this particular crypto asset? You can buy Chainlink (LINK) by following these steps:
Install Nanovest app on the App Store or Play Store.

Register according to the instructions.

Verify your identity for security and convenience when buying crypto through the

KYC feature

which you can do in just 1 minute.

Top Up your balance to your Nanovest account.

Go to the Crypto menu, search and select Chainlink (LINK).

Click the Buy button and confirm the purchase with your desired amount. You can start with only IDR 5,000.
Before investing in the crypto asset you want, be sure to conduct research and analysis first. You can do this by checking the crypto asset profile, industry conditions, monitoring price movement trends, and observing its liquidity and trading volume. Performing this analysis is crucial so you can formulate an accurate investment strategy and minimize losses.
Is it Safe to Buy Chainlink (LINK) on Nanovest?
Absolutely. Nanovest is supported by a number of professional partners with a strong reputation for providing quality services. One of these includes the technology backing of the S-Quantum Engine by Sinarmas Financial Services.
For global and US stocks, Nanovest collaborates with brokers registered with the Financial Industry Regulatory Authority (FINRA) in the United States – which ensures Nanovest users' broker accounts up to US$500k by the Securities Investor Protection Corporation (SIPC) in the United States.
As for crypto assets, Nanovest is an Indonesian crypto exchange registered with the Commodity Futures Trading Regulatory Agency (Bappebti). The Nanovest platform itself is also insured through a partnership with Sinarmas Insurance.
Disclaimer
All content on this website is for informational purposes and doesn't constitute a recommendation to buy/sell any stock or crypto. Investors should understand the nature of stocks and digital assets, including return and risk requirements of the assets. We encourage investors to fully understand the assets and risks before making any investment. Always do your own research.
---