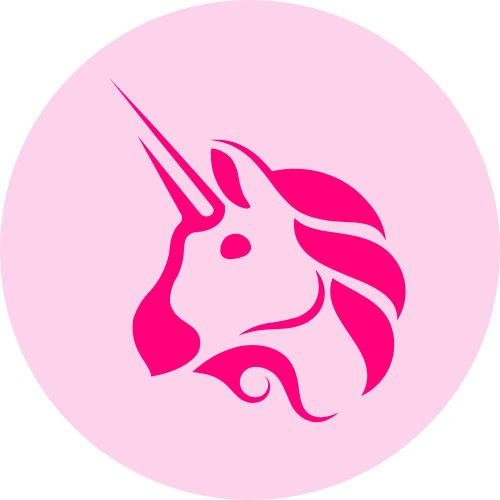 Uniswap is a decentralized crypto exchange platform built on Ethereum, one of the most popular blockchains today.
About Uniswap (UNI)
Uniswap is a platform that has redefined how we view and interact with the crypto currency ecosystem. As the native token of the decentralized exchange (DEX) bearing the same name, UNI has shown that disruption is indeed possible in this ever-changing space.
Created by software developer Hayden Adams in November 2018, Uniswap is an automated exchange platform that uses smart contracts to create markets for cryptocurrency pairs.
Adams received support and guidance from Ethereum's creator, Vitalik Buterin, in the process of its creation.
The UNI token, the subject of this article, was introduced in September 2020 as the platform's governance token.
This token allows its holders to participate in decision-making regarding Uniswap's future.
Uniswap's Vision and Mission
Uniswap's vision is quite simple: They want to create a truly decentralized and democratic crypto exchange platform.
Its mission is to expand accessibility and transparency in the crypto exchange space by utilizing blockchain technology and smart contracts.
Key Figures in Uniswap
Hayden Adams, the founder and lead developer of Uniswap, is a key figure behind this platform. He is a software developer who worked on this project on the advice of Vitalik Buterin, the founder of Ethereum.
The users and UNI token holders also play a crucial role, as they contribute to the platform's success and development through the existing governance mechanisms.
Uniswap Price Fluctuations
As a crypto asset, UNI has experienced significant price fluctuations since its launch. One of the most noticeable price fluctuation events occurred in May 2021, when its price surged almost 50% in less than a week, demonstrating significant investment potential for token holders.
Factors affecting price fluctuations include growth of platform users, changes in the DeFi industry, and overall market sentiment.
Uniswap's Technology and Infrastructure
Uniswap is built on Ethereum and uses smart contracts to handle cryptocurrency exchanges. This means that no third party is required for the exchanges.
This mechanism is the basis of what is called the "Automated Market Maker" (AMM) model, which sets it apart from traditional exchanges that rely on buyers and sellers to create liquidity.
The AMM model allows anyone to become a liquidity provider, depositing their funds into liquidity pools which can then be used by others for exchanges. In return, liquidity providers earn a portion of the transaction fees paid by users.
Uniswap also offers the ability to "yield farm," where users can earn rewards in the form of UNI tokens by providing liquidity to the platform.
Uniswap is a revolutionary platform that has changed the way people interact with cryptocurrencies. With a strong vision and advanced technology, they have successfully created a truly decentralized and democratic ecosystem.
Despite fluctuations, the UNI token has proven itself as an attractive investment asset, with the potential to provide significant returns for its holders.
Uniswap's Growth and Influence in the Crypto Industry
Since its launch in 2018, Uniswap has experienced significant growth and has had a major impact on the crypto industry.
The platform has set the standard for DEX and has driven the overall growth of the DeFi industry.
In 2020, Uniswap's daily trading volume even surpassed that of Coinbase, one of the world's largest crypto exchanges, highlighting the popularity and rapid growth of Uniswap in the crypto industry.
The Future of Uniswap
With rapid growth and significant influence in the crypto industry, Uniswap's future appears bright. One of the challenges Uniswap faces in the future is how they can sustain their growth amidst increasing competition in the DeFi space.
However, with their commitment to innovation and decentralization, Uniswap has great potential to continue leading in this industry.
Update:
How to Buy Uniswap (UNI)
Interested in purchasing this particular crypto asset? You can buy Uniswap (UNI) by following these steps:
Install Nanovest app on the App Store or Play Store.

Register according to the instructions.

Verify your identity for security and convenience when buying crypto through the

KYC feature

which you can do in just 1 minute.

Top Up your balance to your Nanovest account.

Go to the Crypto menu, search and select Uniswap (UNI).

Click the Buy button and confirm the purchase with your desired amount. You can start with only IDR 5,000.
Before investing in the crypto asset you want, be sure to conduct research and analysis first. You can do this by checking the crypto asset profile, industry conditions, monitoring price movement trends, and observing its liquidity and trading volume. Performing this analysis is crucial so you can formulate an accurate investment strategy and minimize losses.
Is it Safe to Buy Uniswap (UNI) on Nanovest?
Absolutely. Nanovest is supported by a number of professional partners with a strong reputation for providing quality services. One of these includes the technology backing of the S-Quantum Engine by Sinarmas Financial Services.
For global and US stocks, Nanovest collaborates with brokers registered with the Financial Industry Regulatory Authority (FINRA) in the United States – which ensures Nanovest users' broker accounts up to US$500k by the Securities Investor Protection Corporation (SIPC) in the United States.
As for crypto assets, Nanovest is an Indonesian crypto exchange registered with the Commodity Futures Trading Regulatory Agency (Bappebti). The Nanovest platform itself is also insured through a partnership with Sinarmas Insurance.
Disclaimer
All content on this website is for informational purposes and doesn't constitute a recommendation to buy/sell any stock or crypto. Investors should understand the nature of stocks and digital assets, including return and risk requirements of the assets. We encourage investors to fully understand the assets and risks before making any investment. Always do your own research.
---