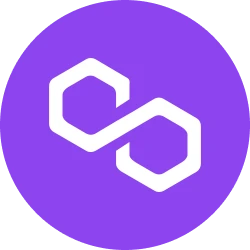 Polygon (formerly known as Matic Network) is a layer-2 solution aiming to enhance speed and reduce transaction costs on Ethereum. By utilizing sidechain technology, Polygon can boost Ethereum's transaction capacity and speed, allowing decentralized applications (dApps) to operate more efficiently.
About
Polygon (MATIC)
Widely recognized as Ethereum's second-layer solution, Polygon (once known as Matic Network) is a scalable platform that aims to provide a swifter and more cost-effective infrastructure for the development and deployment of decentralized applications.
Founded by Jaynti Kanani, Sandeep Nailwal, and Anurag Arjun, this visionary trio identified Ethereum's limitations in transaction speed and cost. Polygon was introduced as a solution to these challenges.
How Polygon (MATIC) Works?
Technically, Polygon introduces several distinctive solutions. First, there are sidechains, which run parallel to the Ethereum network, enabling cheaper transactions. They use Proof-of-Stake (PoS) as the consensus mechanism for transaction validation.
Then there are 'Plasma Chains'. Plasma is a framework that allows the creation of "child chains" linked to the main network. This enables thousands of transactions per second, a feat previously unthinkable on the conventional Ethereum network.
Both solutions above interact with Ethereum through 'pegging'. This means assets can be easily transferred between Polygon and Ethereum, merging the security of both networks.
What Makes Polygon (MATIC) Unique?
But what sets Polygon apart? It's not just its speed or low transaction fees but its flexibility. Beyond PoS and Plasma, Polygon supports multiple other consensus mechanisms, granting developers the liberty to choose the best fit for their needs.
Combining finely-tuned scaling solutions and high interoperability, Polygon enables integration with different blockchain networks. Its ability to "communicate" with other networks makes it a bridge between diverse decentralized worlds.
Advantages of Polygon (MATIC)
Low Transaction Fees

: One of Polygon's primary benefits is its significantly lower transaction fees compared to Ethereum. This lets users handle small transactions without fretting over high costs.

High Transaction Speed

: Thanks to sidechains and Plasma, Polygon can process thousands of transactions per second, a milestone hard to achieve by other blockchain networks.

Flexibility with Multiple Solutions

: Polygon doesn't just offer one but various scaling solutions. From PoS to Plasma, developers have the freedom to choose what's best for their needs.

High Security

: Although Polygon operates as a scaling network, it still harnesses Ethereum's security, making it as safe as the primary network.

Interoperability

: With the capability to connect with multiple other blockchains, Polygon facilitates communication and asset exchanges among diverse blockchain ecosystems.
Drawbacks of Polygon (MATIC)
Adoption Rate

: Despite offering numerous solutions, some developers might not have transitioned to Polygon or may still be hesitant. More established networks like Ethereum possess a larger and more mature ecosystem.

Technical Complexity

: While its flexibility is an advantage, for some developers, understanding and selecting the right scaling solution can be a challenge.

Divided Security

: Even though Polygon borrows security from Ethereum, having multiple scaling solutions means distributing security across various networks. This can be an issue if one solution becomes an attack target.

Dependence on Ethereum

: Although Polygon has improved many aspects of Ethereum, it still relies on it for security and validation. If significant issues arise in Ethereum, they can impact Polygon.
Main Features of Polygon (MATIC)
In the tech world, a platform is defined by its features. Undoubtedly, Polygon stands out due to the innovative features it offers to the blockchain community. Let's delve deeper into its uniqueness:
1. Hybrid Network with Multi-Chain Architecture
More than just a single blockchain network, Polygon prides itself on combining features of both single and multi-chain networks. This enables users to benefit from speedy transactions, development flexibility, and unparalleled security. Imagine a bridge connecting technology islands; Polygon is that bridge.
2. Maximal Modularity
In this digital age, adaptability is key. With a modular approach, Polygon ensures developers can "assemble" features as needed, as if they have a tech toolkit at their fingertips, paving the way for endless innovation.
3. High-Level Interoperability
The blockchain world shouldn't be isolated. With Polygon, cross-network asset exchanges become a reality, facilitating smooth communication and asset transfers between Polygon and other blockchain networks. This opens doors to collaborations and integrations previously deemed impossible.
4. State-of-the-Art Security System
Relying on Ethereum as its primary security pillar, Polygon offers double security. This guarantees that every transaction and data passing through its network is safe from potential attacks. Moreover, their adaptive security model allows the network to select a security model based on needs.
5. Developer-friendly Experience
In this competitive digital era, speed is paramount. Polygon provides intuitive development tools, enabling apps to be built and launched swiftly. With its developer-friendly environment, they promise a quick transformation from ideas to products.
6. Efficient Transaction Confirmation System
Through Proof-of-Stake (PoS) and Plasma, Polygon ensures quick and cost-effective transaction confirmations. This allows a large number of transactions to be processed in seconds, making it an ideal choice for large-scale applications.
Three Key Figures Behind Polygon (MATIC)
1. Jaynti Kanani
As one of the main founders and the CEO of Polygon, Jaynti has made significant contributions to the platform's technical direction and vision. Before founding Polygon, he was already recognized in the Ethereum community as a contributor to the first implementation of the Plasma protocol. His deep understanding of blockchain programming and technical expertise makes him a valuable asset to the Polygon team.
2. Sandeep Nailwal
Acting as COO and also a founder, Sandeep plays a crucial role in Polygon's business strategy and growth. Before diving into crypto, Sandeep had founded several tech startups, understanding the challenges and opportunities in building a global-scale business. His vision and dedication to building an inclusive blockchain ecosystem inspire many followers and developers in the community.
3. Anurag Arjun
As CPO and a founder, Anurag oversees product operations and the ecosystem. With a strong background in technology and product, he ensures that every solution released by Polygon meets the highest standards and caters to the needs of developers and users alike. Anurag continuously leads innovation in how Polygon develops new features and tools for its community.
History and Development of Polygon (MATIC)
Looking back, in the candlelight glow of the early crypto era, a captivating narrative about Polygon begins to unravel. This history isn't just about technology, but about vision, ambition, and the bravery to enhance what already exists.
Starting its journey as Matic Network in 2017, the founding team—Jaynti Kanani, Sandeep Nailwal, and Anurag Arjun—recognized significant limitations in the Ethereum network, especially concerning speed and transaction costs.
While Ethereum was a pivotal milestone in blockchain evolution, there was a need for a more scalable and efficient solution. Matic Network arose from the desire to provide Ethereum with a second-layer solution, offering transaction speed improvements without compromising security.
Along its journey, there were several pivotal moments for Matic:
Launch of Mainnet

: In 2020, Matic Network launched its mainnet, marking a significant transition from concept to functional reality.

Developer Adoption

: Soon after the mainnet launch, various decentralized applications (dApps) began migrating to Matic, drawn by its lower transaction costs and increased transaction speeds.

Rebranding to Polygon

: Along their journey, the team realized their mission was bigger than just being a second-layer solution for Ethereum. They aspired to become the "Internet of Blockchains" for Ethereum, connecting various distinct blockchain networks. In 2021, Matic Network officially evolved into Polygon.

Integration with Major Projects

: After the rebranding, Polygon managed to forge partnerships with significant projects in the crypto ecosystem, like Chainlink, Aave, and Decentraland, cementing its position as a network that can't be overlooked.
Perhaps, when viewed historically, Polygon epitomizes how a strong vision, coupled with dedication and innovation, can reshape the technological landscape. They didn't just accept the status quo but chose to question, challenge, and ultimately enhance it.
Throughout its history, Polygon has demonstrated that evolution in the blockchain realm isn't just about revolutions but about continuous iteration, profound understanding, and a willingness to adapt.
How to Buy
Polygon (MATIC)
Interested in purchasing this particular crypto asset? You can buy Polygon (MATIC) by following these steps:
Install Nanovest app on the App Store or Play Store.

Register according to the instructions.

Verify your identity for security and convenience when buying crypto through the

KYC feature

which you can do in just 1 minute.

Top Up your balance to your Nanovest account.

Go to the Crypto menu, search and select

Polygon (MATIC)

.

Click the Buy button and confirm the purchase with your desired amount. You can start with only IDR 5,000.
Before investing in the crypto asset you want, be sure to conduct research and analysis first. You can do this by checking the crypto asset profile, industry conditions, monitoring price movement trends, and observing its liquidity and trading volume. Performing this analysis is crucial so you can formulate an accurate investment strategy and minimize losses.
Is it Safe to Buy
Polygon (MATIC)
on Nanovest?
Absolutely. Nanovest is supported by a number of professional partners with a strong reputation for providing quality services. One of these includes the technology backing of the S-Quantum Engine by Sinarmas Financial Services.
For global and US stocks, Nanovest collaborates with brokers registered with the Financial Industry Regulatory Authority (FINRA) in the United States – which ensures Nanovest users' broker accounts up to US$500k by the Securities Investor Protection Corporation (SIPC) in the United States.
As for crypto assets, Nanovest is an Indonesian crypto exchange registered with the Commodity Futures Trading Regulatory Agency (Bappebti). The Nanovest platform itself is also insured through a partnership with Sinarmas Insurance.
Disclaimer
All content on this website is for informational purposes and doesn't constitute a recommendation to buy/sell any stock or crypto. Investors should understand the nature of stocks and digital assets, including return and risk requirements of the assets. We encourage investors to fully understand the assets and risks before making any investment. Always do your own research.
See More Cryptocurrency
---