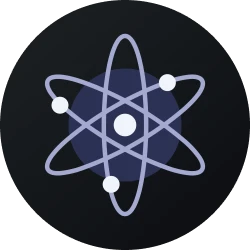 Cosmos is a blockchain network aiming to create an "internet of blockchains", enabling various blockchains to interact and communicate with one another. ATOM is the native token of Cosmos and is utilized for staking, consensus, and other network operations.
About
Cosmos (ATOM)
In a world continuously expanding with diverse blockchain technologies, Cosmos (ATOM) emerges as a rising star. Much like a prodigious child of its time, Cosmos presents a solution to many challenges current blockchains face.
Introduced with the 'internet of blockchains' concept, Cosmos isn't merely a digital assets but an ecosystem allowing various blockchains to harmoniously interact with each other.
Why has Cosmos garnered so much attention? When discussing blockchains, we often touch upon their isolation—each blockchain operates within its own realm, and communication between them can be challenging. However, Cosmos, with its grand vision, seeks to bridge these isolated blockchain islands, promoting greater integration and harmony.
Delving deeper into Cosmos's DNA, we find a coin known as ATOM. This is the fuel that powers the Cosmos machine, ensuring every transaction and operation runs smoothly. ATOM has become one of the reasons many investors are eyeing Cosmos as a promising future asset.
How Cosmos (ATOM) Works?
Technically, Cosmos operates using a technology known as Tendermint BFT. This consensus algorithm ensures that all transactions within the network are swiftly and securely validated. What stands out, however, is its ability to connect different blockchains using something termed 'Zones'.
When thinking about Cosmos, envision a large city. In the city's center is the main hub, or 'Hub', surrounded by various districts or 'Zones'. Each Zone represents an individual blockchain operating under its own rules. But thanks to the Cosmos Hub, each Zone can communicate and transact with other Zones through this Hub.
Another technical advantage of Cosmos is its use of IBC (Inter-Blockchain Communication). This protocol allows for secure asset transfers between different blockchains, marking it as one of the most pivotal innovations in the Cosmos ecosystem.
Cosmos (ATOM) Uniqueness
In the vast oasis of cryptocurrency, Cosmos stands out with its distinctive features. One of these is scalability. While many blockchains grapple with scalability issues, Cosmos cleverly addresses this by introducing modularity.
Moreover, Cosmos offers developers freedom. In this realm, developers can create their own blockchains with their rules while still remaining connected to the larger Cosmos network. This fosters a rich and diverse ecosystem, brimming with continuous innovation.
At its core, Cosmos embodies many blockchain enthusiasts' dream: a world where different blockchains can coexist harmoniously, communicating and collaborating to create solutions greater than their individual parts.
Cosmos (ATOM) Advantages
1. High-Level Interoperability
One of Cosmos's most prominent strengths is its ability to integrate various blockchains. Through IBC (Inter-Blockchain Communication), Cosmos enables diverse networks to communicate and interact directly, fostering an ecosystem where value easily transfers between blockchains, enhancing liquidity and flexibility.
2. Scalability
Cosmos tackles one of blockchain's largest challenges: scalability. With its modular approach, each blockchain (Zone) connected to Cosmos can operate independently, not affecting the performance of other blockchains. This enables faster and more efficient transactions.
3. Stronger Decentralization
By introducing the concept of Zones and Hubs, Cosmos advocates for more robust decentralization. This means that if one Zone encounters issues, it won't impact the entire network, making the ecosystem more resilient to attacks and failures.
Cosmos (ATOM) Limitations
1. Technical Complexity
Although Cosmos provides innovative solutions, its technical complexity might deter less experienced users and developers. Understanding how Zones, Hubs, and IBC work demands a deep grasp of blockchain technology.
2. Security Risks
Every new technology inevitably comes with its risks. With many Zones connected to Cosmos, there's a chance that a vulnerable Zone could serve as an entry point for attacks within the ecosystem. While Cosmos has implemented preventive measures, this risk remains a concern.
3. Adoption Time
Even though Cosmos offers numerous solutions, its broad acceptance by the community will take time. People need to recognize its pros and cons, then decide if they wish to be part of the Cosmos ecosystem or not.
In every innovation, there are both positives and negatives. Cosmos, with its grand vision, has redefined how we perceive blockchain and cryptocurrency. Though challenges lie ahead, its potential to transform the fintech world is undeniable.
Intriguing Features of Cosmos (ATOM)
1. Tendermint Core
At the heart of Cosmos is the Tendermint Core, a consensus engine that enables the network to operate in a PoS (Proof of Stake) mode. This feature allows transactions on Cosmos to be faster and more efficient than many other blockchains.
2. Cosmos SDK
The SDK, or Software Development Kit, is a tool provided by Cosmos for developers. Through the Cosmos SDK, developers can easily build custom applications and blockchains without starting from scratch, accelerating innovation within the ecosystem.
3. IBC (Inter-Blockchain Communication)
One of the standout features of Cosmos, the IBC allows for the secure and smooth transfer of data and assets between blockchains. It establishes a level of interconnectivity previously unseen in the blockchain world.
4. Gravity Bridge
The Gravity Bridge is a solution that connects Cosmos with Ethereum, facilitating communication and asset transfers between these two ecosystems. It's a significant step toward realizing Cosmos's vision as the 'internet of blockchains'.
Key Figures Behind Cosmos (ATOM)
1. Jae Kwon
As one of the founders of Cosmos, Jae Kwon played a pivotal role in the formation and development of the core technology utilized by Cosmos, namely Tendermint. His clear vision about the future of blockchain and his dedication have made him an influential figure in the crypto community.
2. Ethan Buchman
Alongside Jae Kwon, Ethan Buchman played a crucial role in the initial development and concept of Cosmos. He possesses a strong background in technology and philosophy, two elements integrated into the core principles of Cosmos. Ethan continues to contribute to the development and research advancing the Cosmos ecosystem.
3. Zaki Manian
With his expertise in security and infrastructure, Zaki Manian brings profound knowledge of the technical challenges and needed solutions in the blockchain world. His role in the core Cosmos team isn't limited to technical development, but also bridges the gap between the technical and non-technical communities, ensuring Cosmos grows in the right direction.
Origin and Development of Cosmos (ATOM)
The history of every cryptocurrency is a varied adventure, but the journey of Cosmos (ATOM) is an epic tale taking us across peaks of ideology and technology. To understand it, we must step back and observe its era.
Aiming to create a more decentralized world, Jae Kwon initiated deep research, leading to the inception of Tendermint in 2014. Tendermint was the answer to the scalability and security challenges faced by many blockchains. As a consensus based on Byzantine Fault Tolerance (BFT), Tendermint laid the groundwork for what would later be known as Cosmos.
With the assistance of Ethan Buchman, Jae Kwon articulated their vision in a document named the "Cosmos Whitepaper". This wasn't just a technical document but also a philosophical one, showcasing how different blockchains could coexist in one ecosystem.
This year marked a critical moment for Cosmos. Through an Initial Coin Offering (ICO), Cosmos successfully raised about $17 million in less than 30 minutes! This success birthed the ATOM currency, symbolizing both Cosmos and its aspirations.
After months of testing and development, Cosmos eventually launched its Mainnet, known as the Cosmos Hub. This was a historical milestone, indicating that the vision of an 'internet of blockchains' was no longer just a dream but a reality.
As a major player in the blockchain world, Cosmos continues to innovate. With features like the Gravity Bridge, they're expanding their network to other ecosystems like Ethereum. However, like all young technologies, Cosmos faces challenges, ranging from technical issues to competition with other blockchain networks.
How to Buy
Cosmos (ATOM)
Interested in purchasing this particular crypto asset? You can buy Cosmos (ATOM) by following these steps:
Install Nanovest app on the App Store or Play Store.

Register according to the instructions.

Verify your identity for security and convenience when buying crypto through the

KYC feature

which you can do in just 1 minute.

Top Up your balance to your Nanovest account.

Go to the Crypto menu, search and select

Cosmos (ATOM)

.

Click the Buy button and confirm the purchase with your desired amount. You can start with only IDR 5,000.
Before investing in the crypto asset you want, be sure to conduct research and analysis first. You can do this by checking the crypto asset profile, industry conditions, monitoring price movement trends, and observing its liquidity and trading volume. Performing this analysis is crucial so you can formulate an accurate investment strategy and minimize losses.
Is it Safe to Buy
Cosmos (ATOM)
on Nanovest?
Absolutely. Nanovest is supported by a number of professional partners with a strong reputation for providing quality services. One of these includes the technology backing of the S-Quantum Engine by Sinarmas Financial Services.
For global and US stocks, Nanovest collaborates with brokers registered with the Financial Industry Regulatory Authority (FINRA) in the United States – which ensures Nanovest users' broker accounts up to US$500k by the Securities Investor Protection Corporation (SIPC) in the United States.
As for crypto assets, Nanovest is an Indonesian crypto exchange registered with the Commodity Futures Trading Regulatory Agency (Bappebti). The Nanovest platform itself is also insured through a partnership with Sinarmas Insurance.
Disclaimer
All content on this website is for informational purposes and doesn't constitute a recommendation to buy/sell any stock or crypto. Investors should understand the nature of stocks and digital assets, including return and risk requirements of the assets. We encourage investors to fully understand the assets and risks before making any investment. Always do your own research.
See More Cryptocurrency
---