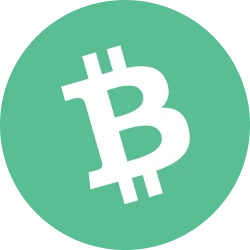 Bitcoin Cash emerged from a Bitcoin hard fork in 2017. This fork was a response to scalability debates within the Bitcoin community. Bitcoin Cash increased its block size, allowing more transactions per block compared to Bitcoin.
About
Bitcoin Cash (BCH)
In 2017, the cryptocurrency world witnessed an ideological split among Bitcoin supporters. Some argued for the expansion of block size as a solution to scalability issues, while others opposed the idea. The result? The birth of Bitcoin Cash (BCH) on August 1, 2017.
Bitcoin Cash was introduced as an alternative solution, offering a larger block size than traditional Bitcoin. As such, BCH could process transactions faster and at a lower cost. BCH's focus remains true to Satoshi Nakamoto's original vision of a "peer-to-peer electronic cash system".
How Bitcoin Cash (BCH) Works?
To understand Bitcoin Cash, one needs to first comprehend how blockchain technology functions. Every transaction gets recorded in blocks of data. Over time, as the number of transactions grows, more space is required within these blocks.
One primary difference between Bitcoin and Bitcoin Cash is their block size. BCH increased its block size from 1MB to 8MB, later augmenting it to 32MB. The aim was to speed up transaction rates and reduce costs.
With a larger block size, Bitcoin Cash can accommodate more transactions per block than Bitcoin. This results in lower transaction fees and faster confirmation times.
Unique Features of Bitcoin Cash (BCH)
Bitcoin Cash isn't only unique in its block size. BCH emphasizes retaining the original essence of Bitcoin as electronic cash. Focusing on swift transactions and low fees, BCH strives to make cryptocurrency more accessible to the general public.
Moreover, BCH continually enhances its security and stability through technological updates. This mirrors a commitment to ensure BCH is not only fast and affordable but also secure and reliable.
Advantages of Bitcoin Cash (BCH)
Increased Transaction Speed:

In today's digital age, speed is everything. A primary allure of Bitcoin Cash is its lightning-fast transaction processing capabilities. With its enlarged block size, BCH provides a high-capacity path for transactions, allowing them to move more swiftly and smoothly. For those familiar with delays in the crypto world, BCH is a breath of fresh air.

Low Transaction Fees

: Who doesn't love savings? One of BCH's competitive advantages is its low transaction fees. Combining a larger block size with technological efficiency, BCH ensures you don't spend much on processing transactions. Over the long run, this can result in significant savings, especially for frequent traders.

Consistency with Bitcoin's Original Vision

: Back to basics. Although many cryptocurrencies have sprung up since Bitcoin's inception, BCH prides itself on staying true to Satoshi Nakamoto's initial vision. Maintaining the peer-to-peer essence and focusing on practical usability makes it an appealing choice for those seeking an authentic alternative.

Active Community and Strong Support

: No technology can thrive without its community's backing. The BCH community comprises dedicated developers, investors, and users. This activity and collaborative spirit ensure the currency continues to evolve and stands the test of time.
Disadvantages of Bitcoin Cash (BCH)
Public Perception

: Despite its many advantages, BCH sometimes struggles against public perception. Some view it as a mere shadow or "copy" of the original Bitcoin. However, as with many innovations, such misconceptions can be addressed with education and awareness.

Future Scalability Issues

: Every scalability solution comes with its challenges. While BCH has expanded its block size, questions about how it will handle transaction growth in the future remain relevant. With the exponential growth in crypto adoption, BCH must be prepared for the next evolution.

Price Volatility

: A reality in the crypto world is

price volatility

. Bitcoin Cash, like other coins, isn't exempt from dramatic price fluctuations. This demands a deep understanding and proper strategy for investors and users to capitalize on or shield themselves from price movements.

Limited Technological Upgrades

: Though BCH has seen significant innovation, some argue that the currency may not be as aggressive as some other coins in adopting new technologies. However, with a strong community and a dedication to improvement, only time will tell how BCH adapts.
Key Features of Bitcoin Cash (BCH)
Bitcoin Cash, being a major player in the crypto world, has a set of features distinguishing it from others:
Enhanced Block Size:

As previously mentioned, Bitcoin Cash debuted with an 8MB block size, far surpassing Bitcoin's 1MB. With later expansions to 32MB, this allows for faster and more efficient transactions.

Protection Against Replay Attacks

: One potential issue with forking from the original currency is the possibility of replay attacks. Bitcoin Cash introduced protections against such attacks, ensuring user security.

Dynamic Difficulty Adjustment

: To ensure block creation remains consistent, BCH introduced a dynamic difficulty adjustment algorithm. This adjusts the difficulty based on the total hashpower supporting the network.

Tokenization

: Bitcoin Cash also supports the creation of tokens on its network, similar to Ethereum. This allows for the formation of other digital assets and

smart contracts

on the BCH network.
Key Figures Behind Bitcoin Cash (BCH)
When discussing Bitcoin Cash, it's essential to mention several individuals who played pivotal roles in the development and promotion of this currency.
1. Roger Ver
Often referred to as "Bitcoin Jesus", Roger Ver is one of the most vocal supporters of Bitcoin. However, his disagreements with certain aspects of Bitcoin's development led him to champion Bitcoin Cash.
Ver believes in BCH's vision as a peer-to-peer electronic cash system aligned with Satoshi's original vision. He contributed his resources and platform to raise awareness about BCH.
2. Jihan Wu
As one of the co-founders of Bitmain, the world's largest crypto mining equipment manufacturer, Jihan Wu holds significant sway in the crypto community. Wu is a principal supporter of Bitcoin Cash, contributing to its development and promotion.
3. Amaury Séchet
Often considered the "father" of Bitcoin Cash, Amaury Séchet is the lead developer behind the fork. He played a crucial role in increasing the block size and introducing other technical changes that distinguished BCH from the original Bitcoin.
The Origins and Evolution of Bitcoin Cash (BCH)
Bitcoin Cash emerged from an urgent necessity. In 2017, the crypto world was abuzz with what's known as the "Bitcoin scalability issue". As the network continued to grow and attract more users, Bitcoin began to feel the strain.
Slower transaction times and rising fees became significant concerns for many users. This conflict split the community, with two solutions proposed: Segregated Witness (SegWit) and a block size increase.
As this debate heated up, one solution became apparent – a fork. On August 1, 2017, Bitcoin Cash branched off, adopting a larger block size approach to improve speed and efficiency.
Just a few months after its debut, the world saw Bitcoin Cash surge in popularity. In November 2017, BCH reached its all-time high back then, asserting itself as a major player in the crypto arena. While many other cryptocurrencies struggled to gain traction, BCH stood out as a viable alternative to Bitcoin.
Innovation and Adaptation: The 32MB Block Size
It wasn't enough just to separate from Bitcoin; Bitcoin Cash had bigger ambitions. In May 2018, in a move considered radical by many observers, BCH increased its block size to 32MB. This not only amplified its transactional capacity but also reaffirmed BCH's commitment to serving as an electronic version of cash.
However, like many success stories, Bitcoin Cash had its share of controversies. November 2018 marked one of the most polarizing moments in crypto history when BCH experienced another fork, resulting in Bitcoin Cash ABC and Bitcoin Cash SV. This conflict was not just about the technicals but also about vision and direction. It highlighted philosophical and technical differences within a previously unified community.
Over time, BCH wasn't content to just rest on its laurels. Constantly updated with new features, this currency is on a mission to fulfill its promise as electronic cash for the world. With additions like tokenization capabilities, Bitcoin Cash shows that it's dedicated to innovation and leadership.
How to Buy
Bitcoin Cash (BCH)
Interested in purchasing this particular crypto asset? You can buy Bitcoin Cash (BCH) by following these steps:
Install Nanovest app on the App Store or Play Store.

Register according to the instructions.

Verify your identity for security and convenience when buying crypto through the

KYC feature

which you can do in just 1 minute.

Top Up your balance to your Nanovest account.

Go to the Crypto menu, search and select

Bitcoin Cash (BCH)

.

Click the Buy button and confirm the purchase with your desired amount. You can start with only IDR 5,000.
Before investing in the crypto asset you want, be sure to conduct research and analysis first. You can do this by checking the crypto asset profile, industry conditions, monitoring price movement trends, and observing its liquidity and trading volume. Performing this analysis is crucial so you can formulate an accurate investment strategy and minimize losses.
Is it Safe to Buy
Bitcoin Cash (BCH)
on Nanovest?
Absolutely. Nanovest is supported by a number of professional partners with a strong reputation for providing quality services. One of these includes the technology backing of the S-Quantum Engine by Sinarmas Financial Services.
For global and US stocks, Nanovest collaborates with brokers registered with the Financial Industry Regulatory Authority (FINRA) in the United States – which ensures Nanovest users' broker accounts up to US$500k by the Securities Investor Protection Corporation (SIPC) in the United States.
As for crypto assets, Nanovest is an Indonesian crypto exchange registered with the Commodity Futures Trading Regulatory Agency (Bappebti). The Nanovest platform itself is also insured through a partnership with Sinarmas Insurance.
Disclaimer
All content on this website is for informational purposes and doesn't constitute a recommendation to buy/sell any stock or crypto. Investors should understand the nature of stocks and digital assets, including return and risk requirements of the assets. We encourage investors to fully understand the assets and risks before making any investment. Always do your own research.
See More Cryptocurrency
---