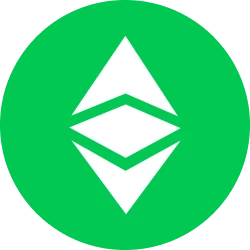 Ethereum Classic is the result of a hard fork from Ethereum in 2016, occurring in response to the DAO (Decentralized Autonomous Organization) hack.
About
Ethereum Classic (ETC)
For many, Ethereum Classic might sound like an old song sung with a new arrangement. In reality, Ethereum Classic is the original version of Ethereum that many of us are familiar with today. It emerged due to a split, commonly referred to as a "fork", in 2016, stemming from disagreements on how to address the DAO attack.
It's fascinating how technology, with all its revolutionary promises, can also be a battlefield for idealism and pragmatism. From this battleground, Ethereum Classic was born, holding onto the philosophy that "code is law."
Briefly, the DAO, or decentralized autonomous organization, was a smart contract on the Ethereum network that managed to raise significant funds. Regrettably, due to a flaw in the code, someone exploited the DAO and siphoned off a large amount of Ether.
The Ethereum community was then divided; one group wished to reverse the illicit transactions by intervening in the code, while the other group, which later became Ethereum Classic, believed such an intervention went against the true spirit of the blockchain.
How Does Ethereum Classic (ETC) Work?
Ethereum Classic, like its counterpart Ethereum, operates on a blockchain. But you might wonder, what exactly is a blockchain? Think of it as a digital ledger recording every transaction.
Each page of this ledger is a block, and each block is linked to the one before it, forming a chain – hence the name "blockchain". Ethereum Classic ensures transparency and data integrity through this process.
At its core, Ethereum Classic features the "Ethereum Virtual Machine" (EVM) that facilitates the execution of smart contracts. It's a computing environment allowing instructions to be executed uniformly across computers globally.
The consensus mechanism used by ETC is Proof-of-Work (PoW), the same as the original Ethereum before switching to Proof-of-Stake. PoW ensures that all transactions and smart contracts are executed honestly and correctly.
What Makes Ethereum Classic (ETC) Unique?
What sets Ethereum Classic apart from Ethereum and other cryptocurrencies is its decision to staunchly adhere to the original principles of the blockchain. Although many view their stance as stubborn, their belief in code as law reflects Ethereum Classic's commitment to the core idea of decentralization.
Furthermore, Ethereum Classic has made numerous efforts to ensure its platform remains relevant and competitive. This includes introducing improvements and security enhancements to ward off potential future attacks.
However, perhaps most notably is its community. The Ethereum Classic community is incredibly active and dedicated, proving that vision and principles can be a strong allure, even in this fast-paced digital age.
Advantages of Ethereum Classic (ETC)
Here are some benefits of Ethereum Classic (ETC) worth considering:
Integrity

: One of the main strengths of Ethereum Classic is its principle of integrity. This means that once data is stored on the blockchain, it can't be altered. This provides users with assurance that their transactions will never be changed or deleted. In many ways, this embodies the idealism of decentralization, where no single entity can control or alter historical records.

Compatibility with Ethereum

: Despite diverging paths with Ethereum, Ethereum Classic remains compatible in terms of development. This means that developers who have created applications on Ethereum can easily implement them on Ethereum Classic, offering more flexibility to developers.

A Strong and Dedicated Community

: The strength of Ethereum Classic lies in its community. Although smaller than Ethereum's, the Ethereum Classic community is very active and profoundly committed to its foundational principles.
Disadvantages of Ethereum Classic (ETC)
While Ethereum Classic (ETC) has many strengths, there are aspects to be aware of:
Security Issues

: Even though Ethereum Classic has bolstered its security, it remains vulnerable to a 51% attack. In such an assault, an attacker controlling over 50% of the network's computational power can dominate the network. This poses a genuine weakness for ETC compared to Ethereum, which now uses the more secure Proof-of-Stake.

Negative Perception

: Due to the split with Ethereum and the infamous DAO attack, Ethereum Classic sometimes garners a negative image in the eyes of many. While this may not be entirely fair, this perception could influence ETC's future adoption and acceptance.

Lack of Innovation

: While Ethereum Classic has introduced some updates, a recurring criticism is that the platform lacks innovation compared to Ethereum. Ethereum continuously develops new technologies and features, whereas Ethereum Classic tends to be more conservative in its approach.
Features of Ethereum Classic (ETC)
Delving deeper into Ethereum Classic (ETC), we find a series of features that make it stand out amongst other cryptocurrencies:
1. Ethereum Virtual Machine (EVM)
EVM is the heart of Ethereum Classic, facilitating the execution of smart contracts without human intervention. It's a computing environment allowing instructions to run consistently on every computer globally. With EVM, developers can create applications that function uniformly across the network without concerns about infrastructure differences.
2. Smart Contracts
Smart contracts are computer programs that automatically execute, verify, or negotiate the terms of a contract. In Ethereum Classic, smart contracts are executed by the EVM, allowing for automatic transactions without intermediaries, making them fast and efficient.
3. Proof-of-Work (PoW)
As mentioned earlier, Ethereum Classic continues to use the PoW consensus mechanism. It ensures all transactions and smart contracts are executed honestly and accurately, although it's considered less efficient than Proof-of-Stake.
Key Figures in Ethereum Classic (ETC)
Although the real identities of many figures in the crypto world remain a mystery, here are three individuals or entities that played significant roles in ETC's history and development:
1. Charles Hoskinson
As one of the co-founders of Ethereum, Charles played a pivotal role in the early days of Ethereum Classic. Even though he left the Ethereum project before the split occurred, he has been a strong advocate for ETC. Charles is also recognized as the CEO of IOHK, a company focused on blockchain technology development, and is one of the co-founders of Cardano.
2. Igor Artamonov
Also known by his online name "Splix", Igor is the lead developer behind Ethereum Classic. He's been instrumental in the technical development of ETC and has been a staunch supporter of the currency's vision and mission.
3. Elaine Ou
As a blockchain researcher and advocate for Ethereum Classic, Elaine Ou has provided invaluable contributions in promoting and educating about ETC. Her work covers various facets of blockchain technology, and she's known for her critical yet informative approach.
History, Origin, and Development of Ethereum Classic (ETC)
The story of Ethereum Classic is a profound tale of idealism, division, and a determination to stick to foundational principles. Going back to 2015, we find Ethereum introduced to the world by a team led by Vitalik Buterin. Ethereum revolutionized the scene with the concept of smart contracts, enabling tasks to be automated without intermediaries.
However, the most significant drama in the history of Ethereum and Ethereum Classic unfolded in 2016. A project named DAO (Decentralized Autonomous Organization) was created on the Ethereum platform.
The DAO, being a smart contract, successfully raised about $150 million in Ether, marking it as one of the most significant crowdfunding projects at that time. This success was tainted when an individual discovered a loophole in the DAO's code and managed to steal around a third of the accumulated funds.
This was a pivotal moment. The Ethereum community was torn between two options: intervene by altering transaction history to return the stolen funds or let everything remain as per the original code, adhering to the belief that "code is law".
The former, known as a "hard fork", would return funds to the original holders and give rise to the Ethereum we know today. The latter would maintain the original transaction history, leading to the birth of Ethereum Classic.
Since that split, Ethereum Classic has undergone various challenges and changes. They've enhanced their protocol to address potential future attacks and continuously nurture a robust and dedicated community.
While often overshadowed by Ethereum, Ethereum Classic remains committed to executing the initial vision of an immutable and fully decentralized blockchain.
How to Buy
Ethereum Classic (ETC)
Interested in purchasing this particular crypto asset? You can buy Ethereum Classic (ETC) by following these steps:
Install Nanovest app on the App Store or Play Store.

Register according to the instructions.

Verify your identity for security and convenience when buying crypto through the

KYC feature

which you can do in just 1 minute.

Top Up your balance to your Nanovest account.

Go to the Crypto menu, search and select

Ethereum Classic (ETC)

.

Click the Buy button and confirm the purchase with your desired amount. You can start with only IDR 5,000.
Before investing in the crypto asset you want, be sure to conduct research and analysis first. You can do this by checking the crypto asset profile, industry conditions, monitoring price movement trends, and observing its liquidity and trading volume. Performing this analysis is crucial so you can formulate an accurate investment strategy and minimize losses.
Is it Safe to Buy
Ethereum Classic (ETC)
on Nanovest?
Absolutely. Nanovest is supported by a number of professional partners with a strong reputation for providing quality services. One of these includes the technology backing of the S-Quantum Engine by Sinarmas Financial Services.
For global and US stocks, Nanovest collaborates with brokers registered with the Financial Industry Regulatory Authority (FINRA) in the United States – which ensures Nanovest users' broker accounts up to US$500k by the Securities Investor Protection Corporation (SIPC) in the United States.
As for crypto assets, Nanovest is an Indonesian crypto exchange registered with the Commodity Futures Trading Regulatory Agency (Bappebti). The Nanovest platform itself is also insured through a partnership with Sinarmas Insurance.
Disclaimer
All content on this website is for informational purposes and doesn't constitute a recommendation to buy/sell any stock or crypto. Investors should understand the nature of stocks and digital assets, including return and risk requirements of the assets. We encourage investors to fully understand the assets and risks before making any investment. Always do your own research.
See More Cryptocurrency
---