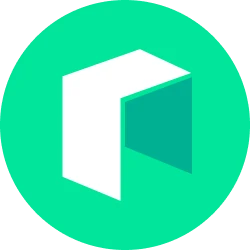 NEO is a blockchain platform facilitating the development of dApps and smart contracts. It emphasizes digital legality and identification, striving to seamlessly integrate digital assets with the traditional economy through legitimate digital representation.
About
NEO (NEO)
Originating in China, NEO, formerly known as Antshares, was founded in 2014 by Da Hongfei and Erik Zhang. Guided by their vision, NEO was designed to serve as the infrastructure for a "Smart Economy", bridging the physical world with the digital age.
Unlike other cryptocurrencies focused solely on transactions, NEO offers more. It is a platform enabling the creation of smart contracts and digital assets, aiming to birth a decentralized economic ecosystem. Through its dedication, NEO garnered the support of numerous major tech firms and swiftly rose to prominence as a leading cryptocurrency in Asia.
How NEO Works?
At its core, NEO employs blockchain technology. What distinguishes NEO from other digital currencies is its mechanism called dBFT (delegated Byzantine Fault Tolerance) – a consensus system ensuring faster and energy-efficient transactions.
Every transaction on the NEO network is confirmed by a selected group of "Share Proofers". This eliminates the need for miner competition as seen in other networks. The dBFT technology also bolsters NEO's resistance to attacks.
Additionally, NEO supports app development in various programming languages, including C#, Java, and Python, making it easier for developers to interact and innovate on the platform.
NEO's Distinctive Features
A standout feature of NEO is its dual-token system: NEO and GAS. NEO represents ownership rights in the network, while GAS is used for transaction fees. Owning NEO passively yields GAS, akin to earning interest on savings.
Another distinction is its commitment to digital identity. NEO recognizes that identity is pivotal for broader adoption. Thus, the platform backs integrated identity verification, ensuring security and trust among users.
And not least importantly, NEO prioritizes compliance. In a world often wary of cryptocurrency regulations, NEO embraces them, working closely with authorities to secure a promising future for digital currency.
NEO's Strengths and Weaknesses
Without a doubt, NEO stands as a monumental innovation in the crypto world. While it has significant strengths, no technology is flawless. If you're considering investing in or contributing to the NEO ecosystem, understanding both its strengths and weaknesses is crucial for long-term success.
NEO's Advantages
High Transaction Speed

: A primary advantage of NEO is its ability to process transactions at a blistering pace. With its dBFT technology, NEO can handle up to 10,000 transactions per second, outpacing many other cryptocurrencies. This makes it a desirable solution for businesses and apps demanding high speed.

Developer-friendly Ecosystem

: As previously mentioned, NEO supports various programming languages. This allows developers of different backgrounds to contribute to the ecosystem without the need to learn a new language, accelerating platform innovation and adoption.

Security

: Due to the consensus technology NEO employs, its network is highly resistant to attacks. The dBFT minimizes the risk of 51% attacks, a vulnerability for some other cryptocurrencies.

Separation of NEO and GAS

: The dual-token system offers NEO holders passive income in the form of GAS without selling their NEO, incentivizing individuals to hold and support the network.
NEO's Drawbacks
Dependence on China

: While NEO enjoys global esteem, it remains heavily reliant on the Chinese market. Policy or regulatory shifts in China could significantly affect NEO's value and adoption.

Initial Lack of Decentralization

: Early in its development, NEO faced criticism for being centralized as most of its nodes were managed by the NEO organization itself. Though there are plans to enhance decentralization in the future, this criticism frequently arises.

Competition with Ethereum

: Given the similarities in their functions, NEO and Ethereum are often viewed as competitors. Ethereum, with its larger network and developer community, often overshadows NEO in discussions about smart contract platforms.
Main Features of NEO
Delving deeper into NEO, here are the main features that make it stand out among other cryptocurrencies:
Developer-Friendly Smart Contracts

: In many respects, NEO's smart contracts function similarly to Ethereum's. However, what makes NEO special is its ability to be developed using multiple programming languages, creating opportunities for developers of various backgrounds to jump in and innovate.

Support for Digital Assets

: NEO allows users to effortlessly create and manage digital assets. This forms an ecosystem where traditional assets can be converted into digital ones, which can then be transferred and traded within the network.

Digital Identity

: On NEO, identity goes beyond just a username and password. It's a system integrated with various authentic sources like fingerprints, facial recognition, and more. This ensures security and trust among users on the network.

Decentralization with dBFT

: As previously mentioned, the dBFT consensus technology not only bolsters security but also efficiency, making NEO one of the fastest platforms in the crypto space.
Key People Behind NEO
Behind NEO's success are some pivotal figures. Even though the true identity of many individuals in the crypto world remains mysterious, the following are three individuals or entities who have played crucial roles in NEO's history and development:
Da Hongfei

: As the founder and principal figure behind NEO, Da Hongfei is a visionary who recognized the potential of blockchain technology beyond just digital currency. He's committed to forging an ecosystem that fuses the physical and digital realms. Besides leading NEO, Da is also the founder of Onchain, a company offering blockchain solutions aimed at integrating this tech into traditional business sectors.

Erik Zhang

: If Da Hongfei is the face of NEO, Erik Zhang is its technical power. He's one of the creators of NEO's dBFT consensus technology and has been instrumental in the platform's technical development. Erik believes that blockchain can revolutionize the ways we work, conduct business, and interact.

John Wang

: As the head of NEO's ecosystem, John is responsible for nurturing the community and maintaining relations with developers, projects, and other entities involved in the NEO ecosystem. With his strong tech and business background, John ensures NEO remains relevant and competitive in the ever-evolving crypto landscape.
History and Development of NEO
The journey of NEO began with a different name but an equally audacious vision. Looking back at its history, we can see how this currency evolved and adapted in line with the crypto space's evolution.
It all started in 2014 when NEO was first introduced to the world as "Antshares", founded by Da Hongfei and Erik Zhang. Dubbed the "Ethereum of China," Antshares had grand dreams of creating a decentralized smart economy.
In 2016, Antshares held its first Initial Coin Offering (ICO), marking the company's initial steps in gaining community support and funding. This successful ICO drew substantial attention, putting Antshares on the global blockchain industry map.
Rebranding to NEO
Rebranding can be pivotal for any brand's evolution, and for NEO, the shift from Antshares to NEO in 2017 was more than just a fresh look. It was a reflection of an updated, expanded vision. Through this rebranding, the NEO team underscored its dedication to building a "Smart Economy," emphasizing the digitalization of assets and identities.
With the introduction of the dual-token system, GAS was launched as the means to pay transaction fees within the NEO network. This allowed for a distinction between ownership rights (NEO) and network operations (GAS). In that same year, NEO began expanding outside China, hosting conferences and events worldwide, cementing its status as a global player in the crypto realm.
During 2019-2020, NEO zeroed in on technological advancement. With the announcement and launch of NEO 3.0, the platform promised enhancements in efficiency, stability, and scalability capabilities. This showcased NEO's commitment to remaining at the forefront of blockchain innovation.
How to Buy
NEO (NEO)
Interested in purchasing this particular crypto asset? You can buy NEO (NEO) by following these steps:
Install Nanovest app on the App Store or Play Store.

Register according to the instructions.

Verify your identity for security and convenience when buying crypto through the

KYC feature

which you can do in just 1 minute.

Top Up your balance to your Nanovest account.

Go to the Crypto menu, search and select

NEO (NEO)

.

Click the Buy button and confirm the purchase with your desired amount. You can start with only IDR 5,000.
Before investing in the crypto asset you want, be sure to conduct research and analysis first. You can do this by checking the crypto asset profile, industry conditions, monitoring price movement trends, and observing its liquidity and trading volume. Performing this analysis is crucial so you can formulate an accurate investment strategy and minimize losses.
Is it Safe to Buy
NEO (NEO)
on Nanovest?
Absolutely. Nanovest is supported by a number of professional partners with a strong reputation for providing quality services. One of these includes the technology backing of the S-Quantum Engine by Sinarmas Financial Services.
For global and US stocks, Nanovest collaborates with brokers registered with the Financial Industry Regulatory Authority (FINRA) in the United States – which ensures Nanovest users' broker accounts up to US$500k by the Securities Investor Protection Corporation (SIPC) in the United States.
As for crypto assets, Nanovest is an Indonesian crypto exchange registered with the Commodity Futures Trading Regulatory Agency (Bappebti). The Nanovest platform itself is also insured through a partnership with Sinarmas Insurance.
Disclaimer
All content on this website is for informational purposes and doesn't constitute a recommendation to buy/sell any stock or crypto. Investors should understand the nature of stocks and digital assets, including return and risk requirements of the assets. We encourage investors to fully understand the assets and risks before making any investment. Always do your own research.
See More Cryptocurrency
---