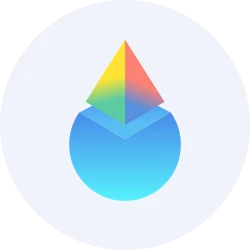 Lido is a protocol that allows users to participate in Ethereum 2.0 staking without having to run their own validator, offering a liquid staking solution. Users can deposit ETH and receive stETH, a token representation of the staked ETH.
About
Lido DAO (LDO)
In the rapidly growing era of cryptocurrencies, Lido DAO (LDO) emerges as a leading innovation in the staking sphere. Operating on the Ethereum network, Lido leverages the concept of a Decentralized Autonomous Organization (DAO) to create a more flexible and liquid staking system.
Lido DAO isn't just another ordinary staking platform. Unlike traditional staking approaches that require assets to be locked for a certain period, Lido allows users to maintain access to their liquidity, even while staking.
How Lido DAO (LDO) Works?
When someone stakes Ethereum (ETH) with Lido, they receive stETH, a token that represents their claim on the staked ETH. The beauty of stETH is its ability to be traded or utilized in other DeFi protocols, offering unprecedented flexibility for stakers.
Moreover, Lido DAO collaborates with selected node operators to validate transactions and secure the network. In return, these operators receive compensation from staking rewards. This system ensures the security and integrity of the entire network.
What Makes Lido DAO (LDO) Unique?
What sets Lido apart from other staking solutions is its liquidity. With Lido, you don't have to wait to "unstake" your assets or wait for a specific period to access your funds. This allows greater freedom in asset management and investment strategies. Furthermore, with its DAO model, every LDO token holder has a say in decisions affecting the protocol. This creates a truly democratic ecosystem where decisions are made based on community consensus, not by a central entity.
Pros and Cons of Lido DAO (LDO)
If you're considering investing or participating in the Lido ecosystem, it's crucial to understand both the advantages and drawbacks of this platform. As with any investment, always conduct thorough research and consult with experts before deciding.
Pros of Lido DAO (LDO):
High Liquidity

: As mentioned earlier, one of Lido's primary benefits is the ability to retain liquidity of staked assets. By receiving stETH as a representation of the staked Ethereum, users can easily engage in other economic activities within the DeFi ecosystem without having to wait to unstake their assets.

Decentralized Governance

: As a DAO, Lido empowers its community to participate in decision-making. Every LDO token holder has voting rights on protocol changes, validator selections, and other strategic decisions. This promotes transparency and accountability.

Integration with the DeFi Ecosystem

: With stETH, Lido users can easily integrate their assets into other DeFi protocols. Whether for yield farming, lending, or other activities, Lido facilitates seamless interactions across the ecosystem.
Cons of Lido DAO (LDO):
Community Governance Risks

: While decentralized governance offers many benefits, it also has risks. Decisions made based on community votes may not always reflect the best choices from a technical or security perspective.

Potential Attacks

: Like other DeFi protocols, Lido is also susceptible to attacks, such as flash loan assaults or code bugs. While the Lido team undoubtedly strives to minimize these risks, no system is entirely immune from potential threats.

Dependency on Ethereum

: Currently, Lido heavily relies on the Ethereum network. This means that any scaling issues, high gas fees, or other challenges impacting Ethereum will directly affect Lido users.
Main Features of Lido DAO (LDO)
Diving deeper into Lido DAO (LDO), you'll find a set of features that make it stand out among other cryptocurrencies:
1. Liquid Staking
One of the signature features of Lido is its ability to stake without sacrificing liquidity. When Ethereum is staked through Lido, users receive stETH, which represents their portion of the staked Ethereum. This allows them to maintain access to and utilize their funds while still reaping the rewards of staking.
2. DAO Governance
Lido operates as a Decentralized Autonomous Organization, giving power to LDO token holders to make protocol decisions. Through voting mechanisms, the community can decide on everything from technical changes to fund allocation.
3. DeFi Integration
stETH, the token provided as proof of staking in Lido, can be easily incorporated into the broader DeFi ecosystem. This creates many opportunities for holders to leverage their funds in various other protocols.
4. Automation
The staking process in Lido is automated for maximum efficiency. From validator selection to reward distribution, all aspects of staking have been optimized to provide the best experience for users.
Key Figures Behind Lido DAO (LDO)
While the true identities of many crypto figures remain shrouded in mystery, here are three individuals or entities that played significant roles in LDO's history and development:
1. Vasiliy Shapovalov
As one of the founders and the brains behind Lido, Vasiliy boasts a strong technical background and deep experience in the blockchain industry. He played a pivotal role in designing the protocol's architecture and ensuring its technology remains at the forefront of the industry.
2. Victor Bunin
Serving as a chief strategist, Victor combines his extensive financial background with a deep understanding of the crypto ecosystem. He's very active in the Ethereum and DeFi communities, often collaborating with other industry leaders to bring innovation to Lido.
3. Katerina Marchenko
With a background in communications and marketing, Katerina plays a crucial role in bridging the gap between Lido and the larger crypto community. She frequently represents Lido at various conferences and events, ensuring Lido's vision and mission are clearly communicated to a broader audience.
History and Developments of Lido DAO (LDO)
Initially, the concept of cryptocurrency was just an idea on paper. But over time, Ethereum, one of the most renowned cryptocurrencies, gave birth to numerous innovations, including the staking concept in Ethereum 2.0. Against this backdrop, Lido DAO emerged as a solution to the challenges faced by many Ethereum users wanting to participate in the staking process.
Lido DAO was established in response to Ethereum's transition to Ethereum 2.0, which introduced the Proof-of-Stake (PoS) concept, replacing the previous Proof-of-Work (PoW) mechanism. In the PoS system, users could "lock up" a certain amount of their Ethereum to support network security, and in return, they'd receive rewards. However, there was a hitch: staking in Ethereum 2.0 required assets to be locked for an indeterminate period. This was the problem Lido aimed to solve.
A key moment in Lido's evolution was the creation of stETH, a token representing Ethereum staked through the Lido protocol. With stETH, users not only got proof of claim over their locked Ethereum but also an asset that's tradable and usable in the broader DeFi ecosystem.
Shortly after its launch, Lido caught the crypto community's attention due to its innovative approach to staking. The decision to adopt the Decentralized Autonomous Organization (DAO) model allowed them to incorporate community input into the platform's further development.
Being at the forefront of innovation, Lido faced its challenges. One critical juncture came when Ethereum 2.0 experienced delays in its development roadmap. This affected many staking-related protocols, including Lido. However, the Lido team responded swiftly, updating the community about potential impacts and measures taken to address them.
How to Buy
Lido DAO (LDO)
Interested in purchasing this particular crypto asset? You can buy Lido DAO (LDO) by following these steps:
Install Nanovest app on the App Store or Play Store.

Register according to the instructions.

Verify your identity for security and convenience when buying crypto through the

KYC feature

which you can do in just 1 minute.

Top Up your balance to your Nanovest account.

Go to the Crypto menu, search and select

Lido DAO (LDO)

.

Click the Buy button and confirm the purchase with your desired amount. You can start with only IDR 5,000.
Before investing in the crypto asset you want, be sure to conduct research and analysis first. You can do this by checking the crypto asset profile, industry conditions, monitoring price movement trends, and observing its liquidity and trading volume. Performing this analysis is crucial so you can formulate an accurate investment strategy and minimize losses.
Is it Safe to Buy
Lido DAO (LDO)
on Nanovest?
Absolutely. Nanovest is supported by a number of professional partners with a strong reputation for providing quality services. One of these includes the technology backing of the S-Quantum Engine by Sinarmas Financial Services.
For global and US stocks, Nanovest collaborates with brokers registered with the Financial Industry Regulatory Authority (FINRA) in the United States – which ensures Nanovest users' broker accounts up to US$500k by the Securities Investor Protection Corporation (SIPC) in the United States.
As for crypto assets, Nanovest is an Indonesian crypto exchange registered with the Commodity Futures Trading Regulatory Agency (Bappebti). The Nanovest platform itself is also insured through a partnership with Sinarmas Insurance.
Disclaimer
All content on this website is for informational purposes and doesn't constitute a recommendation to buy/sell any stock or crypto. Investors should understand the nature of stocks and digital assets, including return and risk requirements of the assets. We encourage investors to fully understand the assets and risks before making any investment. Always do your own research.
See More Cryptocurrency
---