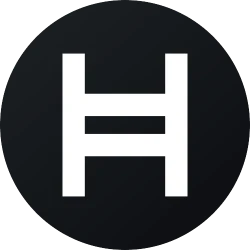 HBAR is the native token of Hedera, used to finance transactions and safeguard the network through a staking mechanism. Hedera stands out due to its governance approach with members from various renowned and major companies globally.
About
Hedera (HBAR)
Hedera, more commonly recognized by its currency symbol HBAR, is not just an ordinary cryptocurrency. Established in 2018, Hedera Hashgraph is a platform utilizing hashgraph technology to overcome many limitations faced by traditional blockchain.
Instead of just providing transaction solutions, Hedera offers greater speed and security, which are often primary challenges in the crypto world. HBAR, as its currency, plays a pivotal role in ensuring this network's safety and operations.
While many other cryptocurrencies struggle with scalability and sustainability, HBAR continues to grow and flourish, with over 500 global organizations integrating and utilizing its network.
How Hedera (HBAR) Works?
Behind Hedera's sophistication lies the fundamental principle of hashgraph technology that sets it apart from blockchain. While blockchain relies on a sequence of blocks, hashgraph operates by linking transaction information in a network-like structure, enabling faster and more efficient processes.
The consensus algorithm used, known as gossip about gossip, ensures all nodes have the same information, allowing for rapid transaction validation. The role of the HBAR currency in this network is not just for transactions but also as a tool to deter attacks and maintain system integrity. Users with HBAR can 'stake' them in the network, providing an incentive for them to act honestly and boost network security.
Uniqueness of Hedera (HBAR)
One unique aspect of Hedera is its approach to governance. Managed by the Hedera Governing Council, the platform is controlled by a consortium of leading global companies, ensuring decisions are well-thought-out and future-oriented.
This contrasts with many other cryptocurrencies often managed by decentralized communities. Moreover, its transaction speed and low fees make Hedera a standout choice for many organizations and businesses. Perhaps most intriguing is Hedera's commitment to environmental sustainability.
In an increasingly environment-conscious world, Hedera pledges to make its network carbon-neutral, an initiative that might inspire other cryptocurrencies to follow suit. If you're someone keen to understand the crypto realm, you should delve deeper into Hedera. Behind its advanced technology lies a promise of a faster, secure, and sustainable future of transactions.
Strengths of Hedera (HBAR)
One of Hedera's primary strengths is its transaction speed. With hashgraph technology, Hedera can address the latency issues often experienced by traditional blockchain. In seconds, thousands of transactions can be processed, offering a solution for industries needing speed and efficiency.
Then there's the low transaction fee. In the crypto world, transaction costs can be a significant barrier for many users, especially when networks are congested. However, with the hashgraph structure, Hedera has minimized these costs, making it an economical solution for both individuals and businesses.
Lastly, security. Thanks to its advanced consensus algorithm, Hedera ensures each transaction within its network is validated quickly and securely. This reduces the risk of attacks and manipulation, positioning Hedera as one of the safest crypto platforms currently available.
Drawbacks of Hedera (HBAR)
However, like other cryptocurrencies, Hedera has its downsides. Governance centralization is a main criticism. Although managed by a group of leading companies, this approach potentially reduces transparency and could lead to conflicts of interest among board members.
Then there's the adoption issue. Despite Hedera's many advantages, many organizations and individuals are hesitant to switch from traditional blockchain to hashgraph. This means that, for the time being, Hedera might face challenges in expanding its user base.
Lastly, technical complexity. For many new to crypto, grasping the hashgraph concept can be daunting. Without deep understanding, they might find it difficult to fully leverage Hedera's potential.
Key Features of Hedera (HBAR)
Delving deeper into Hedera (HBAR), we uncover several features that make it stand out among other crypto assets:
Transaction Speed

: A distinct feature of Hedera over other cryptocurrencies is its capability to process transactions swiftly. The hashgraph technology allows the system to settle thousands of transactions every second. This makes it an ideal solution for industries requiring real-time transactions like payment systems, gaming, or financial services.

High Security

: Hedera's consensus algorithm, known as 'gossip about gossip', ensures top-notch security. The system is designed to be resilient against attacks, safeguarding user data and transaction integrity.

Centralized Governance

: With a unique governance approach, Hedera is managed by the Hedera Governance Council, consisting of leading global companies. This ensures the platform's stability and long-term sustainability.

Eco-Friendly

: In its commitment to sustainability, Hedera pledges to operate carbon-neutral. This allows Hedera to distinguish itself from other cryptocurrencies criticized for high energy consumption.
Key Figures Behind Hedera (HBAR)
While the true identity of many figures in the crypto world remains a mystery, here are three individuals or entities instrumental in HBAR's history and growth:
Dr. Leemon Baird

: Founder and chief scientist of Swirlds, the company behind the hashgraph technology. Dr. Baird invented hashgraph and boasts a robust background in computer science and mathematics. He holds a Ph.D. from Carnegie Mellon and has experience as a computer science professor at the US Air Force Academy.

Mance Harmon

: As the CEO and co-founder of Hedera, Mance has a background in software development and technology. Before founding Hedera, Mance led various technology initiatives in both the public and private sectors. His collaboration with Dr. Baird has been pivotal in shaping and growing Hedera.

Jordan Fried

: As the Vice President of Global Business Development, Jordan has played a key role in introducing Hedera to the global market. His expertise in technology and entrepreneurship has aided Hedera in forming strategic partnerships with diverse companies worldwide.
When discussing Hedera, it's essential to acknowledge the contributions of its founders and leaders who have molded the platform's vision and mission. They bridge the gap between technological innovation and practical implementation, benefiting users genuinely.
History and Developments of Hedera (HBAR)
In 2015, at a tech conference in San Francisco, Dr. Leemon Baird and Mance Harmon discussed challenges faced by traditional blockchains: speed, security, and energy consumption. The long-time collaborators decided to seek a solution to these issues.
In his quest, in 2016, Dr. Baird developed hashgraph, an alternative consensus algorithm to blockchain offering superior speed and security. This was a game-changer. This algorithm became the foundation of what is now known as Hedera.
Armed with hashgraph's support, Harmon and Baird established Hedera in 2017. Aiming to create a fair and decentralized next-generation internet, they designed Hedera to meet the demands of speed, security, and scalability.
A pivotal moment in Hedera's evolution was the formation of the Hedera Governance Council in 2018. Composed of leading global companies, its goal is to ensure the platform's stability, sustainability, and integrity.
In 2018, Hedera conducted its first public coin offering (ICO), raising significant funds and drawing global attention. This solidified Hedera's position as a major player in the crypto space.
In response to environmental concerns surrounding the crypto industry, Hedera announced its initiative to be carbon-neutral in 2020. This placed Hedera at the forefront of environmentally responsible cryptocurrencies.
Over time, Hedera successfully integrated its technology with various platforms and businesses. Strategic partnerships with companies like Google and IBM have expanded Hedera's reach and potential.
How to Buy
Hedera (HBAR)
Interested in purchasing this particular crypto asset? You can buy Hedera (HBAR) by following these steps:
Install Nanovest app on the App Store or Play Store.

Register according to the instructions.

Verify your identity for security and convenience when buying crypto through the

KYC feature

which you can do in just 1 minute.

Top Up your balance to your Nanovest account.

Go to the Crypto menu, search and select

Hedera (HBAR)

.

Click the Buy button and confirm the purchase with your desired amount. You can start with only IDR 5,000.
Before investing in the crypto asset, be sure to conduct research and analysis first. You can do this by checking the crypto asset profile, industry conditions, monitoring price movement trends, and observing its liquidity and trading volume. Performing this analysis is crucial so you can formulate an accurate investment strategy and minimize losses.
Is it Safe to Buy
Hedera (HBAR)
on Nanovest?
Absolutely. Nanovest is supported by a number of professional partners with a strong reputation for providing quality services. One of these includes the technology backing of the S-Quantum Engine by Sinarmas Financial Services.
For global and US stocks, Nanovest collaborates with brokers registered with the Financial Industry Regulatory Authority (FINRA) in the United States – which ensures Nanovest users' broker accounts up to US$500k by the Securities Investor Protection Corporation (SIPC) in the United States.
As for crypto assets, Nanovest is an Indonesian crypto exchange registered with the Commodity Futures Trading Regulatory Agency (Bappebti). The Nanovest platform itself is also insured through a partnership with Sinarmas Insurance.
Disclaimer
All content on this website is for informational purposes and doesn't constitute a recommendation to buy/sell any stock or crypto. Investors should understand the nature of stocks and digital assets, including return and risk requirements of the assets. We encourage investors to fully understand the assets and risks before making any investment. Always do your own research.
See More Cryptocurrency
---