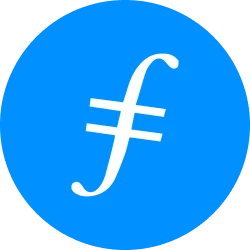 Filecoin is a decentralized storage network where individuals can earn FIL tokens by providing storage space to the network. Conversely, users who wish to store data must pay in FIL.
About
Filecoin (FIL)
The history of digital currency has always evidenced the evolution of technology. And when we talk about Filecoin, we are witnessing a revolution in the data storage industry. Filecoin, known by its symbol FIL, is a cryptocurrency with a vision to create a decentralized data storage marketplace.
Unlike other cryptocurrencies that rely on the blockchain for financial transactions, Filecoin is focused on data storage. Its rapid growth reflects the public's trust in the potential of this technology to reshape global data governance.
The currency originates from Protocol Labs, founded by Juan Benet. Protocol Labs has a long history of creating innovative technology, and Filecoin is one of their most brilliant ideas.
Filecoin held its initial coin offering (ICO) in 2017 and managed to raise over 200 million US dollars, solidifying its position as one of the largest ICOs in history.
How Filecoin (FIL) Works
From a technical perspective, Filecoin leverages blockchain technology to create a decentralized data storage marketplace.
Those with extra storage space can "rent it out" to the network and earn rewards in the form of FIL. So, you're not just storing data; you're also getting an economic incentive.
Filecoin utilizes the Proof-of-Spacetime system, ensuring that the data stored by storage providers truly exists and is accessible at all times.
This differs from the Proof-of-Work system used by many other cryptocurrencies, which often waste energy. With this system, Filecoin offers a more efficient and environmentally friendly storage solution.
Uniqueness of Filecoin (FIL)
There's no doubt that Filecoin is one of the most unique cryptocurrencies on the market. Filecoin's uniqueness lies in its focus on data storage. As a user, you can earn rewards simply by contributing storage space to the network. This creates an ecosystem where all parties benefit.
Additionally, Filecoin offers a solution to the growing problem of data control by large corporations. With its decentralized approach, Filecoin empowers individuals, ensuring that your data remains safe and shielded from third-party interests.
Advantages of Filecoin (FIL)
Over time, Filecoin has proven itself as an innovative solution in digital storage. Here are some of its benefits:
Decentralization

: In today's digital age, data control is crucial. Filecoin ensures that your data is stored in a decentralized network, giving you full control and reducing the risk of monopoly by large corporations.

Economic Incentive

: By providing storage space to the network, providers can earn rewards in FIL, promoting participation and network growth.

High Security

: Filecoin uses layered data security blockchain technology. This means the data you store is safer from attacks or data loss.

Environmentally Friendly

: Compared to other cryptocurrencies that require significant computing power, Filecoin uses an energy-efficient storage proof system that's eco-friendly.
Limitations of Filecoin (FIL)
However, like all innovations, Filecoin has its limitations:
Lack of Awareness

: Despite its huge potential, many are still unaware or don't understand the concept and benefits of Filecoin. Education and socialization remain significant challenges.

Dependence on Providers

: Although decentralized, if a majority of storage providers decide to exit or stop participating, it can affect data availability.

Technical Complexity

: For the average person, understanding how Filecoin operates can be challenging. This could hinder widespread adoption in the future.
Key Features of Filecoin (FIL)
Filecoin doesn't just stand out for its potential in data storage but also thanks to its sophisticated features it offers:
Proof-of-Spacetime (PoSt)

: Filecoin leverages Proof-of-Spacetime to verify data storage over a specific period. This ensures that your data is safely stored and can be accessed at any time.

Retrieval Market

: Filecoin has a specialized market for data retrieval. This allows data owners to pay other providers to quickly retrieve data.

Fastest Sector Replication

: This feature ensures that data is stored in a secure and encrypted format, so only the owner with the private key can access it.

P2P Networking

: Filecoin supports peer-to-peer networking, facilitating data transfer between providers and users without intermediaries.
Key Figures in Filecoin (FIL)
While the true identity of many figures in the crypto world remains a mystery, here are three individuals or entities that have played a significant role in the history and development of FIL:
1. Juan Benet
Founder and chief architect behind Filecoin. A visionary who saw the shortcomings of centralized data storage and aspired to create a decentralized solution. Juan is also the founder of Protocol Labs, the company behind innovations like IPFS and Filecoin. His role in the development of Filecoin has been crucial, from conceptualization to execution.
2. Colin Evran
As the head of the Filecoin ecosystem, Colin plays a key role in developing relationships with partners, developers, and other stakeholders. With his extensive experience in the tech industry, he ensures Filecoin remains relevant and integrates with other storage solutions.
3. Pooja Shah
As Product Lead at Filecoin, Pooja is responsible for product development and the implementation of new features. With a strong background in technology, she combines innovation with user needs to ensure Filecoin always excels in providing decentralized storage solutions.
In technological development, there are always individuals who hold key roles, and Filecoin is no exception. The combination of Juan's vision, Colin's collaborative strategy, and Pooja's product expertise ensures that Filecoin not only survives but thrives in a highly competitive industry.
History Development of Filecoin (FIL)
As we delve into the history of Filecoin, we are essentially tracing the evolution of data storage in the digital age. The story begins with a desire to create a democratic and equitable storage solution where every individual could participate.
Filecoin is the brainchild of Protocol Labs, a company known for its innovations in storage technology. Led by visionary Juan Benet, Protocol Labs first introduced IPFS (InterPlanetary File System) in 2015 – a distributed file system aiming to replace HTTP and speed up the internet. However, a challenge arose: how to incentivize individuals to store data for others? This led to the birth of Filecoin.
Filecoin held its initial coin offering in 2017, and the results were phenomenal. In a short period, they managed to raise over 200 million US dollars, making their ICO one of the most successful in crypto history.
After years of research, development, and testing, Filecoin finally launched its mainnet in October 2020. This marked the beginning of Filecoin's full-scale operations, with participation from storage providers and users worldwide.
With a strong foundation and growing community, Filecoin saw remarkable growth in terms of adoption and market capitalization. They also announced several strategic partnerships, extending the reach and functions of their platform.
How to Buy
Filecoin (FIL)
Interested in purchasing this particular crypto asset? You can buy Filecoin (FIL) by following these steps:
Install Nanovest app on the App Store or Play Store.

Register according to the instructions.

Verify your identity for security and convenience when buying crypto through the

KYC feature

which you can do in just 1 minute.

Top Up your balance to your Nanovest account.

Go to the Crypto menu, search and select

Filecoin (FIL)

.

Click the Buy button and confirm the purchase with your desired amount. You can start with only IDR 5,000.
Before investing in the crypto asset, be sure to conduct research and analysis first. You can do this by checking the crypto asset profile, industry conditions, monitoring price movement trends, and observing its liquidity and trading volume. Performing this analysis is crucial so you can formulate an accurate investment strategy and minimize losses.
Is it Safe to Buy
Filecoin (FIL)
on Nanovest?
Absolutely. Nanovest is supported by a number of professional partners with a strong reputation for providing quality services. One of these includes the technology backing of the S-Quantum Engine by Sinarmas Financial Services.
For global and US stocks, Nanovest collaborates with brokers registered with the Financial Industry Regulatory Authority (FINRA) in the United States – which ensures Nanovest users' broker accounts up to US$500k by the Securities Investor Protection Corporation (SIPC) in the United States.
As for crypto assets, Nanovest is an Indonesian crypto exchange registered with the Commodity Futures Trading Regulatory Agency (Bappebti). The Nanovest platform itself is also insured through a partnership with Sinarmas Insurance.
Disclaimer
All content on this website is for informational purposes and doesn't constitute a recommendation to buy/sell any stock or crypto. Investors should understand the nature of stocks and digital assets, including return and risk requirements of the assets. We encourage investors to fully understand the assets and risks before making any investment. Always do your own research.
See More Cryptocurrency
---