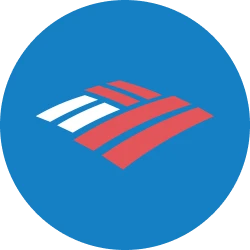 Bank of America Corporation
Bank of America is a multinational financial services and banking corporation headquartered in Charlotte, North Carolina. As one of the largest banks in the USA, this corporation provides a myriad of financial services, including retail banking, commercial banking, investment, and asset management.
About
Bank of America Corporation (BAC)
Have you ever wondered how a single company can influence the course of banking in one of the most influential countries in the world? Bank of America, now known by the acronym BAC, originated from a simple idea to assist immigrants in San Francisco in obtaining loans and starting businesses. Established in 1904 by Amadeo Giannini under the name Bank of Italy, this institution has grown and evolved into one of the largest banks in America.
Operating in over 35 countries and headquartered in Charlotte, North Carolina, BAC now reaches not only customers in the USA but also across the globe. With total assets around $2.8 trillion, BAC stands as one of the pillars of global banking.
BAC not only focuses on growth but also pays significant attention to sustainability and social responsibility. They invest in clean energy and projects that support climate change, demonstrating that banking can be conducted in a responsible and sustainable manner.
Vision and Mission of Bank of America Corporation (BAC)
In the era of globalization, BAC perceives the importance of an inclusive vision. Connecting the world is not an easy task, but with financial strength and an extensive network, BAC is committed to making it a reality.
BAC's mission is not solely centered on profit; it aims to empower its customers to achieve financial freedom. This is not merely about providing loans or financial products, but also about educating customers on proper financial management.
When it comes to money, integrity is paramount. BAC is committed to conducting business honestly and transparently, ensuring that customer trust remains intact.
Products of Bank of America Corporation (BAC)
1. Personal Banking
With over 66 million consumers, BAC's personal banking products include savings accounts, checking accounts, and credit cards. They focus on technology, enabling customers to easily manage finances through mobile apps.
2. Business Banking
Providing solutions for small businesses to large corporations, BAC serves about 3 million business customers. With services like cash management, loans, and trade services, BAC is the top choice for many companies.
3. Investment Services
With a diverse portfolio, BAC's investment services allow individuals and corporations to increase their wealth. It is estimated that around 20 million consumers utilize these services, ranging from mutual funds to asset management.
Key Figures in Bank of America Corporation (BAC)
Behind the success of a company, there are always individuals providing extraordinary dedication and vision. In the history of Bank of America Corporation, some names are unforgettable:
1. Amadeo Giannini
When talking about Bank of America, Amadeo Giannini is an inevitable figure. As the founder of Bank of Italy, which later transformed into Bank of America, Giannini had a revolutionary vision.
In a time when banking preferred to serve the wealthy, Giannini saw an opportunity in immigrants and ordinary workers. With his strong dedication, he paved the way for inclusive and service-oriented banking.
2. Brian Moynihan
Taking over leadership amidst the global financial crisis, Brian Moynihan has led BAC through significant challenges. Under his leadership, BAC underwent massive restructuring, increased transparency, and emphasized technology. Moynihan believes that adaptation and innovation are key, ensuring BAC remains relevant in the digital era.
3. Catherine Bessant
As the Chief Operations and Technology Officer, Catherine Bessant plays a crucial role in BAC's digital transformation. Under her guidance, BAC has developed various fintech solutions to facilitate customers. Bessant believes that technology is the bridge connecting BAC to the future of banking.
Fluctuation in the Stock Prices of Bank of America Corporation (BAC)
There is no moment in BAC's history more dramatic than the 2008 financial crisis. In a short period, BAC's stock prices plummeted drastically, reflecting losses and uncertainty in the global market. However, with government intervention and internal restructuring, BAC rose from its lows. Though its journey to recovery took time, this event showcased the resilience and adaptability of the company.
In 2008, at the peak of the financial crisis, BAC announced the acquisition of Merrill Lynch. Although deemed risky at the time, this gamble eventually paid off. The integration with Merrill Lynch expanded BAC's portfolio and strengthened its position in the global financial industry.
When the Covid-19 pandemic struck the world in 2020, global stock markets again faced uncertainty. BAC's stock prices fell temporarily, but with relaxed monetary policies from the government and the company's rapid adaptation to the situation, BAC once again demonstrated its resilience, with stock prices recovering and even experiencing growth.
History and Evolution of Bank of America Corporation (BAC)
In the early 20th century, San Francisco was a rapidly developing city, yet it was full of challenges. Amid growing innovation and industry, many immigrants flocked to the city in search of opportunities.
Amadeo Giannini saw this opportunity and in 1904 established the Bank of Italy. His goal was simple yet revolutionary: to provide banking access to "the little man" – the workers, small traders, and immigrants who were often overlooked by the larger banks at the time.
The Bank of Italy managed to survive and even thrived post the San Francisco earthquake in 1906, where Giannini offered loans to the affected residents. In 1928, through a series of acquisitions and expansions, the Bank of Italy transformed into Bank of America. This name change was not just symbolic but reflected Giannini's vision to create a national banking network serving all of America.
Over the next few decades, BAC continued to grow, both through organic expansion and acquisitions. In the 90s, BAC solidified its position as one of the world's largest banks through a series of strategic purchases, including the acquisition of NationsBank in 1998.
However, like many other companies, Bank of America also faced challenges. The global financial crisis in 2008 shook the foundations of banking. Nonetheless, with the right policies and support from the government, BAC managed to get through these tough times and get back on track.
The acquisition of Merrill Lynch in 2008 was a bold step that enhanced BAC's service portfolio, especially in the finance and investment sector. It extended BAC's reach and capabilities, making it a key player in the global market.
Key Metrics
| | |
| --- | --- |
| Founded | Sep 30, 1998 |
| Headquarters | Charlotte, United States |
| Website | https://www.bankofamerica.com/ |
| Number of employees | 216,000 |
Financial Summary
| Item | 2022 | 2021 | 2020 | 2019 |
| --- | --- | --- | --- | --- |
| Total Revenue | 94,95 M | 89,11 M | 85,53 M | 91,24 M |
| Credit Losses Provision | -2,54 M | 4,59 M | -11,32 M | -3,59 M |
| Non Interest Expense | 61,44 M | 59,73 M | 55,21 M | 54,90 M |
| Pretax Income | 30,97 M | 33,98 M | 19,00 M | 32,75 M |
| Tax Provision | 3,44 M | 2,00 M | 1,10 M | 5,32 M |
| Net Income | 27,53 M | 31,98 M | 17,89 M | 27,43 M |
| Item | 2022 | 2021 | 2020 | 2019 |
| --- | --- | --- | --- | --- |
| Total Assets | 3,05 T | 3,17 T | 2,82 T | 2,43 T |
| Total Liabilities | 2,78 T | 2,90 T | 2,55 T | 2,17 T |
| Total Equity | 279,20 M | 270,07 M | 272,92 M | 264,81 M |
| Item | 2022 | 2021 | 2020 | 2019 |
| --- | --- | --- | --- | --- |
| Operating Cash Flow | -6,33 M | -7,19 M | 37,99 M | 61,78 M |
| Investing Cash Flow | -2,53 M | -313,29 M | -177,67 M | -80,63 M |
| Financing Cash Flow | -106,04 M | 291,65 M | 355,82 M | 3,38 M |
| End Cash Position | 230,20 M | 348,22 M | 380,46 M | 161,56 M |
in USD (Jt = million, M = billion, T = trilion)
Executives
| | |
| --- | --- |
| Brian Thomas Moynihan | Chairman, CEO & Pres |
| Alastair M. Borthwick | Chief Financial Officer |
| Dean C. Athanasia | Pres of Regional Banking |
| Paul M. Donofrio | Vice Chairman |
| Geoffrey S. Greener | Chief Risk Officer |
| Thomas M. Scrivener | Chief Operations Exec. |
| Christopher M. Hyzy | Chief Investment Officer |
| Rudolf A. Bless | Chief Accounting Officer |
| Matthew M. Koder | Pres of Global Corp. & Investment Banking |
How to Buy
Bank of America Corporation (BAC)
Stocks
Interested in buying shares of this tech company? You can buy Bank of America Corporation (BAC) shares with simple steps:
Install Nanovest app on the App Store or Play Store.

Register according to the instructions.

Verify your identity for security and convenience when buying stocks through the

KYC feature

which you can do in just 1 minute.

Top Up your balance to your Nanovest account.

Go to the stock menu, search and select

Bank of America Corporation (BAC)

.

Click the Buy button and confirm the purchase with your desired amount. You can start with only IDR 5,000.
Before investing in the stocks you want, do some research and analysis first. You can do this by checking company profile, industry conditions, company financial reports, and analyzing previous stock price movements. This analysis is important so that you can develop an accurate investment strategy and minimize losses.
Is it Safe to Buy
Bank of America Corporation (BAC)
Stocks on Nanovest?
Of course. Nanovest is supported by a number of professional partners who have a good reputation in providing their services. One of them is supported by S-Quantum Engine technology by Sinarmas Financial Services.
For global and US stocks, Nanovest partners with brokers registered with the United Stated Financial Industry Regulatory Authority (FINRA) – which insures brokerage accounts held by Nanovest users up to U$S 500k by the United States Securities Investor Protection Corporation (SIPC).
For crypto assets, Nanovest is registered with the Commodity Futures Trading Supervisory Agency (Bappebti). The Nanovest platform itself has also been insured through a partnership with Sinarmas Insurance.
Disclaimer
All content on this website is for informational purposes and doesn't constitute a recommendation to buy/sell any stock or digital asset. Investors should understand the nature of stocks and digital assets, including return and risk requirements of the assets. We encourage investors to fully understand the assets and risks before making any investment. Always do your own research.
See More Stocks
---