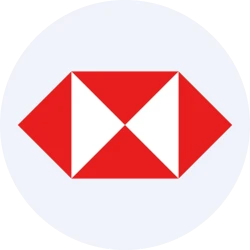 HSBC is a multinational banking and financial services company based in London. HSBC has an extensive global network and offers a range of services, including retail, commercial, and investment banking.
About
HSBC
Discussing the history of banking, especially when talking about international banking institutions, feels incomplete without shedding light on HSBC's journey. Established in Hong Kong in 1865 by Sir Thomas Sutherland to support trade between Asia and Europe, HSBC has now become one of the leading global financial institutions in the world.
With its presence in 64 countries and territories worldwide, HSBC positions itself as an integrated international banking network. With assets of over 2.7 trillion US dollars in 2020, the bank ranks as the 7th largest bank globally.
HSBC's Vision and Mission
Speaking of vision, HSBC carries the slogan "Unlocking the World's Potential." They aim to help their customers grow, achieve their ambitions, and realize potential. Their adherence to their principles reflects a deep commitment to ensure they meet stakeholders' expectations in sustainability and social responsibility.
HSBC's mission is to build connections, serve businesses, and facilitate global economic growth. They recognize the significance of cross-country collaboration, which sets HSBC apart: their ability to help customers cross borders and time zones, ensuring clients can find financial solutions tailored to their needs.
HSBC's Products and Services
HSBC, with its global network and diverse financial products, offers tailored solutions for both individual and corporate needs.
1. Retail Banking
HSBC Premier

– An exclusive banking service for those who want more from their bank accounts. HSBC Premier offers a suite of facilities, such as access to a dedicated Premier Relationship Manager, wealth management services, and other privileges when traveling. According to recent data, about 5 million customers worldwide utilize this service.

HSBC Advance

– Designed for those on the go and requiring flexible financial support. This service offers faster online banking, personal loans with competitive interest rates, and various other facilities tailored to modern financial needs.

Savings and Deposits

– Offering a range of savings and deposit products to suit your needs, from regular savings to time deposits with attractive returns.
2. Corporate Banking
Companies looking to grow their businesses need a robust financial partner. HSBC provides services like trade financing, working capital management, and treasury solutions to ensure corporate clients' liquidity and business growth.
3. Wealth Management and Insurance Services
Helping you manage your wealth and secure a better future is a priority for HSBC. They offer a variety of investment products, from mutual funds to bonds, as well as an array of insurance products, both life and health.
4. Digital Services
In this modern era, HSBC innovates with a series of digital services. One such service is the HSBC Mobile Banking app, making it easier for you to manage your finances without visiting a branch. With advanced security features, your financial transactions are safer and faster.
Key Figures in HSBC's History
1. Sir Thomas Sutherland
As the founder of HSBC, Sir Thomas Sutherland had a vision of a bank that could facilitate the rapidly growing trade between Europe and Asia. In 1865, he realized this vision by establishing HSBC in Hong Kong.
Under his leadership, HSBC grew to become one of the leading banks in Asia and had strong trade ties with Europe, particularly Britain. Sir Thomas was not just a visionary leader but also a trailblazer in the international banking world.
2. Stephen Green
Serving as Chairman from 2006 to 2010, Stephen Green led HSBC through one of the most challenging periods in banking history: the global financial crisis. With strong leadership and conservative banking policies, Stephen successfully steered HSBC without having to rely on government aid, as many other banks did at that time.
3. Mark Tucker
As the current Chairman (as of 2021 based on my knowledge), Mark Tucker holds significant responsibility in ensuring HSBC remains relevant in the digital age. Under his guidance, HSBC has implemented numerous digital innovations and expanded its operations in Asia, especially in China.
HSBC Stock Price Fluctuations
Throughout its history, HSBC has experienced various stock price turbulences, but one of the most notable was during the 2007-2008 global financial crisis. During this period, many global banks faced significant losses and required government bailouts, but HSBC's conservative policies kept it stable.
However, this stability came at a cost. In 2008, HSBC's stock price hit its lowest point in the last decade, about 50% lower than its peak in 2007. This was due to global market uncertainties and concerns about debt crises in several European countries.
Thanks to effective business strategies and customer trust, HSBC recovered quickly. By 2011, its stock price had returned to pre-crisis levels, showcasing HSBC's strength and resilience as a leading global bank.
History and Evolution of HSBC
HSBC originated from the vision of Sir Thomas Sutherland in 1865. He recognized the need to facilitate the booming trade between China and Europe, particularly Britain.
With his background as a member of the British Peninsular shipping company, Sutherland fully grasped the challenges faced by traders in the Hong Kong port. In response, he established The Hongkong and Shanghai Banking Corporation, which we now know as HSBC.
In the early 20th century, HSBC began pursuing expansion outside of Asia. They opened their first branch office in London in 1910 and acquired the British Bank of the Middle East in 1959. This was their initial step towards becoming a global player. Shortly after, they also expanded operations to America with the acquisition of Marine Midland Bank in 1980.
Like many other financial institutions, HSBC faced crises. The 2007-2008 global financial crisis rocked the banking world, but HSBC, with its conservative strategy, managed to navigate through the crisis relatively unscathed. Even though its stock price plummeted, the bank did not require government aid, unlike many of its peers.
Under Mark Tucker's leadership, HSBC initiated significant changes. They refocused their operations in Asia, with China at the center of attention.
HSBC also invested billions in technology to ensure they remain competitive in the digital era. As a result, they launched several digital banking innovations, including mobile apps and online trading platforms.
Key Metric
| | |
| --- | --- |
| Founded | Mar 3, 1865 |
| Headquarters | London, Greater London, United Kingdom |
| Website | https://www.hsbc.com/ |
| Number of employees | 221,764 |
Financial Summary
| Item | 2022 | 2021 | 2020 | 2019 |
| --- | --- | --- | --- | --- |
| Total Revenue | 67.01 M | 64.24 M | 63.22 M | 70.86 M |
| Income from Associates and Other Participating Interests | 2.72 M | 3.05 M | 1.60 M | 2.35 M |
| Special Income Charges | -8.28 M | -2.77 M | 694 Jt | -9.39 M |
| Pretax Income | 17.53 M | 18.91 M | 8.78 M | 13.35 M |
| Tax Provision | 858 Jt | 4.21 M | 2.68 M | 4.64 M |
| Net Income Common Stockholders | 14.82 M | 12.61 M | 3.90 M | 5.97 M |
| Item | 2022 | 2021 | 2020 | 2019 |
| --- | --- | --- | --- | --- |
| Total Assets | 2.97 T | 2.96 T | 2.98 T | 2.72 T |
| Total Liabilities | 2.77 T | 2.75 T | 2.78 T | 2.52 T |
| Total Equity | 196.03 M | 206.78 M | 204.99 M | 192.67 M |
| Item | 2022 | 2021 | 2020 | 2019 |
| --- | --- | --- | --- | --- |
| Operating Cash Flow | 26.43 M | 104.31 M | 182.22 M | 29.74 M |
| Investing Cash Flow | -34.48 M | 27.54 M | -22.43 M | -35.32 M |
| Financing Cash Flow | -6.29 M | -10.79 M | -4.64 M | -14.84 M |
| End Cash Position | 524.67 M | 574.03 M | 468.32 M | 293.74 M |
in USD (Jt = million, M = billion, T = trilion)
Executives
| | |
| --- | --- |
| Noel Paul Quinn | Group CEO, Member of the Group Management Board & Exec. Director |
| Georges Bahjat Elhedery | Group CFO, Member of the Group Management Board & Exec. Director |
| Manveen Pam Kaur | Group Chief Risk & Compliance Officer and Member of the Group Management Board |
| Stephen Colin Moss | CEO of Middle East North Africa & Turkey (MENAT) Region and Member of Group Management Board |
| Colin William Bell | CEO of HSBC Bank plc & HSBC Europe and Member of the Group Management Board |
| John David Stuart | CEO of HSBC UK Bank plc & Member of the Group Management Board |
| Elaine Arden | Group Chief HR Officer & Member of the Group Management Board |
| Gregory L. Guyett | Chief Exec. of Global Banking & Markets and Member of the Group Management Board |
| Barry O'Byrne | CEO of Global Commercial Banking & Member of the Group Management Board |
How to Buy
HSBC
Stocks
Interested in buying shares of this tech company? You can buy HSBC shares with simple steps:
Install Nanovest app on the App Store or Play Store.

Register according to the instructions.

Verify your identity for security and convenience when buying stocks through the

KYC feature

which you can do in just 1 minute.

Top Up your balance to your Nanovest account.

Go to the stock menu, search and select

HSBC

.

Click the Buy button and confirm the purchase with your desired amount. You can start with only IDR 5,000.
Before investing in the stocks you want, do some research and analysis first. You can do this by checking company profile, industry conditions, company financial reports, and analyzing previous stock price movements. This analysis is important so that you can develop an accurate investment strategy and minimize losses.
Is it Safe to Buy
HSBC
Stocks on Nanovest?
Of course. Nanovest is supported by a number of professional partners who have a good reputation in providing their services. One of them is supported by S-Quantum Engine technology by Sinarmas Financial Services.
For global and US stocks, Nanovest partners with brokers registered with the United Stated Financial Industry Regulatory Authority (FINRA) – which insures brokerage accounts held by Nanovest users up to U$S 500k by the United States Securities Investor Protection Corporation (SIPC).
For crypto assets, Nanovest is registered with the Commodity Futures Trading Supervisory Agency (Bappebti). The Nanovest platform itself has also been insured through a partnership with Sinarmas Insurance.
Disclaimer
All content on this website is for informational purposes and doesn't constitute a recommendation to buy/sell any stock or digital asset. Investors should understand the nature of stocks and digital assets, including return and risk requirements of the assets. We encourage investors to fully understand the assets and risks before making any investment. Always do your own research.
See More Stocks
---