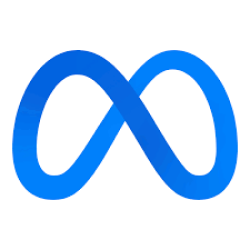 Meta Platforms, Inc., formerly Facebook Inc., is a major technology company in the world that is active in building services to connect and grow people's businesses around the world.
About Meta Platforms, Inc., (META)
Meta Platforms Inc., formerly known as Facebook Inc., is one of the tech giants that has significantly impacted various aspects of people's lives worldwide.
Meta Platforms Inc. (META) is a technology company focusing on social media, advertising, and communication technology. Founded in 2004 by Mark Zuckerberg, Eduardo Saverin, Andrew McCollum, Dustin Moskovitz, and Chris Hughes, the company is headquartered in Menlo Park, California, United States. Its stock is listed on the NASDAQ stock exchange under the symbol META (formerly FB).
Meta Platforms Inc.'s vision is to build a technology infrastructure that enables people to connect, share, and collaborate more easily in the virtual world. Its mission is to "help people connect and share whatever they want with anyone in the world."
Meta is committed to delivering an inclusive, transparent platform that enables users to create strong communities and new economies.
With a clear vision and mission, the company has created a number of products that have transformed the way people around the world communicate and interact.
This vision and mission are certainly supported by a strong and solid internal team. Key people in the company, such as Mark Zuckerberg, Sheryl Sandberg, and others, continue to lead Meta Platforms Inc. in bringing innovation and creating a positive impact on societies worldwide.
Some key individuals who have also developed META into a large company include:
Mark Zuckerberg

– Founder, CEO, and Chairman of Meta Platforms Inc. He is the key figure behind various innovations and company strategies.

Sheryl Sandberg

– Chief Operating Officer (COO) of Meta Platforms Inc. Sandberg joined Facebook in 2008 until September 2022 and played a crucial role in developing the company's business strategy and monetization.

David Wehner

– Chief Financial Officer (CFO) of Meta Platforms Inc. He is responsible for managing the company's finances, including investment management and financial performance analysis. Starting from November 2022, he was reassigned to become the Chief Strategy Officer (CSO).

Mike Schroepfer

– Chief Technology Officer (CTO) of Meta Platforms Inc. Schroepfer leads the company's technology development, including research, product development, and metaverse innovation.
META Products
Meta Platforms Inc. has several widely known products. Some of the company's main products include:
Facebook

– A social media platform that connects billions of users worldwide. Users can share photos, videos, news, and follow pages and groups they are interested in.

Instagram

– A popular photo and video sharing app that allows users to edit and share visual content with other users.

WhatsApp

– An instant messaging app that provides text, voice, image, and video sending services, as well as voice and video calls worldwide.

Messenger

– A messaging app integrated with Facebook, allowing users to send messages, photos, videos, and make voice and video calls.

Oculus VR

– Virtual reality technology products that include hardware (such as the Oculus Rift headset) and software that support immersive virtual experiences.
It's no surprise for people worldwide to know META's products and their current number of users, given their immense influence on advancing technology and social media industries.
META Stock History
In 2020, the company reported revenues of $86 billion, an increase of about 22% compared to the previous year.
This revenue comes from advertising, hardware sales, and other services offered by Meta and its subsidiaries. Additionally, the number of monthly active users across the company's platforms reached over 3.5 billion people.
Throughout its history, Meta Platforms Inc.'s stock price has experienced several interesting fluctuations. Some notable moments that have influenced META's stock price include:
IPO (Initial Public Offering) – On May 18, 2012, Facebook Inc. conducted its initial public offering at a price of $38 per share. At that time, the company raised approximately $16 billion, making it one of the largest IPOs in the technology industry.
Acquisition of WhatsApp – In February 2014, Facebook announced the acquisition of WhatsApp for $19 billion. This purchase was considered one of the largest acquisitions in the tech industry at the time and had a positive impact on Facebook's stock price.
Cambridge Analytica Privacy Crisis – In March 2018, the company faced a privacy crisis involving data analytics firm Cambridge Analytica. As a result of this scandal, Facebook's stock price dropped significantly within a few days.
Name Change to Meta Platforms Inc. – In October 2021, Facebook announced the company's name change to Meta Platforms Inc. to emphasize its focus on metaverse technology. This news temporarily caused the company's stock price to experience fluctuating movements.
Meta Platforms Inc. has faced challenges and controversies related to privacy policies, the spread of false information (misinformation), and the impact on users' mental health, particularly for children and teenagers. Some interesting cases include:
Privacy Policy

– Meta continues to face challenges in protecting its users' privacy, especially after the 2018 Cambridge Analytica scandal. The company has taken steps to improve privacy policies and transparency.

Misinformation Spread

– Meta platforms such as Facebook and Instagram have often been criticized for the spread of fake news and misinformation. The company has taken action to combat this phenomenon by removing content that violates policies and partnering with third parties for fact-checking.

Users' Mental Health Impact

– Studies have revealed the negative impact of social media usage on mental health, particularly for children and teenagers. Meta faces pressure to protect young users by developing features such as parental controls and time usage limits on apps.
Meta Platforms Inc. and the Metaverse
With the company's name change to Meta Platforms Inc., the company has demonstrated its commitment to developing the metaverse, a virtual world that allows users to interact through avatars, meet, work, play, and explore immersive environments.
The metaverse is expected to be the next revolution in the technology industry, combining virtual reality (VR), augmented reality (AR), as well as blockchain and cryptocurrency.
Meta Platforms Inc. has invested significant resources in developing metaverse technology, including:
Oculus Quest

– A wireless VR headset that enables virtual gaming and entertainment experiences without requiring additional computers or consoles.

Project Aria

– An AR research project focused on developing hardware and software to bring AR technology into everyday life.

Horizon Workrooms

– A virtual collaboration platform that allows users to work together in a VR environment, enabling more immersive and interactive meetings and discussions.

Meta Business Suite

– A set of tools and services that enable companies to manage their presence on Meta platforms, including advertising, analytics, and collaboration tools.
In the coming years, Meta Platforms Inc. will face various opportunities and challenges in the ever-changing technology industry. Some anticipated opportunities include:
Metaverse Growth

– With aggressive investments in metaverse technology, Meta has the potential to become a leader in this new industry, creating new markets and revenue sources.

Expansion into Emerging Markets

– Meta still has potential to expand its market penetration in developing countries, offering tailored services to meet the needs of users in various regions.

Innovation in AI and AR Technology

– Meta has invested resources in researching and developing AI and AR technology, which can help the company deliver innovative solutions that attract users and increase long-term value.
Meta Platforms Inc. has grown into a tech giant that influences the lives of people worldwide. Through a range of well-known products, interesting stock price fluctuations, and the roles of its leaders, the company continues to create innovation and build strong communities.
Despite facing challenges and controversies, Meta remains focused on its vision and mission and invests in future technologies such as the metaverse, AI, and AR.
Key Metrics
| | |
| --- | --- |
| Founded | 4 Februari 2004 |
| Main Office | Menlo Park, CA, United States |
| Website | https://www.meta.com/ |
| Employees | 86,482 |
Rangkuman Keuangan
| Item | 2022 | 2021 | 2020 | 2019 |
| --- | --- | --- | --- | --- |
| Total Revenue | 116,51 M | 117,93 M | 85,97 M | 70,7 M |
| Cost of Revenue | 25,25 M | 22,65 M | 16,69 M | 12,77 M |
| Gross Profit | 91,36 M | 95,28 M | 69,27 M | 57,93 M |
| Operating Income | 28,94 M | 46,75 M | 32,67 M | 23,99 M |
| Operating Expense | 62,42 M | 48,53 M | 36,60 M | 33,94 M |
| Net Income | 23,20 M | 39,37 M | 29,15 M | 18,49 M |
| Item | 2022 | 2021 | 2020 | 2019 |
| --- | --- | --- | --- | --- |
| Total Assets | 185,78 M | 165,99 M | 159,32 M | 133,38 M |
| Total Liabilities | 60,01 M | 41,10 M | 31,02 M | 32,32 M |
| Total Equity | 125,71 M | 124,88 M | 128,30 M | 101,05 M |
| Item | 2022 | 2021 | 2020 | 2019 |
| --- | --- | --- | --- | --- |
| Operating Cash Flow | 50,48 M | 57,68 M | 38,74 M | 36,31 M |
| Investing Cash Flow | -28,97 M | -7,57 M | -30,06 M | -19,86 M |
| Financing Cash Flow | -22,14 M | -50,73 M | -10,29 M | -7,30 M |
| End Cash Position | 15,60 M | 16,87 M | 17,95 M | 19,28 M |
in USD (Jt = million, M = billion, T = trilion)
Executives
| | |
| --- | --- |
| Mark Elliot Zuckerberg | Chairman & Chief Executive Officer |
| Sheryl Kara Sandberg MBA | Director |
| Peggy Abkemeier-Alford CPA | Independent Director |
| Andrew W Houston | Independent Director |
| Nancy Killefer MBA | Independent Director |
| Tracey Thomas Travis MBA | Independent Director |
| Robert M Kimmitt PhD | Lead Independent Director |
| Tony Xu MBA | Independent Director |
| Marc Lowell Andreessen | Independent Director |
Updates
How to Buy META Stocks
Interested in buying shares of this tech company? You can buy META shares with simple steps:
Install Nanovest app on the App Store or Play Store.

Register according to the instructions.

Verify your identity for security and convenience when buying stocks through the KYC feature which you can do in just 1 minute.

Top Up your balance to your Nanovest account.

Go to the stock menu, search and select Meta Platforms, Inc., (META).

Click the Buy button and confirm the purchase with your desired amount. You can start with only IDR 5,000.
Before investing in the stocks you want, do some research and analysis first. You can do this by checking company profile, industry conditions, company financial reports, and analyzing previous stock price movements. This analysis is important so that you can develop an accurate investment strategy and minimize losses.
Is it Safe to Buy META Stocks on Nanovest?
Of course. Nanovest is supported by a number of professional partners who have a good reputation in providing their services. One of them is supported by S-Quantum Engine technology by Sinarmas Financial Services.
For US and global stocks, Nanovest partners with brokers registered with the United Stated Financial Industry Regulatory Authority (FINRA) – which insures brokerage accounts held by Nanovest users up to U$S 500k by the United States Securities Investor Protection Corporation (SIPC).
For crypto assets, Nanovest is registered with the Commodity Futures Trading Supervisory Agency (Bappebti). The Nanovest platform itself has also been insured through a partnership with Sinarmas Insurance.
Disclaimer
All content on this website is for informational purposes and doesn't constitute a recommendation to buy/sell any stock or digital asset. Investors should understand the nature of stocks and digital assets, including return and risk requirements of the assets. We encourage investors to fully understand the assets and risks before making any investment. Always do your own research.
---