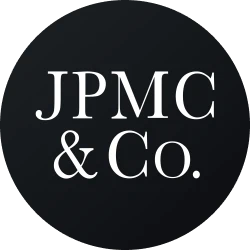 JPMorgan Chase & Co is a multinational financial services and banking firm based in New York. JPMorgan Chase is one of the "Big Four" banks in the United States and offers a range of services including retail banking, investments, and asset management.
About
JPMorgan Chase & Co (JPM)
Often referred to as JPMorgan, it is one of the oldest and largest financial institutions in the world. Established in 1799, the company has a long history in shaping the financial industry in the U.S. and globally.
Starting as a small bank in New York, JPMorgan expanded through a series of strategic mergers and acquisitions, including with The Chase Manhattan Bank, The Bank of New York, and several other financial institutions. Now, with total assets reaching trillions of U.S. dollars, the company stands as an industry leader with a presence in over 60 countries.
JPMorgan Chase & Co is not just a financial institution. It reflects a long journey of innovation and dedication in providing the best solutions for its clients. With a strong vision and mission, and innovative products, JPMorgan continues to innovate for a brighter future in the financial sector.
JPMorgan's Vision and Mission
JPMorgan is not solely focused on business profit. Behind its success is a strong vision and mission to create positive change in the community. Its vision is "To be the best bank in the world for clients, communities, and stakeholders." To realize this, the company's mission is to provide innovative, responsible, and sustainable financial solutions.
JPMorgan's Products and Services
1. Consumer Banking Services
JPMorgan offers various banking products and services for individuals. From savings accounts, credit cards to personal loans, these financial solutions are designed to meet the daily needs of consumers. According to recent data, over 50 million consumers in the U.S. use JPMorgan's consumer banking services.
2. Corporate Banking Services
With extensive experience and a vast network, JPMorgan is the bank of choice for corporations worldwide. The company provides financial solutions for business operations, including treasury and cash management services.
3. Investment and Asset Management
Assisting individuals and institutions in managing investments, JPMorgan has several investment products and asset management solutions. With a team of experts and cutting-edge technology, these products have been trusted by over 40 million consumers globally.
Key People Behind JPMorgan's Success
1. J.P. Morgan
As the founder and the name behind the company, John Pierpont Morgan shaped the golden era of the U.S. financial industry in the late 19th and early 20th centuries. Morgan was known for his sharp vision in addressing economic crises, including when he intervened in the U.S. Government during the Panic of 1907.
With his expertise, he ensured market liquidity remained stable and prevented potential larger losses. Morgan's leadership and dedication made him one of the most influential bankers in American history.
2. Jamie Dimon
Joining JPMorgan Chase & Co in 2004, Jamie Dimon now serves as Chairman and CEO. Under his leadership, JPMorgan navigated the tough times of the 2008 global financial crisis with minimal losses compared to other major banks. Dimon is known for his firm approach in risk management and his commitment to conservative banking principles.
3. Mary Callahan Erdoes
As the CEO of Asset & Wealth Management at JPMorgan, Mary leads a division with assets of more than $3 trillion. She is recognized for her keen analytical skills and high dedication to developing quality investment products.
Under her leadership, the division has seen significant growth and has become one of JPMorgan's most profitable sectors.
JPMorgan Stock Price Fluctuations
As one of the most established companies in the world, JPMorgan Chase & Co. certainly has an intriguing history of stock price fluctuations. One of the most notable fluctuations occurred during the global financial crisis in 2008.
At that time, many major banks around the world faced challenges, but JPMorgan, with its strict risk management, was able to mitigate the negative impact.
In March 2008, JPMorgan's stock price plummeted sharply but then rebounded quickly after acquiring Bear Stearns, a financial institution severely affected by the crisis, at a very cheap price.
Although their stock price once plummeted to its lowest point, JPMorgan managed to recover quickly and return to a positive trend in a relatively short period.
Additionally, this financial crisis provided an opportunity for JPMorgan to make other strategic acquisitions such as Washington Mutual, strengthening its position as one of the largest and most powerful banks in the world.
JPMorgan's History and Development
The history of JPMorgan Chase & Co. can arguably be described as the history of the American financial industry itself. The institution has undergone various phases, revolutions, and changes that have shaped the face of today's global finance.
It all began in the late 18th century when Aaron Burr founded The Manhattan Company. Its initial goal wasn't solely banking but also to provide clean water to the residents of New York. However, over time, the company's focus shifted entirely to the banking sector.
John Pierpont Morgan, who later became one of the most influential banking figures in America, formed Drexel, Morgan & Co. In 1895, its name changed to J.P. Morgan & Co. Under his leadership, the company became a dominant force on Wall Street, engaging in major mergers and becoming a primary pillar in the formation of the steel, railway, and telecommunications industries in the US.
Chase National Bank was established by John Thompson. The name "Chase" was taken from Salmon P. Chase, even though he had no direct affiliation with the bank. By the mid-20th century, this bank had become the world's largest based on assets.
Another significant chapter was when J.P. Morgan & Co merged with Chase Manhattan, resulting in JPMorgan Chase & Co. This marked a new era for the company, blending the strengths and resources of both major entities.
In response to the 2008 global financial crisis, JPMorgan acquired Bear Stearns and Washington Mutual. These strategic acquisitions solidified JPMorgan's position as one of the world's largest and strongest banks.
With the advancement of technology, JPMorgan began investing heavily in the digitalization of its services. This includes the development of mobile banking apps, online investment platforms, and blockchain technology.
Key Metric
| | |
| --- | --- |
| Founded | Dec 31, 2000 |
| Headquarters | New York, New York, United States |
| Website | https://www.jpmorganchase.com/ |
| Number of employees | 300,066 |
Financial Summary
| Item | 2022 | 2021 | 2020 | 2019 |
| --- | --- | --- | --- | --- |
| Total Revenue | 128.7 M | 121.65 M | 119.54 M | 115.63 M |
| Credit Losses Provision | -6.39 M | 9.26 M | -17.48 M | -5.59 M |
| Non Interest Expense | 75.87 M | 71.34 M | 66.66 M | 65.5 M |
| Income from Associates and Other Participating Interests | – | -21 Jt | – | – |
| Special Income Charges | -266 Jt | – | – | – |
| Pretax Income | 46.17 M | 59.56 M | 35.41 M | 44.55 M |
| Item | 2022 | 2021 | 2020 | 2019 |
| --- | --- | --- | --- | --- |
| Total Assets | 3.67 T | 3.74 T | 3.39 T | 2.69 T |
| Total Liabilities | 3.37 T | 3.45 T | 3.11 T | 2.43 T |
| Total Equity | 232.33 M | 294.13 M | 279.35 M | 261.33 M |
| Item | 2022 | 2021 | 2020 | 2019 |
| --- | --- | --- | --- | --- |
| Operating Cash Flow | 107.12 M | 78.08 M | -79.91 M | 6.05 M |
| Investing Cash Flow | -137.82 M | -129.34 M | -261.91 M | -54.01 M |
| Financing Cash Flow | -126.26 M | 275.99 M | 596.65 M | 32.99 M |
| End Cash Position | 567.23 M | 740.83 M | 527.61 M | 263.63 M |
in USD (Jt = million, M = billion, T = trilion)
Executives
| | |
| --- | --- |
| James Dimon | Chairman & CEO |
| Daniel Eduardo Pinto | Pres & COO |
| Jeremy Barnum | Exec. VP & CFO |
| Mary Callahan Erdoes | Chief Exec. Officer of Asset & Wealth Management |
| Marianne Lake | Co-Chief Exec. Officer of Consumer & Community Banking |
| Jennifer A. Piepszak | Co-Chief Exec. Officer of Consumer & Community Banking |
| Elena A. Korablina | MD, Firmwide Controller & Principal Accounting Officer |
| Lori Ann Beer | Global Chief Information Officer |
| Mikael Grubb | Head of Investor Relations |
How to Buy
JPMorgan Chase & Co (JPM)
Stocks
Interested in buying shares of this tech company? You can buy JPMorgan Chase & Co (JPM) shares with simple steps:
Install Nanovest app on the App Store or Play Store.

Register according to the instructions.

Verify your identity for security and convenience when buying stocks through the

KYC feature

which you can do in just 1 minute.

Top Up your balance to your Nanovest account.

Go to the stock menu, search and select

JPMorgan Chase & Co (JPM)

.

Click the Buy button and confirm the purchase with your desired amount. You can start with only IDR 5,000.
Before investing in the stocks you want, do some research and analysis first. You can do this by checking company profile, industry conditions, company financial reports, and analyzing previous stock price movements. This analysis is important so that you can develop an accurate investment strategy and minimize losses.
Is it Safe to Buy
JPMorgan Chase & Co (JPM)
Stocks on Nanovest?
Of course. Nanovest is supported by a number of professional partners who have a good reputation in providing their services. One of them is supported by S-Quantum Engine technology by Sinarmas Financial Services.
For global and US stocks, Nanovest partners with brokers registered with the United Stated Financial Industry Regulatory Authority (FINRA) – which insures brokerage accounts held by Nanovest users up to U$S 500k by the United States Securities Investor Protection Corporation (SIPC).
For crypto assets, Nanovest is registered with the Commodity Futures Trading Supervisory Agency (Bappebti). The Nanovest platform itself has also been insured through a partnership with Sinarmas Insurance.
Disclaimer
All content on this website is for informational purposes and doesn't constitute a recommendation to buy/sell any stock or digital asset. Investors should understand the nature of stocks and digital assets, including return and risk requirements of the assets. We encourage investors to fully understand the assets and risks before making any investment. Always do your own research.
See More Stocks
---