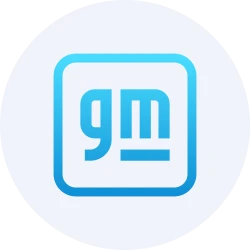 General Motors Co (GM) is a multinational car manufacturer based in Detroit, Michigan. As one of the "Big Three" car manufacturers in the US, GM boasts brands like Chevrolet, Cadillac, GMC, and Buick in its portfolio.
About
General Motors Co (GM)
Established in 1908 by William C. Durant, General Motors (GM) has made its mark as one of the automotive industry giants worldwide. Based in Detroit, USA, this company has, through numerous innovations and adaptability, overcome challenges spanning from economic and technological to socio-cultural aspects.
Behind GM's success lies a tale of a company continuously adapting to the changing times. From the era of gasoline-powered vehicles to the current electric car revolution, GM has always been at the forefront.
General Motors Co's Vision and Mission
GM's vision is clear: "Zero Crashes, Zero Emissions, Zero Congestion". It's a dream to realize a world with safe vehicles, pollution-free, and smooth without congestion. As for its mission, GM is committed to "Shaping the future of mobility by prioritizing safety and empowering communities worldwide". Both these statements reflect GM's determination to lead in producing environmentally-friendly and safe vehicles.
General Motors Co's Product Lines
GM offers a variety of product lines that have graced roads across the globe:
1. Chevrolet
With its iconic cross-shaped logo, Chevrolet has become a symbol of reliability for millions of consumers. Its vast product range, from sedans like Chevrolet Malibu to SUVs like Chevrolet Suburban, ensures every car enthusiast finds something tailored to their taste and needs.
2. Cadillac
Embodying luxury, Cadillac consistently presents products excelling in comfort, technology, and design. For instance, the Cadillac Escalade has become a luxury SUV of choice for consumers desiring a blend of power and luxury.
3. GMC
GMC is renowned for its robust trucks and SUVs. The GMC Sierra series, for instance, is famed for its strength, while the GMC Terrain is a pick for those desiring a rugged yet elegant SUV performance.
4. Buick
Blending innovation with tradition, Buick continuously introduces vehicles that captivate consumers. The Buick Enclave, for example, is recognized as an SUV offering premium comfort at a more affordable price.
With its varied product lines, GM has won the hearts of millions of consumers globally. With continuous innovation and commitment to sustainability, GM is poised to lead the automotive revolution in the future.
Key Figures Behind General Motors Co
1. William C. Durant
As the founder of GM, Durant was a visionary who successfully consolidated several car manufacturers into a single large entity named General Motors in 1908. He played a crucial role in the company's early strategy to acquire other automotive brands and integrate them into GM, including Cadillac, Chevrolet, and Buick.
2. Alfred P. Sloan
Serving as GM's President in 1923 and later as Chairman, Sloan is celebrated for his sophisticated management approach that saw GM through the Great Depression in the 1930s. Sloan introduced the "model year" concept and positioned GM brands in the "ladder of success", encouraging consumers to "climb" from one brand to another as their income grew.
3. Mary T. Barra
Having joined GM at 18 as an engineer, Mary Barra became the company's CEO in 2014, marking her as the first woman to lead a global automotive manufacturer. Under her leadership, GM has concentrated on electric vehicles and autonomous car technology.
Fluctuations in General Motors Co's Stock Price
One of the most prominent episodes in GM's history was the financial crisis of 2008-2009. At its height, GM, once the world's most valuable company, declared bankruptcy in 2009.
This led to a sharp decline in GM's stock price. With assistance from the US government, GM underwent business restructuring and later relaunched its IPO in 2010 with a significantly increased stock price.
However, GM's story didn't end there. Under Barra's leadership, GM made massive investments in electric and autonomous vehicle technology. This spurred a rise in GM's stock price, in line with investor optimism about the future of electric vehicles.
Key Metric
| | |
| --- | --- |
| Founded | Sep 16, 1908 |
| Headquarters | Renaissance Center, Detroit, Michigan, U.S. |
| Website | https://www.gm.com/ |
| Number of employees | 167,000 |
Financial Summary
| Item | 2022 | 2021 | 2020 | 2019 |
| --- | --- | --- | --- | --- |
| Total Revenue | 156.74 M | 127.00 M | 122.49 M | 137.24 M |
| Cost of Revenue | 135.75 M | 109.13 M | 108.81 M | 123.27 M |
| Gross Profit | 20.98 M | 17.88 M | 13.67 M | 13.97 M |
| Operating Income | 10.31 M | 9.32 M | 6.63 M | 5.48 M |
| Operating Expense | 10.67 M | 8.55 M | 7.04 M | 8.49 M |
| Net Income | 9.93 M | 10.02 M | 6.43 M | 6.73 M |
| Item | 2022 | 2021 | 2020 | 2019 |
| --- | --- | --- | --- | --- |
| Total Assets | 264.04 M | 244.72 M | 235.19 M | 228.04 M |
| Total Liabilities | 191.75 M | 178.90 M | 185.52 M | 185.08 M |
| Total Equity | 72.28 M | 65.82 M | 49.68 M | 45.96 M |
| Item | 2022 | 2021 | 2020 | 2019 |
| --- | --- | --- | --- | --- |
| Operating Cash Flow | 16.04 M | 15.19 M | 16.67 M | 15.02 M |
| Investing Cash Flow | -17.88 M | -16.36 M | -21.83 M | -10.90 M |
| Financing Cash Flow | 383 Jt | 1.74 M | 5.55 M | -4.68 M |
| End Cash Position | 21.95 M | 23.54 M | 23.12 M | 22.94 M |
in USD (Jt = million, M = billion, T = trilion)
Executives
| | |
| --- | --- |
| Mary T. Barra | Chairman & CEO |
| Mark L. Reuss | Pres |
| Paul A. Jacobson | Exec. VP & CFO |
| Douglas L. Parks | Exec. VP of Global Product Devel., Purchasing & Supply Chain |
| Wayne Gilbert West | Chief Operating Officer |
| Christopher T. Hatto | VP of Global Bus. Solutions & Chief Accounting Officer |
| Kent E. Helfrich | VP of Global R&D, CTO & Pres of GM Ventures |
| Ashish Kohli C.F.A. | VP of Investor Relations |
| Craig B. Glidden | EVP of Legal, Policy, Cybersecurity, Gen. Counsel & Corp. Sec. |
How to Buy
General Motors Co (GM)
Stocks
Interested in buying shares of this tech company? You can buy General Motors Co (GM) shares with simple steps:
Install Nanovest app on the App Store or Play Store.

Register according to the instructions.

Verify your identity for security and convenience when buying stocks through the

KYC feature

which you can do in just 1 minute.

Top Up your balance to your Nanovest account.

Go to the stock menu, search and select

General Motors Co (GM)

.

Click the Buy button and confirm the purchase with your desired amount. You can start with only IDR 5,000.
Before investing in the stocks you want, do some research and analysis first. You can do this by checking company profile, industry conditions, company financial reports, and analyzing previous stock price movements. This analysis is important so that you can develop an accurate investment strategy and minimize losses.
Is it Safe to Buy
General Motors Co (GM)
Stocks on Nanovest?
Of course. Nanovest is supported by a number of professional partners who have a good reputation in providing their services. One of them is supported by S-Quantum Engine technology by Sinarmas Financial Services.
For global and US stocks, Nanovest partners with brokers registered with the United Stated Financial Industry Regulatory Authority (FINRA) – which insures brokerage accounts held by Nanovest users up to U$S 500k by the United States Securities Investor Protection Corporation (SIPC).
For crypto assets, Nanovest is registered with the Commodity Futures Trading Supervisory Agency (Bappebti). The Nanovest platform itself has also been insured through a partnership with Sinarmas Insurance.
Disclaimer
All content on this website is for informational purposes and doesn't constitute a recommendation to buy/sell any stock or digital asset. Investors should understand the nature of stocks and digital assets, including return and risk requirements of the assets. We encourage investors to fully understand the assets and risks before making any investment. Always do your own research.
See More Stocks
---