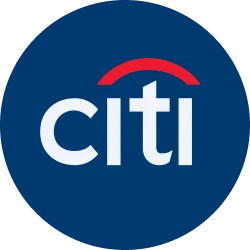 Citigroup is a multinational financial services company with services encompassing retail banking, asset management, and corporate financial services. Headquartered in New York, Citigroup has an extensive global presence.
About
Citigroup Inc. (C)
Citigroup Inc., often referred to as Citigroup or Citi, is a financial entity with a worldwide reach. Throughout its long history, Citigroup has played a crucial role in shaping the financial system in the United States and globally.
Founded in 1812 as the City Bank of New York, the bank later transformed into the First National City Bank of New York. Its name has continued to evolve, reflecting the spirit of adaptability at the core of its identity.
From its beginnings as a local bank, Citigroup now has a presence in over 160 countries, with total assets amounting to trillions of dollars.
Vision and Mission of Citigroup Inc.
Citi is committed to leveraging its global network to provide unparalleled customer experiences and to support communities worldwide. Their vision, "to serve as a trusted partner to our clients by responsibly providing financial services that enable growth and economic progress," reflects their dedication to fostering economic advancement through responsible financial services.
They are also committed to executing their responsibilities with integrity, emphasizing leadership, and always striving for excellence. This is done while ensuring sustainability and prioritizing innovation and technology in their offerings.
What are Citigroup Inc.'s Products?
Approaching its second century, Citigroup continues to innovate and provide financial products that meet contemporary needs. From traditional banking services to advanced digital solutions, let's delve deeper into the standout offerings that set Citigroup apart from its competitors.
1. Citi Personal Banking
With its long-standing experience in the industry, Citigroup offers a range of personal banking services tailored to individual needs. From checking and savings accounts with competitive interest rates to credit cards boasting attractive rewards.
But it's not just about the products – it's also their personalized approach and customer service that distinguishes them. Initiatives like CitiPhone Banking and the Citi Mobile App ensure customers always have access to services anytime, anywhere.
2. Citi Business Solutions
Recognized as a reliable business partner, Citigroup offers integrated business solutions. From business financing, treasury, and trade services to cash management solutions. They have dedicated teams collaborating with businesses, both large corporations and SMEs, to understand their needs and provide the right solutions.
3. Investment and Asset Management
Citigroup is more than just a bank. They are also leaders in the investment and asset management industry. With experienced analysts and portfolio managers, Citigroup offers a variety of investment products, ranging from stocks, bonds to alternative products like real estate and private equity. Citi Wealth Management, for instance, is among the most advanced financial planning services, helping individuals manage their wealth effectively.
4. Citi Digital Innovation
In today's digital age, Citigroup is not static. They continue to develop technology-driven products and services to simplify the customer experience. For instance, Citi e-Banking enables customers to carry out banking transactions without visiting a branch. There's also Citi Wallet, a digital wallet that enables swift and secure transactions with just a few clicks on a mobile device.
Key Figures Behind Citigroup Inc.'s Success
Being one of the world's largest banks, Citigroup was shaped and guided by remarkable individuals who played significant roles in its growth.
Let's explore three key figures behind the company's success.
1. Walter Wriston
Having worked at Citi for over 40 years, Wriston is regarded as a banking revolutionary. He served as CEO from 1967 to 1984. Under his leadership, he introduced the ATM, which revolutionized how people transacted. His forward-thinking vision spurred Citigroup's rapid growth and expansion into international markets.
2. Sanford I. Weill
The former CEO and Chairman of Citigroup, Weill envisioned creating a financial supermarket. He played an active role in the merger between Citicorp and Travelers Group in 1998, giving birth to Citigroup. This initiative marked the beginning of a new era in banking, where financial institutions offered a range of services under one roof.
3. Michael Corbat
Michael Corbat became the CEO of Citigroup in 2012. With sharp analytical skills and strong managerial abilities, he focused on internal restructuring and ensuring Citigroup complied with stringent banking regulations following the 2008 financial crisis. Under his leadership, Citigroup witnessed improved financial performance and an enhanced public reputation.
Fluctuations in Citigroup Inc.'s Stock Price
One of the most dramatic moments in Citigroup's history was the global financial crisis of 2007-2008. Like many other major banks, Citigroup was severely affected by this crisis.
At its peak before the crisis, Citigroup's stock traded at almost $60 per share. However, in early 2009, its stock price plummeted to less than $1.
The main factors behind this stock price decline were concerns about Citi's significant exposure to risky assets and doubts about its ability to weather the crisis.
With assistance from the US government and a series of internal restructuring measures, Citigroup managed to recover from this crisis. Their stock regained value, although it hasn't yet reached its previous peak. This is a testament to the adaptability and resilience of this financial institution.
History and Development of Citigroup Inc.
Citigroup's history can be traced back to the early 19th century, marking their footprint as one of the oldest banking entities in the world.
Initially, in 1812, the bank was founded as the City Bank of New York. At first, the bank primarily served the local business community in New York City.
As previously mentioned, Walter Wriston played a crucial role in Citigroup's globalization. Under his leadership, the bank began to expand its reach beyond the United States, making it one of the first multinational banks in the world. They entered markets in Asia, Europe, and Latin America, building relationships with businesses and consumers globally.
Another pivotal moment in the company's history was its merger with Travelers Group in 1998. Under the direction of Sanford I. Weill, this merger created the first "financial supermarket," offering services ranging from traditional banking to insurance and investment management.
When the global financial crisis hit, Citigroup faced unprecedented challenges. However, with government support and a series of internal restructuring policies, the bank managed to rebound and solidify its position as a key player in the global financial industry.
In the 2010s, the banking world began to undergo a transformation with the advent of technology. Citigroup, in line with its tradition of adaptability, began introducing various digital innovations to enhance customer experience. From mobile banking to advanced security solutions, the bank continually strives to remain relevant in the digital age.
Key Metric
| | |
| --- | --- |
| Founded | Sep 18, 1958 |
| Headquarters | San Francisco, California, United States |
| Website | https://usa.visa.com/ |
| Jumlah Karyawan / Number of employees | 26,500 |
Financial Summary
| Item | 2022 | 2021 | 2020 | 2019 |
| --- | --- | --- | --- | --- |
| Total Revenue | 75.31 M | 71.89 M | 74.21 M | 74.29 M |
| Credit Losses Provision | -5.11 M | 3.89 M | -17.38 M | -8.31 M |
| Non Interest Expense | 51.39 M | 48.31 M | 42.89 M | 42.08 M |
| Pretax Income | 18.81 M | 27.47 M | 14.02 M | 23.90 M |
| Tax Provision | 3.64 M | 5.45 M | 2.59 M | 4.43 M |
| Net Income Common Stockholders | 13.70 M | 21.95 M | 11.37 M | 19.40 M |
| Item | 2022 | 2021 | 2020 | 2019 |
| --- | --- | --- | --- | --- |
| Total Assets | 2.42 T | 2.29 T | 2.26 T | 7.95 T |
| Total Liabilities | 2.21 T | 2.09 T | 2.06 T | 1.76 T |
| Total Equity | 201.84 M | 202.67 M | 200.52 M | 193.95 M |
| Item | 2022 | 2021 | 2020 | 2019 |
| --- | --- | --- | --- | --- |
| Operating Cash Flow | 25.07 M | 31.25 M | -20.62 M | -12.84 M |
| Investing Cash Flow | -79.46 M | -124.91 M | -95.31 M | -12.37 M |
| Financing Cash Flow | 137.76 M | 17.27 M | 233.60 M | 42.93 M |
| End Cash Position | 342.02 M | 262.03 M | 309.61 M | 193.92 M |
in USD (Jt = million, M = billion, T = trilion)
Executives
| | |
| --- | --- |
| Alfred Francis Kelly Jr. | Exec. Chairman |
| Ryan M. McInerney | Pres, CEO & Director |
| Rajat Taneja | Pres of Technology |
| Kelly Mahon Tullier | Vice Chair, Chief People & Corp. Affairs Officer and Corp. Sec. |
| Vasant M. Prabhu | Exec. Officer |
| Christopher Suh | Chief Financial Officer |
| Peter Andreski | Sr. VP, Global Corp. Controller & Chief Accounting Officer |
| Jennifer Como | Head of Investor Relations |
| Julie B. Rottenberg | Gen. Counsel |
How to Buy
Citigroup Inc. (C)
Stocks
Interested in buying shares of this tech company? You can buy Citigroup Inc. (C) shares with simple steps:
Install Nanovest app on the App Store or Play Store.

Register according to the instructions.

Verify your identity for security and convenience when buying stocks through the

KYC feature

which you can do in just 1 minute.

Top Up your balance to your Nanovest account.

Go to the stock menu, search and select

Citigroup Inc. (C)

.

Click the Buy button and confirm the purchase with your desired amount. You can start with only IDR 5,000.
Before investing in the stocks you want, do some research and analysis first. You can do this by checking company profile, industry conditions, company financial reports, and analyzing previous stock price movements. This analysis is important so that you can develop an accurate investment strategy and minimize losses.
Is it Safe to Buy
Citigroup Inc. (C)
Stocks on Nanovest?
Of course. Nanovest is supported by a number of professional partners who have a good reputation in providing their services. One of them is supported by S-Quantum Engine technology by Sinarmas Financial Services.
For global and US stocks, Nanovest partners with brokers registered with the United Stated Financial Industry Regulatory Authority (FINRA) – which insures brokerage accounts held by Nanovest users up to U$S 500k by the United States Securities Investor Protection Corporation (SIPC).
For crypto assets, Nanovest is registered with the Commodity Futures Trading Supervisory Agency (Bappebti). The Nanovest platform itself has also been insured through a partnership with Sinarmas Insurance.
Disclaimer
All content on this website is for informational purposes and doesn't constitute a recommendation to buy/sell any stock or digital asset. Investors should understand the nature of stocks and digital assets, including return and risk requirements of the assets. We encourage investors to fully understand the assets and risks before making any investment. Always do your own research.
See More Stocks
---