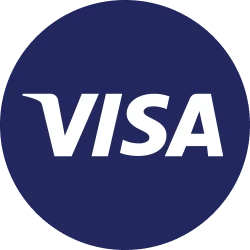 Visa is a global financial service company that operates the largest electronic payment network in the world, connecting consumers, businesses, banks, and governments in over 200 countries.
About
Visa Inc.
Visa, a name familiar to our ears. However, not many know that this company was established in 1958 as part of Bank of America. Today, Visa Inc. is a global payment service company that connects consumers, businesses, banks, and governments in over 200 countries and territories.
Visa has evolved into more than just a card. They are a network, a bridge connecting the world in economic transactions. Operating between merchants and their banks, Visa ensures that each transaction goes smoothly and securely.
Visa Inc.'s Vision and Mission
Visa Inc. is committed to building an inclusive digital future. Its vision is "to ensure Visa is recognized, trusted, and chosen worldwide." Visa aims to be at the forefront of payment innovation, connecting the world through the most secure, reliable, and fast payments.
With its mission, "connecting the world through our global payment innovation network, to empower individuals, businesses, and economies to grow", Visa strives to ensure that every individual can access and benefit from the formal economy.
What Are Visa Inc.'s Products?
Visa, as a leader in the global payment industry, offers a range of products that cater to various market segments. From individual consumers to large businesses, Visa's products are designed to meet diverse payment needs worldwide.
1. Visa Debit and Credit
This is Visa's flagship product. With its globally recognized logo, these debit and credit cards give users the ability to shop in over 200 countries and territories. In 2021, there were over 3 billion Visa cards in circulation worldwide.
Moreover, Visa also offers various types of cards with different features, such as Visa Classic, Visa Gold, and Visa Platinum, each with benefits and additional features tailored to their customer segments.
2. Visa Direct
A platform that enables real-time money transfers worldwide. With Visa Direct, users can send money directly to another Visa card. In 2021, this service supported billions of transactions, with significant growth year-on-year.
3. Visa B2B Connect
This product is specifically designed for business-to-business transactions in the global market. Visa B2B Connect provides secure, transparent, and fast payment solutions for large corporations globally. Although specific customer numbers for this product may be less publicly known, its growth has solidified Visa's position as a key player in the global B2B market.
4. Visa Checkout
In response to the increasing need for online shopping, Visa launched Visa Checkout. This is a digital wallet service that simplifies online purchases with one click. With millions of registered users worldwide, Visa Checkout facilitates e-commerce transactions and boosts conversion for retailers.
5. Visa Token Service
In an effort to protect customer data, Visa introduced the Visa Token Service. This service replaces sensitive account information with a series of unique characters known as tokens. This enhances transaction security and offers added protection against potential fraud. It is used by millions of retailers globally to increase consumer trust in transactions.
From its flagship product to the latest digital innovations, Visa continuously strives to meet the payment needs of consumers and businesses worldwide. With a dedication to innovation and security, it's no surprise that Visa remains the top choice for millions of people and businesses globally.
Key Figures Behind Visa's Success
Behind the success of a company, there are always individuals who provide extraordinary dedication and vision. In Visa's history, some unforgettable names include:
Dee Hock

: The founder and first CEO of Visa. With his revolutionary vision, Hock conceived the "boundaryless organization" concept. Instead of controlling the network, he entrusted it to individual participants. This idea formed the basis of Visa's unique organizational structure and allowed it to grow into the global giant we know today.

Alfred F. Kelly Jr

.: Serving as Visa's CEO since 2016. With a strong background in banking and finance, Kelly led the company through the digitalization era by launching various product innovations. Under his leadership, Visa expanded its reach in the fintech and digital payment world.

Charlie Scharf

: Served as CEO from 2012 to 2016. Scharf played a crucial role in boosting Visa's penetration in new markets, especially in developing countries. During his tenure, Visa witnessed significant growth in international transaction volumes.
Fluctuations in Visa's Stock Price
Being one of the companies listed on the American stock exchange, Visa Inc. has experienced several significant fluctuations. One of the most intriguing periods in Visa's stock history was during the global financial crisis of 2008-2009.
At that time, many companies saw a sharp decline in their stock prices, including Visa. However, Visa stood out. Despite facing unfavorable market conditions, Visa launched their IPO (Initial Public Offering) in March 2008, marking one of the largest IPOs in US history, raising over $17.9 billion.
Post-IPO, Visa's stock price briefly plummeted due to the global financial crisis but rebounded quickly. This demonstrated investors' confidence in Visa's long-term growth potential. Since then, barring a few volatile periods, Visa's stock price has been on an upward trajectory, reflecting the company's growth and their dominance in the global payment market.
History and Development of Visa Inc.
Every major company has its roots. The story of Visa isn't just about plastic cards or technology, but about how they have innovated and adapted over more than half a century.
Visa originated from an experiment by Bank of America in Fresno, California, in 1958 under the name "BankAmericard." This was the first consumer credit card program intended for nationwide reach in the United States. Its concept was to provide consumer credit convenience, bypassing traditional loan processes.
In 1970, Dee Hock spearheaded the reorganization of the BankAmericard system, creating a decentralized organization structure dubbed the "chaordic organization." 1976 marked a milestone when BankAmericard was renamed Visa, signaling their global vision.
Throughout the 80s and 90s, Visa expanded its global reach, tapping into new markets, and partnering with banks worldwide. They were also at the forefront of the technology revolution with the introduction of card chips and contactless payment technology.
1995 marked another milestone with the launch of Visa Cash, the first electronic prepaid card, signifying Visa's initial steps into the digital era.
As mentioned earlier, Visa navigated the financial crisis with their IPO launch in 2008. Despite being in the midst of one of the worst economic crises, faith in Visa's business model and growth potential remained robust.
With the rise of fintech and a shift towards digital payments, Visa continues to innovate. They've collaborated with various tech companies and startups to ensure their position remains relevant in the digital era. The launch of Visa Direct and partnerships with various digital payment platforms signify Visa's commitment to the future of payments.
With its rich history, Visa has demonstrated how adaptation and innovation can transform the face of the payment industry. From a plastic card in Fresno to global dominance, Visa has genuinely shaken the world with its innovations.
Key Metric
| | |
| --- | --- |
| Founded | Sep 18, 1958 |
| Headquarters | San Francisco, California, United States |
| Website | https://usa.visa.com/ |
| Number of employees | 26,500 |
Financial Summary
| Item | 2022 | 2021 | 2020 | 2019 |
| --- | --- | --- | --- | --- |
| Total Revenue | 29.31 M | 24.11 M | 21.85 M | 22.98 M |
| Cost of Revenue | 5.73 M | 4.97 M | 4.51 M | 4.17 M |
| Gross Profit | 23.58 M | 19.14 M | 17.33 M | 18.81 M |
| Operating Income | 19.68 M | 15.81 M | 14.09 M | 15.40 M |
| Operating Expense | 3.90 M | 3.33 M | 3.24 M | 3.41 M |
| Net Income | 14.96 M | 12.31 M | 10.87 M | 12.08 M |
| Item | 2022 | 2021 | 2020 | 2019 |
| --- | --- | --- | --- | --- |
| Total Assets | 85.50 M | 82.90 M | 80.92 M | 72.57 M |
| Total Liabilities | 49.92 M | 45.31 M | 44.71 M | 37.90 M |
| Total Equity | 35.58 M | 37.59 M | 36.21 M | 34.68 M |
| Item | 2022 | 2021 | 2020 | 2019 |
| --- | --- | --- | --- | --- |
| Operating Cash Flow | 18.85 M | 15.23 M | 10.44 M | 12.78 M |
| Investing Cash Flow | -4.29 M | -152 Jt | 1.48 M | -591 Jt |
| Financing Cash Flow | -12.70 M | -14.41 M | -3.97 M | -12.06 M |
| End Cash Position | 20.38 M | 19.80 M | 13.17 M | 10.83 M |
in USD (Jt = million, M = billion, T = trilion)
Eksekutif
| | |
| --- | --- |
| Alfred Francis Kelly Jr. | Exec. Chairman |
| Ryan M. McInerney | Pres, CEO & Director |
| Rajat Taneja | Pres of Technology |
| Kelly Mahon Tullier | Vice Chair, Chief People & Corp. Affairs Officer and Corp. Sec. |
| Vasant M. Prabhu | Exec. Officer |
| Christopher Suh | Chief Financial Officer |
| Peter Andreski | Sr. VP, Global Corp. Controller & Chief Accounting Officer |
| Jennifer Como | Head of Investor Relations |
| Julie B. Rottenberg | Gen. Counsel |
How to Buy
Visa Inc.
Stocks
Interested in buying shares of this tech company? You can buy Visa Inc. shares with simple steps:
Install Nanovest app on the App Store or Play Store.

Register according to the instructions.

Verify your identity for security and convenience when buying stocks through the

KYC feature

which you can do in just 1 minute.

Top Up your balance to your Nanovest account.

Go to the stock menu, search and select

Visa Inc.

.

Click the Buy button and confirm the purchase with your desired amount. You can start with only IDR 5,000.
Before investing in the stocks you want, do some research and analysis first. You can do this by checking company profile, industry conditions, company financial reports, and analyzing previous stock price movements. This analysis is important so that you can develop an accurate investment strategy and minimize losses.
Is it Safe to Buy
Visa Inc.
Stocks on Nanovest?
Of course. Nanovest is supported by a number of professional partners who have a good reputation in providing their services. One of them is supported by S-Quantum Engine technology by Sinarmas Financial Services.
For global and US stocks, Nanovest partners with brokers registered with the United Stated Financial Industry Regulatory Authority (FINRA) – which insures brokerage accounts held by Nanovest users up to U$S 500k by the United States Securities Investor Protection Corporation (SIPC).
For crypto assets, Nanovest is registered with the Commodity Futures Trading Supervisory Agency (Bappebti). The Nanovest platform itself has also been insured through a partnership with Sinarmas Insurance.
Disclaimer
All content on this website is for informational purposes and doesn't constitute a recommendation to buy/sell any stock or digital asset. Investors should understand the nature of stocks and digital assets, including return and risk requirements of the assets. We encourage investors to fully understand the assets and risks before making any investment. Always do your own research.
See More Stocks
---