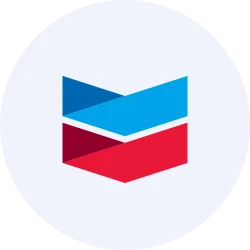 Chevron is a multinational energy company based in America. Besides exploration, production, and refining of oil and natural gas, Chevron also engages in the production of chemical products and electricity.
About
Chevron Corporation (CVX)
As one of the global leaders in the energy sector, Chevron's origins trace back to 1879 with its establishment as Pacific Coast Oil Co in California. Through a series of acquisitions and innovations, it has grown and transformed into the Chevron Corporation we recognize today. Located in San Ramon, California, Chevron now operates in over 180 countries.
Engaging thousands of employees and business partners, the company continues to dominate the energy market share with remarkable consistency. Chevron's history is tangible proof that adaptation and innovation have always been keys to their success.
Vision and Mission of Chevron Corporation
When you envision a vision, think of the future that an entity aims for. Chevron, through its vision, demonstrates its ambition to be a leader in the global energy industry. However, they don't just want to lead in production capacity, but also in innovation, sustainability, and social responsibility.
This vision pushes Chevron to continuously innovate and seek cleaner and more efficient future energy solutions. In executing its mission, Chevron doesn't solely focus on energy production. They are determined to ensure the energy produced has a positive impact on society and the environment.
Their mission reflects a commitment to produce safe, efficient, and environmentally-friendly energy. Moreover, Chevron is also committed to empowering the communities surrounding its operations through various CSR and educational programs.
Key Products of Chevron Corporation
Chevron is more than just an oil and gas company. Throughout its history, it has evolved and offered a variety of energy products to meet consumer needs.
1. Petroleum and Refined Products
As one of the world's largest oil producers, Chevron provides quality fuel for millions of consumers daily. Through their network of fuel stations globally under the brands Chevron, Texaco, and Caltex, they cater to the fuel needs of vehicles, industries, and aviation.
2. Natural Gas and LNG (Liquified Natural Gas)
With the growing need for clean energy, natural gas has become the primary choice for many countries. Chevron plays a significant role in the natural gas market, both in production and distribution. They are also a key player in the LNG industry, delivering liquified natural gas to various international markets.
3. Renewable Energy
Recognizing the world's need for more sustainable energy sources, Chevron also invests in renewable energy. From bioenergy to solar and wind energy, Chevron strives to combine innovation with sustainability. One intriguing initiative is their partnership with startups to develop energy storage technologies and other clean energy solutions.
Key Figures in Chevron Corporation
In an orchestra, there's always a conductor guiding the rhythm, and similarly, in Chevron. Let's acquaint ourselves with three significant figures who are the driving forces behind the company's success:
John S. Watson

: Serving as Chairman and CEO of Chevron from 2010 to 2018, Watson played a pivotal role in bolstering Chevron's global position. A graduate from the University of California, Davis, and holding an MBA from the University of Chicago, Watson began his career at Chevron in 1980 and held various key positions before leading the company. Under his leadership, Chevron underwent significant expansion, especially in oil exploration and production.

Michael K. Wirth

: Succeeding Watson in 2018, Wirth, with his background in chemical engineering, has given nearly four decades of dedication to Chevron. An expert in supply chain and refining, Wirth has optimized Chevron's operations and boosted its profitability.

George L. Kirkland

: Serving as Vice Chairman and Executive VP Upstream from 2011 to 2015, Kirkland played a strategic role in identifying and developing new Chevron assets worldwide. With his extensive experience in the upstream business, Kirkland was the architect behind some of Chevron's largest oil and natural gas discoveries.
Fluctuation in Chevron Corporation's Stock Prices
As one of the world's largest oil companies, Chevron's stock naturally experiences significant fluctuations in line with the dynamics of the global oil market. In the early 2000s, alongside the rise in global crude oil prices, Chevron's stock also saw a sharp increase.
However, when the global financial crisis hit in 2008, Chevron's stock prices plummeted along with the decline in global oil prices. Yet, the most dramatic fluctuations occurred between 2014 and 2016. With global oil prices plummeting from over $100 per barrel to around $30 per barrel, Chevron's stock lost almost half its market value.
This period was one of the most challenging in the company's history, but it also showcased Chevron's resilience and adaptability. Through the right strategies and efficiency measures, Chevron managed to withstand the crisis and regained strength in the subsequent years.
History and Evolution of Chevron Corporation
As an integral part of the global energy industry, Chevron Corporation's journey is certainly intriguing to trace. From humble beginnings to becoming a global player, Chevron has undergone several crucial phases. In 1879, a company named Pacific Coast Oil Co was established in California.
Starting as a small oil enterprise, the company swiftly gained momentum and became a major player on the American west coast. Chevron's history is intertwined with the golden era of Standard Oil. In 1900, Pacific Coast Oil Co merged with Standard Oil Co.
This marked the beginning of a massive expansion that later became known as the "Seven Sisters" era in the global oil industry. With the dissolution of Standard Oil in 1911 by the US government due to anti-trust issues, Standard Oil Co (California) or Socal, Chevron's predecessor, emerged.
The name Chevron itself began being used in the 1930s as a fuel brand and eventually became the company's official identity in 1984 after merging with Gulf Oil. Starting in the 1930s, Chevron embarked on its global expansion, with exploration and production in the Middle East, Latin America, and Southeast Asia.
One of its significant achievements was the discovery of oil fields in Saudi Arabia in collaboration with Texaco, laying the foundation for ARAMCO. In 1984, Chevron merged with Gulf Oil in one of the most significant mergers in energy industry history. With this merger, Chevron solidified its position as one of the world's oil giants.
The 2000s marked a global awareness of climate change issues. Anticipating this trend, Chevron began investing resources in renewable energy sources such as bioenergy, solar, and wind. Although oil and gas remained their primary focus, this diversification showed Chevron's adaptation to the demands of the times.
Key Metric
| | |
| --- | --- |
| Founded | Sep 10, 1879 |
| Headquarters | San Ramon, California, United States |
| Website | https://www.chevron.com/ |
| Number of employees | 43,846 |
Financial Summary
| Item | 2022 | 2021 | 2020 | 2019 |
| --- | --- | --- | --- | --- |
| Total Revenue | 235.72 M | 155.61 M | 94.47 M | 139.87 M |
| Cost of Revenue | 161.74 M | 107.30 M | 69.99 M | 109.33 M |
| Gross Profit | 73.98 M | 48.31 M | 24.48 M | 30.53 M |
| Operating Income | 39.66 M | 15.49 M | -6.98 M | -317 Jt |
| Operating Expense | 34.33 M | 32.82 M | 31.45 M | 30.85 M |
| Net Income | 35.47 M | 15.63 M | -5.54 M | 2.92 M |
| Item | 2022 | 2021 | 2020 | 2019 |
| --- | --- | --- | --- | --- |
| Total Assets | 257.71 M | 239.54 M | 239.79 M | 137.43 M |
| Total Liabilities | 257.71 M | 100.47 M | 108.10 M | 93.22 M |
| Total Equity | 160.24 M | 139.07 M | 131.69 M | 144.21 M |
| Item | 2022 | 2021 | 2020 | 2019 |
| --- | --- | --- | --- | --- |
| Operating Cash Flow | 49.60 M | 29.20 M | 10.60 M | 27.30 M |
| Investing Cash Flow | -12.10 M | -5.90 M | -7.00 M | -11.50 M |
| Financing Cash Flow | -25.00 M | -23.10 M | -3.70 M | -19.80 M |
| End Cash Position | 19.12 M | 6.80 M | 6.74 M | 5.70 M |
in USD (Jt = million, M = billion, T = trilion)
Executives
| | |
| --- | --- |
| Michael K. Wirth | Chairman & CEO |
| Pierre R. Breber | VP & CFO |
| R. Hewitt Pate | VP & Gen. Counsel |
| Mark A. Nelson | Vice Chairman and Exec. VP of Strategy, Policy & Devel. |
| Eimear P. Bonner | VP, CTO & Pres of Chevron Technical Center |
| Rhonda J. Morris | VP & Chief HR Officer |
| A. Nigel Hearne | Exec. VP of Oil, Products & Gas |
| Clay Neff | Pres of International Exploration & Production |
| Jeff B. Gustavson | Pres of Chevron New Energies & VP of Lower Carbon Energies |
How to Buy
Chevron Corporation (CVX)
Stocks
Interested in buying shares of this tech company? You can buy Chevron Corporation (CVX) shares with simple steps:
Install Nanovest app on the App Store or Play Store.

Register according to the instructions.

Verify your identity for security and convenience when buying stocks through the

KYC feature

which you can do in just 1 minute.

Top Up your balance to your Nanovest account.

Go to the stock menu, search and select

Chevron Corporation (CVX)

.

Click the Buy button and confirm the purchase with your desired amount. You can start with only IDR 5,000.
Before investing in the stocks you want, do some research and analysis first. You can do this by checking company profile, industry conditions, company financial reports, and analyzing previous stock price movements. This analysis is important so that you can develop an accurate investment strategy and minimize losses.
Is it Safe to Buy
Chevron Corporation (CVX)
Stocks on Nanovest?
Of course. Nanovest is supported by a number of professional partners who have a good reputation in providing their services. One of them is supported by S-Quantum Engine technology by Sinarmas Financial Services.
For global and US stocks, Nanovest partners with brokers registered with the United Stated Financial Industry Regulatory Authority (FINRA) – which insures brokerage accounts held by Nanovest users up to U$S 500k by the United States Securities Investor Protection Corporation (SIPC).
For crypto assets, Nanovest is registered with the Commodity Futures Trading Supervisory Agency (Bappebti). The Nanovest platform itself has also been insured through a partnership with Sinarmas Insurance.
Disclaimer
All content on this website is for informational purposes and doesn't constitute a recommendation to buy/sell any stock or digital asset. Investors should understand the nature of stocks and digital assets, including return and risk requirements of the assets. We encourage investors to fully understand the assets and risks before making any investment. Always do your own research.
See More Stocks
---