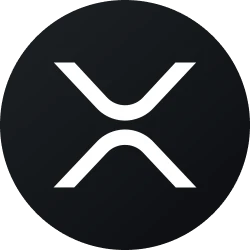 Ripple is a technology and digital currency (XRP) created by Ripple Labs. Ripple technology is designed to enable fast and cheap international money transfers, especially for banks and other financial institutions.
About
Ripple (XRP)
Ripple, also known as XRP, is a digital technology consisting of two main components: the digital currency XRP and the RippleNet payment network. Both were created by Ripple Labs, a technology company based in San Francisco, USA, in 2012.
Unlike other cryptocurrencies like Bitcoin, Ripple (XRP) is not the result of a mining process. Instead, 100 billion XRP coins were created at its inception, and that number is fixed.
In the market context, XRP is one of the cryptocurrencies with the highest market capitalization. Ripple has several important partnerships with international financial institutions, such as American Express and Santander, which shows high confidence in their technology.
XRP Utility
Ripple (XRP) was designed primarily to facilitate international financial transactions. XRP, its digital currency, serves as a bridge to convert one currency to another quickly and efficiently.
Here are some main utilities of Ripple (XRP):
International Money Transfers

: Using Ripple technology, financial institutions can send money to various countries at much lower costs and higher speeds than traditional methods.

Currency Bridge

: XRP acts as a bridge between two currencies, facilitating the conversion process and increasing

liquidity

.

Real-Time Payment System

: With the RippleNet network, transactions can be processed in seconds, making it faster than traditional payment systems.
XRP Working Mechanism
The working mechanism of Ripple (XRP) is based on distributed ledger technology, not blockchain like most other cryptocurrencies. The RippleNet network allows each party transacting to see and verify their own transactions.
Here is the main working mechanism of Ripple (XRP):
Distributed Ledger

: Transactions on Ripple are processed through a distributed ledger network. Each server running Ripple software can select transaction validators. This ensures trust and consensus in the network.

Transaction Validation

: In the Ripple network, the validation process is carried out by selected validators. They check transactions and ensure that system rules are complied with.

Transaction Process

: When a transaction is made, it is processed by validators in seconds, making Ripple one of the fastest payment technologies available.
Remember that, although Ripple (XRP) is an extraordinary innovation in the fintech world, risks are always present in any investment. You should do thorough research and analysis before deciding to invest in this cryptocurrency.
Always remember that technological advances always open up new opportunities, and Ripple (XRP) is one example. This innovation has paved the way for a revolution in the financial industry, and we are all waiting to see what will happen next.
Uniqueness of Ripple (XRP)
Ripple (XRP) has several unique features that set it apart from other cryptocurrencies:
Not Created Through Mining

: Unlike Bitcoin and most other cryptocurrencies, XRP is not generated through a mining process. Instead, all 100 billion XRP were created from the start by Ripple Labs.

Super Fast Transactions

: Ripple (XRP) offers very high transaction speeds, that is, 4 seconds. Compared with Bitcoin which takes about 10 minutes for one transaction, and traditional systems that can take several days.

Scalable Network

: Ripple can handle 1,500 transactions per second, 24/7. This makes Ripple more scalable compared to Bitcoin and Ethereum.
Advantages of Ripple (XRP)
Here are some of the main advantages of Ripple (XRP):
Speed and Efficiency

: Ripple enables fast and efficient international transactions, with much lower costs compared to traditional methods.

High Liquidity

: With XRP as a bridge between currencies, Ripple provides high liquidity, which means it's easy to buy or sell without affecting the market price.

Adoption by Banks and Financial Institutions

: Ripple has been adopted by a number of large banks and financial institutions, including American Express and Santander, demonstrating high confidence in their technology.
Disadvantages of Ripple (XRP)
Despite having a number of advantages, Ripple (XRP) also has several disadvantages:
Centralization

: Unlike other cryptocurrencies that adhere to a philosophy of decentralization, Ripple is considered too centralized because most XRP is owned by Ripple Labs.

Price Fluctuations

: Like other cryptocurrencies, XRP experiences high price fluctuations, which can be a risk for investors.

Unclear Regulations

: Ripple (XRP) also faces challenges in the form of unclear regulations, including lawsuits from the US Securities and Exchange Commission (SEC).
By knowing the uniqueness, advantages, and disadvantages of Ripple (XRP), you can make a better decision about whether this cryptocurrency is in line with your needs and investment goals.
Ripple (XRP) Features
Here are some key features of Ripple (XRP):
RippleNet

: This is Ripple's global payment network that connects banks, payment providers, digital asset exchanges, and corporations to send money globally, quickly, and at low cost.

XRP Ledger

: The XRP Ledger is an open ledger created by Ripple. It underpins the XRP digital currency and provides a fast and efficient way to transfer value.

On-Demand Liquidity (ODL)

: ODL is a service that uses XRP to offer instant liquidity for cross-border payments. It enables money transfers to be faster and cheaper.
Key Figures Behind Ripple
Here are three important people who have made significant contributions to the creation and development of Ripple:
Chris Larsen

: Chris Larsen is one of the founders of Ripple Labs. As CEO, he helped create and develop Ripple technology. Larsen is also known for his hard work promoting blockchain technology and cryptocurrencies in various forums, and he strongly believes that this technology can change the world's financial system.

Brad Garlinghouse

: Brad Garlinghouse is the current CEO of Ripple Labs. With extensive experience in technology and his leadership position at Ripple, Garlinghouse has played a crucial role in bringing Ripple to the global stage and attracting attention from major banks and other financial institutions.

David Schwartz

: David Schwartz is the CTO and one of the main architects of Ripple. He has been highly influential in the development of Ripple technology and the XRP Ledger. Schwartz is known for his deep knowledge of blockchain and cryptography, and he often provides valuable insights into the future of this technology.
Each of these individuals has made significant contributions to Ripple's success and the development of its cryptocurrency technology. With their knowledge, experience, and dedication, they have helped shape the fintech world as we know it today.
History and Development of Ripple (XRP)
Ripple began with the idea of creating a decentralized payment system. Ryan Fugger, a web developer in Vancouver, Canada, was the first to envision this concept and in 2004, he began developing the first prototype of this system, which later became known as Ripplepay.
However, the idea of Ripple as we know it now really started to take shape when Chris Larsen and Jed McCaleb joined the project in 2012. They transformed Fugger's initial vision into digital payment technology that could work with both fiat currencies and cryptocurrencies.
Ripple Labs, the company behind Ripple, was officially founded in September 2012 in San Francisco, USA. Since then, they have developed their technology into one of the leading payment and money transfer systems in the world.
Some notable moments in Ripple's history include:
In 2013, Ripple began cooperating with global payment company Earthport, marking the first large payment company's adoption of Ripple technology.

In 2014, Ripple introduced a protocol that allows banks and payment network providers to send money globally, known as RippleNet.

In 2016, Ripple obtained a license to operate as a virtual money company in the state of New York, making them one of the few blockchain companies to receive this approval.

In 2018, the XRP currency reached its all-time high value, exceeding $3 per token.

In 2020, Ripple was accused by the US Securities and Exchange Commission (SEC) of violating regulations by selling XRP as an unregistered security.
Throughout the years, Ripple has shown significant growth and development, and despite facing regulatory challenges, their technology continues to gain widespread adoption.
How to Buy
Ripple (XRP)
Interested in purchasing this particular crypto asset? You can buy Ripple (XRP) by following these steps:
Install Nanovest app on the App Store or Play Store.

Register according to the instructions.

Verify your identity for security and convenience when buying crypto through the

KYC feature

which you can do in just 1 minute.

Top Up your balance to your Nanovest account.

Go to the Crypto menu, search and select

Ripple (XRP)

.

Click the Buy button and confirm the purchase with your desired amount. You can start with only IDR 5,000.
Before investing in the crypto asset you want, be sure to conduct research and analysis first. You can do this by checking the crypto asset profile, industry conditions, monitoring price movement trends, and observing its liquidity and trading volume. Performing this analysis is crucial so you can formulate an accurate investment strategy and minimize losses.
Is it Safe to Buy
Ripple (XRP)
on Nanovest?
Absolutely. Nanovest is supported by a number of professional partners with a strong reputation for providing quality services. One of these includes the technology backing of the S-Quantum Engine by Sinarmas Financial Services.
For global and US stocks, Nanovest collaborates with brokers registered with the Financial Industry Regulatory Authority (FINRA) in the United States – which ensures Nanovest users' broker accounts up to US$500k by the Securities Investor Protection Corporation (SIPC) in the United States.
As for crypto assets, Nanovest is an Indonesian crypto exchange registered with the Commodity Futures Trading Regulatory Agency (Bappebti). The Nanovest platform itself is also insured through a partnership with Sinarmas Insurance.
Disclaimer
All content on this website is for informational purposes and doesn't constitute a recommendation to buy/sell any stock or crypto. Investors should understand the nature of stocks and digital assets, including return and risk requirements of the assets. We encourage investors to fully understand the assets and risks before making any investment. Always do your own research.
See More Cryptocurrency
---