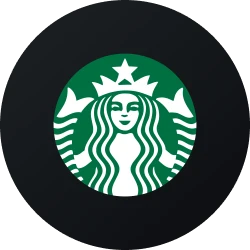 Starbucks is a global coffeehouse company based in Seattle, Washington. Renowned for its outlets worldwide, Starbucks offers a variety of coffee, beverages, and food, and has become a symbol of premium coffee culture.
About
Starbucks Corp (SBUX)
Starbucks, a name familiar to coffee enthusiasts around the globe, started as a small shop in Seattle, Washington, and has grown into a global coffeehouse network with over 30,000 outlets in 70 countries.
Its founder, Howard Schultz, was inspired by his experiences in Italy, where he was immersed in the rich and welcoming coffee culture. He then brought this inspiration to America, reinventing the Starbucks concept and positioning it as the "Third Place" between home and work.
Unlike most coffee shops, Starbucks is more than just a place to buy a drink. It's a meeting place, a workspace, or simply a relaxation spot. The store presents a cozy interior, soothing background music, and the enticing aroma of coffee.
Vision and Mission of Starbucks Corp (SBUX)
Starbucks' vision is "To be the premier choice among all coffee providers in the world." Beyond just chasing profits, Starbucks holds a deeper mission: "To inspire and nurture the human spirit – one cup, one coffee shop, and one neighborhood at a time."
Through this vision and mission, Starbucks aims to offer a unique experience to each customer while ensuring they contribute to sustainable development, including care for coffee farmers and the environment. Starbucks' success stems from its commitment to product quality, service, and sustainability. An approach that marries business with social responsibility.
Starbucks Corp (SBUX) Products
Starbucks offers a wide range of products, but coffee is undoubtedly the heart of their offerings. From Espresso, Cappuccino to the legendary Frappuccino, everything is served with high dedication by trained baristas.
Starbucks also introduces seasonal beverages, such as the Pumpkin Spice Latte eagerly awaited each fall. Beyond beverages, Starbucks also offers a variety of snacks like pastries, sandwiches, salads, and more, tailored to local tastes.
For instance, in Japan, you can find Matcha Frappuccino, or in Indonesia, local delicacies like Bakpia. Starbucks' presence in various countries with adapted local menus makes it a favorite among global consumers.
Key Figures in Starbucks Corp (SBUX)
Behind a company's success, there are always individuals providing exceptional dedication and vision. In Starbucks' history, several names stand out:
1. Howard Schultz
Howard Schultz is not just the founder but also the person behind Starbucks' success in positioning itself as a coffee culture icon. Schultz joined Starbucks in 1982 as the director of marketing, but his brilliant idea came after a visit to Italy. He brought the European coffee shop concept back to America and led the company through massive expansion. Under his leadership, Starbucks grew from a few stores to an impressive global coffee network.
2. Kevin Johnson
As the current CEO, Kevin Johnson took the reins from Schultz in 2017. Previously he served as the company's COO and has a strong background in technology, especially from his time at Microsoft. Johnson has focused Starbucks on digital innovation, and during his tenure, the Starbucks mobile app and other services have seen significant growth.
3. Melody Hobson
As the Chair of Starbucks' Board of Directors, Melody Hobson plays a crucial role in providing strategic direction for the company. With expertise in finance and investment, Hobson is also recognized as a leading advocate for diversity and inclusion. Her leadership has helped Starbucks maintain a positive image as a socially responsible company.
Fluctuation in Starbucks Corp (SBUX) Stock Prices
Starbucks has seen various phases in its stock price fluctuation, but one of the most notable periods was the 2008-2009 financial crisis. Like many other companies, Starbucks felt the impact of this crisis.
In 2007, Starbucks' stock price reached its peak, almost touching $40 per share. However, when the crisis hit, the stock price plunged dramatically, reaching below $10 per share in early 2009. The reasons? A decline in consumer spending, closure of inefficient stores, and stiff competition.
Yet, with Schultz's leadership returning as CEO in January 2008, he took various recovery initiatives. From shutting down some unprofitable stores, overhauling the menu, to intensifying barista training. Not long after, Starbucks' stock price began to recover, and the company returned to its track, showing consistent and stable growth to this day.
History and Development of Starbucks Corp (SBUX)
When discussing Starbucks, we're talking about a timeless success story. Starting from a simple idea, Starbucks grew into a global coffee industry giant. But what's the actual story behind this coffee shop? In 1971, three friends—Jerry Baldwin, Zev Siegl, and Gordon Bowker—opened a small coffee shop in Seattle, Washington, named Starbucks.
The name was inspired by a character from the novel Moby-Dick. Initially, the store only sold raw coffee beans ready to be brewed at home. Howard Schultz joined Starbucks as the director of marketing. He introduced the concept of brewing and selling ready-made coffee in the shop. This idea came to him after visiting Italy and becoming enamored with its coffee shop culture.
However, Schultz's idea was not immediately accepted by Starbucks' founders. Schultz then left and started his own coffee shop named Il Giornale. The founders decided to sell the company. Seeing a vast potential, Schultz purchased Starbucks with support from local investors. He then merged Il Giornale with Starbucks and began a massive expansion.
By the late 1980s, Starbucks had dozens of branches across the United States. In the 1990s, Starbucks began eyeing the international market. Starting with its close neighbor, Canada, and then expanding to Asia by opening a branch in Tokyo in 1996. Its success in Japan proved that Starbucks had global appeal.
Starbucks continued to innovate by introducing various new beverages and expanding its product line. They also began selling music CDs, collaborated with Apple for iTunes promotions, and developed the Starbucks gift card.
With Kevin Johnson at the helm, Starbucks entered the digital age with the development of a mobile app that facilitated ordering and payment. Moreover, they introduced a loyalty program and continued to expand their global footprint, with a special focus on the Asian market.
Key Metrics
| | |
| --- | --- |
| Founded | Mar 30, 1971 |
| Headquarters | Seattle, Washington, United States |
| Website | https://www.starbucks.com/ |
| Number of employees | 402,000 |
Financial Summary
| Item | 2022 | 2021 | 2020 | 2019 |
| --- | --- | --- | --- | --- |
| Total Revenue | 32,25 M | 29,06 M | 23,52 M | 26,51 M |
| Cost of Revenue | 23,88 M | 20,67 M | 18,46 M | 19,02 M |
| Gross Profit | 8,37 M | 8,39 M | 5,06 M | 7,49 M |
| Operating Income | 4,43 M | 4,66 M | 1,52 M | 3,92 M |
| Operating Expense | 3,94 M | 3,73 M | 3,54 M | 3,57 M |
| Net Income | 3,28 M | 4,20 M | 928 Jt | 3,60 M |
| Item | 2022 | 2021 | 2020 | 2019 |
| --- | --- | --- | --- | --- |
| Total Assets | 27,98 M | 31,39 M | 29,37 M | 19,22 M |
| Total Liabilities | 36,68 M | 36,71 M | 37,17 M | 25,45 M |
| Total Equity | -8,70 M | -5,31 M | -7,80 M | -6,23 M |
| Item | 2022 | 2021 | 2020 | 2019 |
| --- | --- | --- | --- | --- |
| Operating Cash Flow | 4,40 M | 5,99 M | 1,60 M | 5,05 M |
| Investing Cash Flow | -2,15 M | -319 Jt | -1,71 M | -1,02 M |
| Financing Cash Flow | -5,64 M | -3,65 M | 1,71 M | -10,06 M |
| End Cash Position | 2,82 M | 6,46 M | 4,35 M | 2,69 M |
in USD (Jt = million, M = billion, T = trilion)
Executives
| | |
| --- | --- |
| Laxman Narasimhan | CEO & Director |
| Howard D. Schultz | Founder & Director |
| Rachel Ruggeri | Exec. VP, CFO & Principal Accounting Officer |
| Michael A. Conway | Group Pres of International & Channel Devel. |
| Deborah L. Hall Lefevre | Exec. VP & CTO |
| Tiffany Willis | VP of Head of Investor Relations |
| Ashish Mishra | Sr. VP, Deputy Gen. Counsel and Chief Ethics & Compliance Officer |
| Bradley E. Lerman | Exec. VP & Gen. Counsel |
| Aranthan Jones II | Exec. VP & Chief Communications Officer of Public Affairs |
How to Buy
Starbucks Corp (SBUX)
Stocks
Interested in buying shares of this tech company? You can buy Starbucks Corp (SBUX) shares with simple steps:
Install Nanovest app on the App Store or Play Store.

Register according to the instructions.

Verify your identity for security and convenience when buying stocks through the

KYC feature

which you can do in just 1 minute.

Top Up your balance to your Nanovest account.

Go to the stock menu, search and select

Starbucks Corp (SBUX)

.

Click the Buy button and confirm the purchase with your desired amount. You can start with only IDR 5,000.
Before investing in the stocks you want, do some research and analysis first. You can do this by checking company profile, industry conditions, company financial reports, and analyzing previous stock price movements. This analysis is important so that you can develop an accurate investment strategy and minimize losses.
Is it Safe to Buy
Starbucks Corp (SBUX)
Stocks on Nanovest?
Of course. Nanovest is supported by a number of professional partners who have a good reputation in providing their services. One of them is supported by S-Quantum Engine technology by Sinarmas Financial Services.
For global and US stocks, Nanovest partners with brokers registered with the United Stated Financial Industry Regulatory Authority (FINRA) – which insures brokerage accounts held by Nanovest users up to U$S 500k by the United States Securities Investor Protection Corporation (SIPC).
For crypto assets, Nanovest is registered with the Commodity Futures Trading Supervisory Agency (Bappebti). The Nanovest platform itself has also been insured through a partnership with Sinarmas Insurance.
Disclaimer
All content on this website is for informational purposes and doesn't constitute a recommendation to buy/sell any stock or digital asset. Investors should understand the nature of stocks and digital assets, including return and risk requirements of the assets. We encourage investors to fully understand the assets and risks before making any investment. Always do your own research.
See More Stocks
---