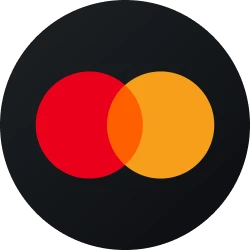 Mastercard is a global financial service company chiefly recognized for its credit card network. The company streamlines the electronic transaction process across the globe through its issued credit, debit, and prepaid cards.
About
Mastercard Inc. (MA)
When you spot the dual red and yellow circles during transactions, one name immediately comes to mind: Mastercard. Founded in 1966 as the "Interbank Card Association", Mastercard Inc. is headquartered in Purchase, New York. As a front-runner in the global payment industry, Mastercard is not just known as a credit card provider, but also as a tech company revolutionizing the way we transact.
Unlike its competitor, Visa, Mastercard has its unique journey and innovations, constantly adapting to market demands. Operating in over 210 countries, Mastercard's presence underscores its position as a dependable payment solution provider.
Vision and Mission of Mastercard Inc. (MA)
Mastercard's vision is to create a world where every transaction is digital, convenient, and secure. This isn't just an empty catchphrase, but a reflection of today's digital era where transaction efficiency and security are paramount
 To realize this vision, Mastercard's mission is to connect and empower various stakeholders – consumers, banks, governments, and businesses – through innovative payment solutions. Innovation and connectivity are key, given the evolving and diversifying transaction demands.
Flagship Products of Mastercard Inc. (MA)
Mastercard offers an array of products tailored to market needs:
1. Mastercard Credit and Debit Cards
These products can arguably be called the very identity of Mastercard. With over 2.5 billion users worldwide, Mastercard credit and debit cards are among the most popular payment methods. Guaranteed transaction security, flexibility across multiple currencies, and various discount and promotional offers make them even more desirable.
2. Mastercard Send
Responding to the growing need for digital transactions, Mastercard introduced Mastercard Send. As a fast-payment platform, it facilitates money transfers between individuals, businesses, and even cross-border in mere seconds. Designed with a user-friendly interface, this product has seen positive growth and is used by millions.
3. Masterpass
The evolution of online shopping demands secure and prompt payment methods. Masterpass meets this need. As a digital payment solution from Mastercard, Masterpass offers a seamless online shopping experience with high-level security features. Moreover, its integration with major merchants has made Masterpass increasingly favored, boasting over 40 million active users.
Stock Price Fluctuations of Mastercard Inc. (MA)
Listed on the NYSE, Mastercard (MA) stocks have seen dramatic moments throughout history. A notable moment was in 2008, during the global financial crisis, when its stocks plummeted, mirroring the global market downturn.
However, thanks to apt strategies and an innovation focus, Mastercard rebounded, surpassing its pre-crisis levels within a few years. In 2020, amid the COVID-19 pandemic, Mastercard faced challenges with declining global transaction volumes.
Yet, with the swift adoption of digital payments, its stocks soon recovered and continued their positive trajectory, solidifying its dominant position in the global payment industry.
Key Figures Behind Mastercard Inc. (MA)
Behind every successful company are individuals with outstanding dedication and vision. In Mastercard's history, a few names stand out:
1. Ajay Banga
Serving as Mastercard's CEO from 2010 to 2020, Ajay Banga was one of the most influential figures in the finance industry. Under his leadership, Mastercard witnessed significant growth, particularly in technological adaptation. Banga is also known as a financial inclusion advocate, repeatedly emphasizing the significance of digital payments in alleviating poverty.
2. Michael Miebach
Taking over from Ajay Banga in 2020, Michael Miebach continued the company's vision of offering innovative digital payment solutions. As the prior Chief Executive Officer, Miebach has experience in developing key Mastercard products that support the global payment ecosystem.
3. Ann Cairns
As Executive Vice Chairman, Ann Cairns plays a vital role in Mastercard's global strategy. With a strong background in banking and finance, Cairns has led numerous strategic initiatives that strengthen Mastercard's position in the global market competition.
History and Development of Mastercard Inc. (MA)
When discussing Mastercard, we're essentially tracing the history of the credit card industry itself. Established in 1966 under the original name "Interbank Card Association" or ICA, Mastercard initially emerged as a response from a group of California banks to the dominance of Bank of America and its "BankAmericard" credit card, which later became known as Visa.
In 1968, the company made its first expansion outside the United States by launching its card in the Canadian market. Riding on rapid growth, by 1979, ICA rebranded itself to "Mastercard" to strengthen its global brand and identity.
The 1980s marked a period of technological innovation that brought significant changes to Mastercard. In 1983, they introduced the "Mastercard Electronic", an initiative to transition from paper-based to electronic transactions. By the end of the 90s, Mastercard rolled out card chips, a technology still in use today to enhance transaction security.
The 2000s symbolized a paradigm shift for Mastercard. No longer just focusing on credit card provision, Mastercard began expanding its service portfolio with various digital payment solutions. In 2006, the company went public with its Initial Public Offering (IPO) and officially listed on the NYSE under the ticker "MA", cementing its position as a global player in the financial industry.
The subsequent years were characterized by a slew of acquisitions and strategic partnerships. A notable move was its collaboration with Apple in 2014 to launch Apple Pay, heralding a new era of mobile payments.
As time went on, Mastercard continued to roll out innovations and new products, with an emphasis on blockchain technology, artificial intelligence, and cross-border payment solutions. Fueled by an undying spirit of innovation, Mastercard continues to solidify its standing as a global leader in the payment industry.
Key Metrics
| | |
| --- | --- |
| Founded | Nov 3, 1966 |
| Headquarters | Purchase, New York, United States |
| Website | https://www.mastercard.com/ |
| Number of employees | 29,900 |
Financial Summary
| Item | 2022 | 2021 | 2020 | 2019 |
| --- | --- | --- | --- | --- |
| Total Revenue | 22,24 M | 18,88 M | 15,30 M | 16,88 M |
| Cost of Revenue | 5,26 M | 4,49 M | 3,79 M | 3,54 M |
| Gross Profit | 16,97 M | 14,40 M | 11,51 M | 13,35 M |
| Operating Income | 12,62 M | 10,18 M | 8,15 M | 9,66 M |
| Operating Expense | 9,62 M | 8,71 M | 7,15 M | 7,22 M |
| Net Income | 9,93 M | 8,87 M | 6,41 M | 8,12 M |
| Item | 2022 | 2021 | 2020 | 2019 |
| --- | --- | --- | --- | --- |
| Total Assets | 38,72 M | 37,67 M | 33,58 M | 29,24 M |
| Total Liabilities | 32,35 M | 30,26 M | 27,07 M | 23,25 M |
| Total Equity | 6,38 M | 7,41 M | 6,52 M | 5,99 M |
| Item | 2022 | 2021 | 2020 | 2019 |
| --- | --- | --- | --- | --- |
| Operating Cash Flow | 11,20 M | 9,46 M | 7,22 M | 8,18 M |
| Investing Cash Flow | -1,47 M | -5,27 M | -1,88 M | -1,64 M |
| Financing Cash Flow | -10,33 M | -6,56 M | -2,15 M | -5,87 M |
| End Cash Position | 9,20 M | 9,90 M | 12,42 M | 8,97 M |
in USD (Jt = million, M = billion, T = trilion)
Executives
| | |
| --- | --- |
| Michael Miebach | CEO, Pres & Director |
| Sachin Mehra | Chief Financial Officer |
| Timothy Henry Murphy | Chief Admin. Officer |
| Craig E. Vosburg | Chief Product Officer |
| Michael B. G. Froman | Advisor |
| Devin Corr | Exec. VP of Investor Relations |
| Rob Beard | Chief Legal Officer, Gen. Counsel & Head of Global Policy |
| Raja Rajamannar | Chief Marketing & Communications Officer and Pres of Healthcare |
| Greg Ulrich | Exec. VP of Strategy, Corp. Devel. and M&A |
How to Buy
Mastercard Inc. (MA)
Stocks
Interested in buying shares of this tech company? You can buy Mastercard Inc. (MA) shares with simple steps:
Install Nanovest app on the App Store or Play Store.

Register according to the instructions.

Verify your identity for security and convenience when buying stocks through the

KYC feature

which you can do in just 1 minute.

Top Up your balance to your Nanovest account.

Go to the stock menu, search and select

Mastercard Inc. (MA)

.

Click the Buy button and confirm the purchase with your desired amount. You can start with only IDR 5,000.
Before investing in the stocks you want, do some research and analysis first. You can do this by checking company profile, industry conditions, company financial reports, and analyzing previous stock price movements. This analysis is important so that you can develop an accurate investment strategy and minimize losses.
Is it Safe to Buy
Mastercard Inc. (MA)
Stocks on Nanovest?
Of course. Nanovest is supported by a number of professional partners who have a good reputation in providing their services. One of them is supported by S-Quantum Engine technology by Sinarmas Financial Services.
For global and US stocks, Nanovest partners with brokers registered with the United Stated Financial Industry Regulatory Authority (FINRA) – which insures brokerage accounts held by Nanovest users up to U$S 500k by the United States Securities Investor Protection Corporation (SIPC).
For crypto assets, Nanovest is registered with the Commodity Futures Trading Supervisory Agency (Bappebti). The Nanovest platform itself has also been insured through a partnership with Sinarmas Insurance.
Disclaimer
All content on this website is for informational purposes and doesn't constitute a recommendation to buy/sell any stock or digital asset. Investors should understand the nature of stocks and digital assets, including return and risk requirements of the assets. We encourage investors to fully understand the assets and risks before making any investment. Always do your own research.
See More Stocks
---