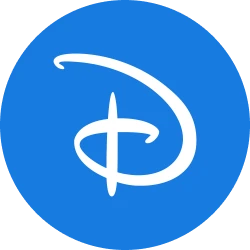 Walt Disney is a multinational entertainment company based in America. Renowned for its animated films, amusement parks, and television networks, Disney stands as one of the most recognizable names in the entertainment industry.
About
Walt Disney Co (DIS)
The Walt Disney Co is a familiar name to most of us. Established in 1923 by Walt Disney and Roy O. Disney, the company has grown and evolved into a major force in the entertainment world. From its humble beginnings in a garage, it now boasts a global business network.
As a leading player in the media and entertainment industry, Walt Disney Co is not only famed for its iconic animated films but also its theme parks, resorts, and various other properties worldwide. Beginning its journey with the creation of the legendary Mickey Mouse character, the company has won over the hearts of millions, even billions, of entertainment enthusiasts globally.
Yet, beyond just creativity, Disney understands the significance of technology. By blending imagination with cutting-edge technology, the company continually innovates, ensuring every production remains fresh and relevant to the times.
Vision and Mission of Walt Disney Co (DIS)
Disney believes in the power of storytelling. The company's vision is to be a global leader in content creation and the provision of information and entertainment. Through the characters and tales they craft, Disney aims to inspire and ignite imaginations.
The mission of The Walt Disney Company is "to entertain, inform, and inspire people around the world through the unparalleled power of boundless storytelling, reflecting unmatched branding, rich creativity, and unparalleled innovation."
Products of Walt Disney Co (DIS)
Film & Animation

: Who isn't familiar with "The Lion King," "Frozen," or "Moana"? Via movie studios like Pixar, Marvel, and Lucasfilm, Disney has presented numerous blockbuster movies enjoyed by generations. According to recent data, Disney's films have been watched by billions worldwide.

Theme Parks & Resorts

: With Disneyland and Disney World located around the globe, Disney offers unforgettable experiences for its visitors. Over 150 million people visit Disney's amusement parks annually.

Consumer Products

: From toys and clothing to household items, Disney-themed products are in high demand. Millions of products fly off the shelves, ensuring Disney remains a part of its consumers' daily lives.
Key Figures in Walt Disney Co (DIS)
Behind a company's success, there are always individuals who contribute extraordinary dedication and vision. In the history of Walt Disney Co., several names stand out:
1. Walter Elias "Walt" Disney
Often dubbed the "Brain Behind Disney's Magic," Walt Disney was a visionary who started it all. Born in 1901 in Chicago, Walt dreamt of a world filled with stories and imagination. He was the mastermind behind the company's initial creations, including the character Mickey Mouse. With unwavering determination and an incredible work ethic, Walt led the company through numerous challenges, including difficult times like the Great Depression. His vision of a theme park combining stories and attractions materialized as Disneyland in 1955.
2. Roy O. Disney
While Walt was the dreamer, Roy was the force ensuring the company wheels kept turning. As Walt's brother and business partner, Roy was the mastermind behind Disney's business operations. He made sure the company had sufficient funds to realize Walt's visions. After Walt's passing in 1966, Roy continued the leadership and ensured the realization of Walt Disney World in Florida, a project Walt had dreamt of, in 1971.
3. Bob Iger
Taking the helm as Disney's CEO in 2005, Bob Iger has ushered in a transformative era for the company. Under his guidance, Disney acquired Pixar, Marvel, Lucasfilm, and 21st Century Fox, expanding Disney's portfolio with diverse new intellectual properties and doubling the company's size. Iger was also instrumental in launching Disney+, a streaming service that garnered millions of subscribers in a short time.
History and Key Developments of Walt Disney Co (DIS)
Disney began as a modest venture in 1923, named the Disney Brothers Studio. It was a collaboration between two brothers, Walt and Roy Disney, who decided to establish their animation studio. The duo quickly rose to prominence with the creation of the character Mickey Mouse in 1928. The success of the short film "Steamboat Willie" not only marked Mickey Mouse's debut but also set a new standard in animation by synchronizing sound with character movement.
Riding on the popularity of Mickey Mouse and a series of successful short films, Disney decided to take a significant leap by producing the first-ever full-length animated film, "Snow White and the Seven Dwarfs," released in 1937. Despite many being skeptical about the film's potential, "Snow White" turned out to be a massive hit, solidifying Disney's leadership in the animation industry.
Recognizing the need to continually evolve, Disney expanded its ventures in the 1950s. Disneyland, their first theme park in California, opened in 1955 and quickly became a popular tourist destination. Meanwhile, Disney also saw the potential in television, launching shows like "The Mickey Mouse Club" and "Wonderful World of Disney," broadening their imprint on the public's hearts.
In the 1970s, after the deaths of Walt and Roy, the company experienced a dip in creativity and financial performance. However, the 1980s saw a Disney resurgence with hit films like "The Little Mermaid," "Beauty and the Beast," and "The Lion King." This period, often referred to as the "Disney Renaissance," marked a return to its original form.
Entering the 21st century, Disney made a series of significant acquisitions to boost their portfolio and competitiveness. This included purchasing Pixar in 2006, Marvel Entertainment in 2009, Lucasfilm in 2012, and 21st Century Fox in 2019. With these acquisitions, Disney solidified its position as one of the dominant players in the global entertainment industry.
Metrik Utama
| | |
| --- | --- |
| Founded | Oct 16, 1923 |
| Headquarters | Burbank, California, United States |
| Website | https://thewaltdisneycompany.com/ |
| Number of employees | 188,100 |
Financial Summary
| Item | 2022 | 2021 | 2020 | 2019 |
| --- | --- | --- | --- | --- |
| Total Revenue | 82,72 M | 67,42 M | 65,39 M | 69,57 M |
| Cost of Revenue | 75,95 M | 63,76 M | 61,59 M | 57,72 M |
| Gross Profit | 6,77 M | 3,66 M | 3,79 M | 11,85 M |
| Operating Income | 6,77 M | 3,66 M | 3,79 M | 11,85 M |
| Operating Expense | 21,55 M | 18,63 M | 17,71 M | 15,70 M |
| Net Income | 3,15 M | 1,20 M | -2,86 M | 11,05 M |
| Item | 2022 | 2021 | 2020 | 2019 |
| --- | --- | --- | --- | --- |
| Total Assets | 203,63 M | 203,61 M | 201,55 M | 193,98 M |
| Total Liabilities | 95,25 M | 101,39 M | 104,04 M | 91,13 M |
| Total Equity | 108,38 M | 102,22 M | 97,51 M | 102,85 M |
| Item | 2022 | 2021 | 2020 | 2019 |
| --- | --- | --- | --- | --- |
| Operating Cash Flow | 6,01 M | 5,57 M | 7,62 M | 6,61 M |
| Investing Cash Flow | -5,01 M | -3,16 M | -3,64 M | -4,12 M |
| Financing Cash Flow | -4,74 M | -4,39 M | 8,48 M | -1,09 M |
| End Cash Position | 11,66 M | 16,00 M | 17,95 M | 5,46 M |
in USD (Jt = million, M = billion, T = trilion)
Executives
| | |
| --- | --- |
| Robert A. Iger | CEO & Director |
| Horacio E. Gutierrez | Sr. EVP & Gen. Counsel |
| Kristina K. Schake | Sr. EVP & Chief Communications Officer |
| Kevin Lansberry | Interim Chief Financial Officer |
| Diane Jurgens | Exec. VP of Enterprise Technology & Chief Information Officer |
| Alexia Skouras Quadrani | Exec. VP of Investor Relations |
| Alicia Schwarz | Sr. VP & Chief Compliance Officer |
| Sonia Coleman | Sr. EVP & Chief HR Officer |
| Ronald L. Iden | Sr. VP & Chief Security Officer |
How to Buy
Walt Disney Co (DIS)
Stocks
Interested in buying shares of this tech company? You can buy Walt Disney Co (DIS) shares with simple steps:
Install Nanovest app on the App Store or Play Store.

Register according to the instructions.

Verify your identity for security and convenience when buying stocks through the

KYC feature

which you can do in just 1 minute.

Top Up your balance to your Nanovest account.

Go to the stock menu, search and select

Walt Disney Co (DIS)

.

Click the Buy button and confirm the purchase with your desired amount. You can start with only IDR 5,000.
Before investing in the stocks you want, do some research and analysis first. You can do this by checking company profile, industry conditions, company financial reports, and analyzing previous stock price movements. This analysis is important so that you can develop an accurate investment strategy and minimize losses.
Is it Safe to Buy
Walt Disney Co (DIS)
Stocks on Nanovest?
Of course. Nanovest is supported by a number of professional partners who have a good reputation in providing their services. One of them is supported by S-Quantum Engine technology by Sinarmas Financial Services.
For global and US stocks, Nanovest partners with brokers registered with the United Stated Financial Industry Regulatory Authority (FINRA) – which insures brokerage accounts held by Nanovest users up to U$S 500k by the United States Securities Investor Protection Corporation (SIPC).
For crypto assets, Nanovest is registered with the Commodity Futures Trading Supervisory Agency (Bappebti). The Nanovest platform itself has also been insured through a partnership with Sinarmas Insurance.
Disclaimer
All content on this website is for informational purposes and doesn't constitute a recommendation to buy/sell any stock or digital asset. Investors should understand the nature of stocks and digital assets, including return and risk requirements of the assets. We encourage investors to fully understand the assets and risks before making any investment. Always do your own research.
See More Stocks
---