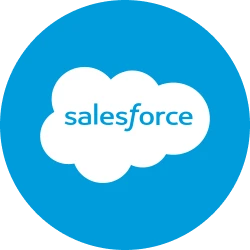 Salesforce is a technology company that provides a cloud-based customer relationship management (CRM) platform. They assist businesses of all sizes in connecting with their customers through various applications, including sales, service, marketing, and analytics.
About
Salesforce, Inc. (CRM)
In the context of CRM (Customer Relationship Management) solutions, Salesforce, Inc. emerges as a pioneering leader. Founded in 1999 by Marc Benioff and Parker Harris, Salesforce has not only transformed the way businesses operate but also how technology functions within businesses. Today, this San Francisco-based company boasts a global presence and has made history as one of the largest technology firms in the world.
Salesforce is widely recognized for redefining the SaaS (Software as a Service) model, introducing a new approach to providing business solutions through the cloud. As a customer-focused company, Salesforce has aided millions of businesses in enhancing their interactions with customers and increasing revenue.
Furthermore, with their openness in corporate philanthropy, Salesforce has set an example of how technology companies can positively contribute to the society in which they operate, through their adoption of the 1-1-1 initiative.
Vision and Mission of Salesforce, Inc. (CRM)
In a world that continually changes and adapts to the digital era, Salesforce has a clear vision: to assist businesses in connecting with their customers in revolutionary ways. They believe that every business, no matter its size, should have the ability to understand their customers and deliver an unforgettable experience.
The mission of Salesforce is to empower companies to connect with their customers in new and innovative ways. Through cloud technology, they aim to provide all businesses, regardless of their size, with access to the best existing technologies.
This commitment is reflected in every product and service they offer. Salesforce understands that in this digital age, a company's success is determined by how they interact with and value their customers.
Products of Salesforce, Inc. (CRM)
Salesforce offers a variety of products designed to meet the needs of businesses across different sectors. Some of their key products include:
Sales Cloud: A core CRM solution that assists companies in managing customer relationships, sales, and revenue forecasts. It is estimated that over 150,000 companies use Sales Cloud to enhance their sales efficiency.
Service Cloud: A customer service platform that empowers teams to provide better and faster support. With over 100,000 customers utilizing Service Cloud, it has become an invaluable solution for many organizations.
Marketing Cloud: A solution for digital marketing, automation, and campaigns. With robust features and seamless integration, many companies have enhanced their marketing efforts.
Besides these three products, Salesforce also offers other products such as Commerce Cloud, Einstein Analytics, and many more. Each of these products is created with one goal in mind: to help companies provide the best experience for their customers.
Key Figures Behind the Success of Salesforce, Inc. (CRM)
Behind the success of any company, there are always individuals who contribute remarkable dedication and vision. In the history of Salesforce, several names stand out:
1. Marc Benioff
As the founder and CEO of Salesforce, Marc Benioff is a visionary who has revolutionized the technology industry with his bold ideas. With a strong background at Oracle, Benioff recognized the potential of cloud technology well before many others.
His ideas on SaaS have transformed the way businesses interact with customers. Beyond this, Benioff is known as a pioneer in corporate philanthropy with the Salesforce 1-1-1 model, committing to donate 1% of product, 1% of equity, and 1% of employee time to charitable initiatives.
2. Parker Harris
As a co-founder of Salesforce, Parker Harris is the technological architect behind the Salesforce platform. Harris is responsible for the technical aspects of Salesforce's products, ensuring that the platform remains innovative, secure, and scalable. His leadership in technological innovation has positioned Salesforce as a leader in the SaaS market.
3. Keith Block
Though he joined Salesforce well after its founding, former co-CEO Keith Block played a critical role in the company's global expansion. With over 30 years of experience in the technology industry, particularly at Oracle, Block's expertise in sales and operations has helped Salesforce increase market penetration and expand its product scope.
Stock Price Fluctuations of Salesforce, Inc. (CRM)
As one of the most watched technology companies in the stock market, Salesforce has experienced various stock price fluctuations throughout its history. One of the most significant moments was in 2008, during the global financial crisis.
While many technology companies saw a drastic decline in their stock value, Salesforce navigated the storm with smart business policies and a focus on innovation. Although their shares initially dropped, they quickly recovered and continued to grow in subsequent years.
The year 2019 marked another historical milestone for Salesforce with their announcement of the largest acquisition to date, the purchase of Tableau for $15.7 billion. This news significantly boosted their stock price as many investors saw this as a strategic move to enhance Salesforce's position in data analytics and business intelligence.
However, like many other large technology companies, Salesforce faces challenges. Issues such as competition with other tech firms and questions about sustainable growth have impacted their stock price from time to time. Nevertheless, with strong leadership and a commitment to innovation, Salesforce continues to be at the forefront of the technology industry.
History and Development of Salesforce, Inc. (CRM)
Founded in 1999 by the brilliant minds of Marc Benioff and Parker Harris, Salesforce was born out of a grand vision: to create a cloud-based CRM solution where companies could access it anytime, anywhere, without the hassle of complex technology infrastructure.
In its early years, many were skeptical about the idea of 'cloud'. However, with persistence and a spirit of innovation, Salesforce introduced the revolutionary concept of SaaS (Software as a Service). They began with a simple sales automation application and quickly gained traction in the market.
2004 was a significant year for Salesforce with the launch of AppExchange, an ecosystem for third-party applications that allowed other companies to develop and market their applications on the Salesforce platform. This further solidified Salesforce's position as a leader in the CRM space.
With the success of AppExchange, Salesforce continued to explore new opportunities. The launch of Salesforce Platform in 2007 allowed clients to build their custom applications, marking another turning point for the company as they began to be seen not just as a CRM provider, but a major player in the cloud computing ecosystem.
In the following decade, Salesforce continued to grow with strategic acquisitions. They acquired Buddy Media and ExactTarget to enhance their digital marketing capabilities, not to mention MuleSoft and Tableau, demonstrating Salesforce's commitment to staying at the forefront of data integration and analytics.
Yet, Salesforce's development isn't limited to products and acquisitions. They have actively built a community of developers, partners, and customers through their annual event, Dreamforce, gathering tens of thousands of participants worldwide to share, learn, and collaborate.
Now, more than two decades in operation, Salesforce is not just recognized as a technology company, but also as a thought leader, with a vision to create a more connected, inclusive, and customer-oriented business world.
Key Metrics
| | |
| --- | --- |
| Founded | Feb 1999 |
| Headquarters | San Francisco, California, United States |
| Website | https://www.salesforce.com/ |
| Number of employees | 79,390 |
Financial Summary
| Item | 2022 | 2021 | 2020 | 2019 |
| --- | --- | --- | --- | --- |
| Total Revenue | 31,35 M | 26,49 M | 21,25 M | 17,10 M |
| Cost of Revenue | 8,36 M | 7,03 M | 5,44 M | 4,14 M |
| Gross Profit | 22,99 M | 19,47 M | 15,81 M | 12,86 M |
| Operating Income | 1,86 M | 548 Jt | 455 Jt | 463 Jt |
| Operating Expense | 21,13 M | 18,92 M | 15,36 M | 12,40 M |
| Net Income | 208 Jt | 1,44 M | 4,07 M | 126 Jt |
| Item | 2022 | 2021 | 2020 | 2019 |
| --- | --- | --- | --- | --- |
| Total Assets | 98,85 M | 95,21 M | 66,30 M | 55,13 M |
| Total Liabilities | 40,49 M | 37,08 M | 24,81 M | 21,24 M |
| Total Equity | 58,36 M | 58,13 M | 41,49 M | 33,89 M |
| Item | 2022 | 2021 | 2020 | 2019 |
| --- | --- | --- | --- | --- |
| Operating Cash Flow | 7,11 M | 6,00 M | 4,80 M | 4,33 M |
| Investing Cash Flow | -1,99 M | -14,54 M | -3,97 M | -2,98 M |
| Financing Cash Flow | -3,56 M | 7,84 M | 1,19 M | 164 Jt |
| End Cash Position | 7,02 M | 5,47 M | 6,20 M | 4,15 M |
in USD (Jt = million, M = billion, T = trilion)
Executives
| | |
| --- | --- |
| Marc R. Benioff | Co-Founder, Chairman & CEO |
| Brian Millham | Pres & COO |
| Amy E. Weaver | Pres & CFO |
| Srinivas Tallapragada | Pres & Chief Engineering Officer |
| Parker Harris | Co-Founder, CTO & Director |
| Miguel Milano | Pres & Chief Revenue Officer |
| David Schmaier | Pres & Chief Product Officer |
| Sarah Franklin | Chairman of Advisory Board & Pres |
| Ariel Kelman | Pres & Chief Marketing Officer |
How to Buy
Salesforce, Inc. (CRM)
Stocks
Interested in buying shares of this tech company? You can buy Salesforce, Inc. (CRM) shares with simple steps:
Install Nanovest app on the App Store or Play Store.

Register according to the instructions.

Verify your identity for security and convenience when buying stocks through the

KYC feature

which you can do in just 1 minute.

Top Up your balance to your Nanovest account.

Go to the stock menu, search and select

Salesforce, Inc. (CRM)

.

Click the Buy button and confirm the purchase with your desired amount. You can start with only IDR 5,000.
Before investing in the stocks you want, do some research and analysis first. You can do this by checking company profile, industry conditions, company financial reports, and analyzing previous stock price movements. This analysis is important so that you can develop an accurate investment strategy and minimize losses.
Is it Safe to Buy
Salesforce, Inc. (CRM)
Stocks on Nanovest?
Of course. Nanovest is supported by a number of professional partners who have a good reputation in providing their services. One of them is supported by S-Quantum Engine technology by Sinarmas Financial Services.
For global and US stocks, Nanovest partners with brokers registered with the United Stated Financial Industry Regulatory Authority (FINRA) – which insures brokerage accounts held by Nanovest users up to U$S 500k by the United States Securities Investor Protection Corporation (SIPC).
For crypto assets, Nanovest is registered with the Commodity Futures Trading Supervisory Agency (Bappebti). The Nanovest platform itself has also been insured through a partnership with Sinarmas Insurance.
Disclaimer
All content on this website is for informational purposes and doesn't constitute a recommendation to buy/sell any stock or digital asset. Investors should understand the nature of stocks and digital assets, including return and risk requirements of the assets. We encourage investors to fully understand the assets and risks before making any investment. Always do your own research.
See More Stocks
---