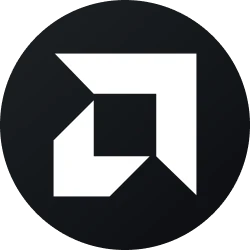 Advanced Micro Devices, Inc.
AMD is a semiconductor company headquartered in Santa Clara, California. Known as one of Intel's primary competitors, AMD produces processors, graphics cards, and other solutions for computers and servers.
About
Advanced Micro Devices, Inc. (AMD)
When discussing technological innovation and advancements in microprocessors, Advanced Micro Devices, Inc., widely recognized as AMD, cannot be overlooked. Established in 1969 in Sunnyvale, California, by visionary duo Jerry Sanders and his colleague, this company has transformed into a global semiconductor technology giant. Throughout its journey, AMD has made historical strides, contributing significantly to the evolution of the computer and technology industry.
Initially, upon its foundation, AMD began by standing as a staunch competitor to Intel, the microprocessor giant. Not just competitors, both companies often collaborated on various projects. However, not long after, AMD decided to focus on developing its unique product identity, which then resulted in numerous innovations and significant advancements in technology.
In pursuing its ambitions, AMD consistently prioritizes research and development in semiconductor technology. With this commitment, AMD has successfully released a series of high-performance microprocessors that can compete in the global market.
AMD's Vision and Mission
AMD's vision is to be a high-tech leader, driving innovations that empower the world to realize its potential. This is not just mere words but also the spirit propelling every product innovation they introduce. AMD's mission, inextricably linked to its vision, is to drive high-tech advancements facilitating product, culture, and business evolution. Understanding this mission and vision derives from AMD's history and its challenges in facing competition. For AMD, innovation is not just about technology, but also about contributing to the world. Holding steadfast to these principles, AMD crafts business strategies that don't just focus on profit, but also on how technology can enhance human quality of life. With a strong grip on this vision and mission, AMD continually pushes boundaries to create faster, more energy-efficient, and innovative technology for its consumers.
AMD Products
When discussing AMD products, one encounters a range of innovations that touch various life aspects. One renowned AMD product is Ryzen™ – a high-performance processor line used by millions of computer users globally. Powered by Zen technology, Ryzen delivers exceptional performance with efficient power consumption.
Next up is the Radeon™ graphics line. If you're a gamer or design professional, you're likely familiar with this product. Radeon provides top-notch graphics solutions supporting gaming, designing, and video rendering activities with impressive outcomes. Data suggests that over 10 million consumers worldwide rely on Radeon for their graphics needs.
Beyond Ryzen and Radeon, AMD also develops other products like EPYC™, designed for servers and data centers. EPYC combines high performance with advanced security features, making it a top choice for major corporations globally. Data indicates that more than 50,000 servers worldwide run on EPYC.
Key Figures in AMD
Discussing a semiconductor behemoth like AMD, one cannot overlook the significant roles played by certain individuals. Here are three key people pivotal in AMD's history:
Jerry Sanders

: Founder and first CEO of AMD. Jerry Sanders initiated AMD with a vision to create an alternative to the semiconductor monopoly, then dominated by Intel. With charisma, sharp business strategies, and high dedication to innovation, Sanders led AMD to launch innovative semiconductor products. Under his leadership, AMD released its first set of microprocessors that successfully carved a niche in the global market.

Dr. Lisa Su

: The current AMD CEO and a central figure behind AMD's resurgence in the past decade. Since taking the CEO role in 2014, Dr. Su has led a monumental transformation in AMD, focusing on flagship product development like Ryzen™ and Radeon™. With an educational background in electrical and computer engineering, Dr. Su seamlessly blends business vision with technical understanding to elevate AMD atop the semiconductor industry.

Mark Papermaster

: As AMD's CTO, Mark Papermaster plays a crucial role in AMD's product research and development. With extensive experience in the tech industry, including tenures at companies like

Apple

and Cisco, Papermaster leads the team responsible for the latest technological innovations, positioning AMD competitively in the global market.
Fluctuation of AMD's Stock Price
As a publicly traded company on the stock market, AMD's share price has experienced various fluctuations throughout its history. One particularly notable episode occurred in the early 2000s. At that time, AMD successfully launched the Athlon processor, quickly seizing market share from Intel. This success drove AMD's share price to peak at $40 per share in 2000.
However, this glory was short-lived. By the mid-2000s, AMD faced challenges competing with Intel, especially after Intel introduced the Core processor line. This, combined with a series of less than optimal business decisions, caused AMD's stock price to plummet, even reaching its lowest point at $2 per share in 2008.
Yet, like a phoenix rising from the ashes, AMD rebounded under the leadership of Dr. Lisa Su. With a series of flagship products that were well-received in the market, such as Ryzen™ and EPYC™, AMD regained momentum. In 2019, its stock price broke the $40 per share mark once again, signifying AMD's epic resurgence in the semiconductor industry.
History and Significant Developments of AMD
Stepping back in time, we can witness the early days of AMD as a pioneer in the semiconductor world. Starting in 1969, Jerry Sanders and several colleagues decided to establish their own semiconductor company after leaving Fairchild Semiconductor, a giant semiconductor firm of that era.
Sanders, with his vision and determination, wanted to create better products at more affordable prices—a principle AMD still staunchly upholds today.
In the 1970s, AMD focused on producing logic chips and entered the RAM market. However, a significant shift occurred in 1976 when AMD and Intel signed a licensing agreement. This deal allowed AMD to be the second manufacturer for several Intel chips, establishing a symbiotic relationship between these two semiconductor giants.
The 1980s proved to be a golden era for AMD, marked by the launch of several microprocessors like the Am286 that brought the company to its zenith. Yet, the rivalry with Intel began to heat up, and by 1991, AMD introduced the Am386®, the first processor developed without an Intel license, marking the beginning of intense competition between the two companies.
In the early 2000s, AMD once again made significant waves by launching the Athlon processor, challenging Intel's desktop market dominance. Another landmark event was the acquisition of ATI Technologies in 2006, allowing AMD to expand its portfolio into the graphics realm with the Radeon™ product line.
Then, in the 2010s under Dr. Lisa Su's leadership, AMD embarked on its renaissance with the launch of the Zen architecture that redefined computing performance. Ryzen™, Threadripper™, and EPYC™ are some of the flagship products born from this architecture, positioning AMD as a major player in the global semiconductor industry.
From a modest company in Silicon Valley to a global tech giant, AMD has demonstrated that innovation, perseverance, and a commitment to excellence are keys to success in an ever-evolving world.
Key Metrics
| | |
| --- | --- |
| Founded | May 1, 1969 |
| Headquarters | Santa Clara, California, United States |
| Website | https://www.amd.com/ |
| Number of employees | 25,000 |
Financial Summary
| Item | 2022 | 2021 | 2020 | 2019 |
| --- | --- | --- | --- | --- |
| Total Revenue | 23,60 M | 16,43 M | 9,76 M | 6,73 M |
| Cost of Revenue | 13,00 M | 8,51 M | 5,42 M | 3,86 M |
| Gross Profit | 10,60 M | 7,93 M | 4,35 M | 2,87 M |
| Operating Income | 1,26 M | 3,65 M | 1,37 M | 631 Jt |
| Operating Expense | 9,34 M | 4,28 M | 2,98 M | 2,24 M |
| Net Income | 1,32 M | 3,16 M | 2,49 M | 341 Jt |
| Item | 2022 | 2021 | 2020 | 2019 |
| --- | --- | --- | --- | --- |
| Total Assets | 67,58 M | 12,42 M | 8,96 M | 6,03 M |
| Total Liabilities | 12,83 M | 4,92 M | 3,13 M | 3,20 M |
| Total Equity | 54,75 M | 7,50 M | 5,84 M | 2,83 M |
| Item | 2022 | 2021 | 2020 | 2019 |
| --- | --- | --- | --- | --- |
| Operating Cash Flow | 3,57 M | 3,52 M | 1,07 M | 493 Jt |
| Investing Cash Flow | 2,00 M | -686 Jt | -952 Jt | -149 Jt |
| Financing Cash Flow | -3,26 M | -1,90 M | 6 Jt | 43 Jt |
| End Cash Position | 4,84 M | 2,54 M | 1,60 M | 1,47 M |
in USD (Jt = million, M = billion, T = trilion)
Executives
| | |
| --- | --- |
| Lisa T. Su Ph.D. | Chair & CEO |
| Victor Peng | Pres |
| Mark D. Papermaster | CTO and Exec. VP of Technology & Engineering |
| Paul Darren Grasby | Exec. VP of Strategic Partnerships & Pres EMEA |
| Jean X. Hu | Exec. VP, CFO & Treasurer |
| Keivan Keshvari | Sr. VP of Global Operations |
| Darla M. Smith | Corp. VP & Chief Accounting Officer |
| Hasmukh Ranjan | Sr. VP & Chief Information Officer |
| Harry A. Wolin | Sr. VP, Gen. Counsel & Corp. Sec. |
How to Buy
Advanced Micro Devices, Inc. (AMD)
Stocks
Interested in buying shares of this tech company? You can buy Advanced Micro Devices, Inc. (AMD) shares with simple steps:
Install Nanovest app on the App Store or Play Store.

Register according to the instructions.

Verify your identity for security and convenience when buying stocks through the

KYC feature

which you can do in just 1 minute.

Top Up your balance to your Nanovest account.

Go to the stock menu, search and select

Advanced Micro Devices, Inc. (AMD)

.

Click the Buy button and confirm the purchase with your desired amount. You can start with only IDR 5,000.
Before investing in the stocks you want, do some research and analysis first. You can do this by checking company profile, industry conditions, company financial reports, and analyzing previous stock price movements. This analysis is important so that you can develop an accurate investment strategy and minimize losses.
Is it Safe to Buy
Advanced Micro Devices, Inc. (AMD)
Stocks on Nanovest?
Of course. Nanovest is supported by a number of professional partners who have a good reputation in providing their services. One of them is supported by S-Quantum Engine technology by Sinarmas Financial Services.
For global and US stocks, Nanovest partners with brokers registered with the United Stated Financial Industry Regulatory Authority (FINRA) – which insures brokerage accounts held by Nanovest users up to U$S 500k by the United States Securities Investor Protection Corporation (SIPC).
For crypto assets, Nanovest is registered with the Commodity Futures Trading Supervisory Agency (Bappebti). The Nanovest platform itself has also been insured through a partnership with Sinarmas Insurance.
Disclaimer
All content on this website is for informational purposes and doesn't constitute a recommendation to buy/sell any stock or digital asset. Investors should understand the nature of stocks and digital assets, including return and risk requirements of the assets. We encourage investors to fully understand the assets and risks before making any investment. Always do your own research.
See More Stocks
---