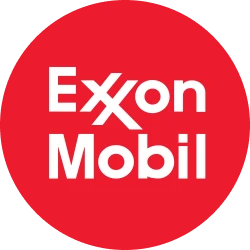 Exxon Mobil is one of the world's largest oil and gas companies, headquartered in America. The company is involved in every aspect of the energy industry, from exploration and production to marketing and distribution.
About
Exxon Mobil Corporation (XOM)
Formed in 1999 through the merger of Exxon and Mobil, two industry giants with histories rooted in the early days of oil discovery in America, Exxon Mobil Corporation has grown into one of the largest multinational energy companies in the world.
Headquartered in Irving, Texas, the company operates in nearly every corner of the globe, exploring, producing, refining, and selling oil and natural gas. Although Exxon Mobil has a strong industrial heritage, it is also renowned for its innovations. Over the years, ExxonMobil has invested in new research and technology, including efforts to reduce emissions and enhance energy efficiency. No wonder Exxon Mobil ranks high on the Forbes Global 2000 list.
Despite facing challenges in recent years, especially regarding climate change issues and shareholder pressure for clean energy adoption, ExxonMobil remains committed to delivering value to shareholders and society at large.
Vision and Mission of Exxon Mobil Corporation (XOM)
"To be the leading global energy company in creating long-term value." In this vision, ExxonMobil sees itself not only as an industry leader but also as a pioneer in delivering energy solutions to the evolving world.
ExxonMobil's mission is "to provide reliable and affordable energy in a safe, efficient, and environmentally friendly manner." With this mission, ExxonMobil emphasizes the importance of safe operations, sustainability efforts, and environmental responsibility.
As one of the world's largest oil and gas companies, ExxonMobil fully understands its responsibility. Amid pressure to transition to renewable energy, this mission lays the foundation for the company to innovate and adapt to the needs of the times.
Products of Exxon Mobil Corporation (XOM)
1. Oil
One of ExxonMobil's main products, oil plays a crucial role in the company's portfolio. Through exploration and production worldwide, ExxonMobil serves millions of consumers every day.
2. Natural Gas
Natural gas is becoming an increasingly popular energy alternative, especially as a solution to reduce carbon emissions. ExxonMobil is one of the leaders in natural gas production, with consumers in various countries.
3. Chemicals
ExxonMobil is also engaged in the petrochemical industry, producing a range of chemicals used in many everyday products. From plastics to lubricants, millions rely on chemical products from ExxonMobil.
Key Figures of Exxon Mobil Corporation (XOM)
Behind the success of a company, there are always individuals who provide extraordinary dedication and vision. In Exxon's history, there are several unforgettable names:
1. John D. Rockefeller
Perhaps no other name is as synonymous with the American oil industry as John D. Rockefeller. The founder of Standard Oil, the precursor to Exxon, Rockefeller is known as an extraordinary business innovator.
His leadership in integrating various aspects of the oil industry under the Standard Oil umbrella allowed the company to dominate the American oil industry in the late 19th and early 20th centuries. His success and strategies in the business world have become a reference for many other businesspeople.
2. Rex W. Tillerson
Before serving as the United States Secretary of State in the Trump administration, Rex W. Tillerson was known as the CEO of ExxonMobil from 2006 to 2016.
Under his leadership, the company faced various challenges, including climate change issues, but still managed to maintain its position as one of the largest oil and gas companies in the world.
3. Darren W. Woods
Succeeding Tillerson, Darren W. Woods took control of ExxonMobil in 2017. As the CEO and Chairman, Woods prioritizes sustainability initiatives and energy transition, focusing on reducing carbon emissions and developing clean energy technology.
Fluctuations in Exxon Mobil Corporation's (XOM) Stock Price
Being one of the companies with the largest market cap in the world, fluctuations in ExxonMobil's stock price are always in the spotlight. One of the most prominent periods was the 2008 oil crisis. Amid a surge in global crude oil prices, reaching $147 per barrel, ExxonMobil's stock price peaked. However, when the global financial crisis struck, oil prices and ExxonMobil's stock plummeted drastically.
Another intriguing period to observe was the beginning of 2020 when the COVID-19 pandemic started to spread. Global energy demand sharply declined, and world crude oil prices even once plunged into negative territory. For the first time in history, oil prices reached negative figures. This affected ExxonMobil's stock price, which sharply declined, forcing the company to reevaluate its strategies and business focus.
History and Development of Exxon Mobil Corporation (XOM)
Originating from the discovery of oil in Titusville, Pennsylvania in 1859, the American oil industry grew rapidly. John D. Rockefeller saw this immense potential and, in 1870, established the Standard Oil Company in Ohio. With aggressive strategies and innovative business, Standard Oil instead became a monopoly in the American oil industry, controlling 90% of all oil refining operations in the country by the end of the 19th century.
However, this success did not come without controversy. The dominant power of Standard Oil led the U.S. government to intervene, and in 1911, the Supreme Court decided to break Standard Oil into 34 separate companies. Two of these companies were Exxon and Mobil, each evolving into global energy entities with their operations.
Throughout the 20th century, both Exxon and Mobil played significant roles in the development of the global energy industry. They participated in the monumental discoveries of oil reserves in the Middle East, led innovations in exploration and production technology, and expanded their distribution and marketing networks worldwide.
Entering the 90s era, the energy industry began facing stiff competition, price pressures, and demands for more efficient operations. Confronting these conditions, Exxon and Mobil decided to merge. In 1999, this merger officially took place, creating Exxon Mobil Corporation, one of the most influential energy companies in the world.
Over the last two decades, ExxonMobil has focused on efforts in researching and developing new technologies. Amidst the challenges of climate change and energy transition demands, the company continues to invest in clean energy solutions and emission reduction efforts.
Key Metric
| | |
| --- | --- |
| Founded | Nov 30, 1999 |
| Headquarters | Las Colinas Boulevard, Irving, United States |
| Website | https://corporate.exxonmobil.com/ |
| Number of employees | 62,000 |
Financial Summary
| Item | 2022 | 2021 | 2020 | 2019 |
| --- | --- | --- | --- | --- |
| Total Revenue | 398,68 M | 285,64 M | 181,50 M | 264,94 M |
| Cost of Revenue | 295,61 M | 211,81 M | 170,45 M | 199,63 M |
| Gross Profit | 103,07 M | 64,89 M | 8,13 M | 55,96 M |
| Operating Income | 63,55 M | 31,23 M | -28,88 M | 264,94 M |
| Operating Expense | 39,52 M | 254,41 M | 210,39 M | 43,19 M |
| Net Income | 55,74 M | 23,04 M | -22,44 M | 14,34 M |
| Item | 2022 | 2021 | 2020 | 2019 |
| --- | --- | --- | --- | --- |
| Total Assets | 369,07 M | 338,92 M | 332,75 M | 362,60 M |
| Total Liabilities | 166,59 M | 163,24 M | 168,62 M | 163,66 M |
| Total Equity | 202,47 M | 175,68 M | 164,13 M | 198,94 M |
| Item | 2022 | 2021 | 2020 | 2019 |
| --- | --- | --- | --- | --- |
| Operating Cash Flow | 76,80 M | 48,13 M | 14,67 M | 29,72 M |
| Investing Cash Flow | -14,74 M | -10,24 M | -18,46 M | -23,08 M |
| Financing Cash Flow | -39,11 M | -35,42 M | 5,29 M | -6,62 M |
| End Cash Position | 29,67 M | 6,80 M | 4,36 M | 3,09 M |
in USD (Jt = million, M = billion, T = trilion)
Executives
| | |
| --- | --- |
| Darren W. Woods | Chairman, Pres & CEO |
| Kathryn A. Mikells | Sr. VP & CFO |
| Neil A. Chapman | Sr. VP |
| Jack P. Williams Jr. | Sr. VP |
| Karen T. McKee | VP & Pres of ExxonMobil Product Solutions Company |
| Leonard M. Fox | VP, Principal Accounting Officer & Controller |
| Jennifer K. Driscoll | VP of Investor Relations |
| Craig S. Morford | VP, Sec. & Gen. Counsel |
| Suzanne M. McCarron | VP of Public & Gov. Affairs |
How to Buy
Exxon Mobil Corporation (XOM)
Stocks
Interested in buying shares of this tech company? You can buy Exxon Mobil Corporation (XOM) shares with simple steps:
Install Nanovest app on the App Store or Play Store.

Register according to the instructions.

Verify your identity for security and convenience when buying stocks through the

KYC feature

which you can do in just 1 minute.

Top Up your balance to your Nanovest account.

Go to the stock menu, search and select

Exxon Mobil Corporation (XOM)

.

Click the Buy button and confirm the purchase with your desired amount. You can start with only IDR 5,000.
Before investing in the stocks you want, do some research and analysis first. You can do this by checking company profile, industry conditions, company financial reports, and analyzing previous stock price movements. This analysis is important so that you can develop an accurate investment strategy and minimize losses.
Is it Safe to Buy
Exxon Mobil Corporation (XOM)
Stocks on Nanovest?
Of course. Nanovest is supported by a number of professional partners who have a good reputation in providing their services. One of them is supported by S-Quantum Engine technology by Sinarmas Financial Services.
For global and US stocks, Nanovest partners with brokers registered with the United Stated Financial Industry Regulatory Authority (FINRA) – which insures brokerage accounts held by Nanovest users up to U$S 500k by the United States Securities Investor Protection Corporation (SIPC).
For crypto assets, Nanovest is registered with the Commodity Futures Trading Supervisory Agency (Bappebti). The Nanovest platform itself has also been insured through a partnership with Sinarmas Insurance.
Disclaimer
All content on this website is for informational purposes and doesn't constitute a recommendation to buy/sell any stock or digital asset. Investors should understand the nature of stocks and digital assets, including return and risk requirements of the assets. We encourage investors to fully understand the assets and risks before making any investment. Always do your own research.
See More Stocks
---