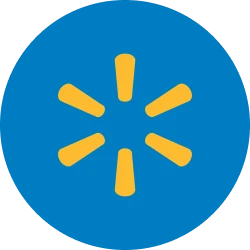 Walmart is an American multinational retail company and is one of the enterprises with the largest revenue in the world. With stores globally, Walmart offers a range of products, from food to electronics, at competitive prices.
About
Walmart Inc. (WMT)
In the retail world's labyrinth, not many names can resonate as strongly as Walmart. Known as one of the global retail giants, Walmart Inc. commenced its epic journey in 1962 in Rogers, Arkansas.
Founded by Sam Walton, this company has transformed from a small store into a multinational enterprise, now operating in over 27 countries with more than 11,000 stores. With annual revenue reaching hundreds of billions of US dollars, Walmart ranks first in the Fortune 500 list.
Walmart's history stems from Sam Walton's simple yet impactful philosophy, which is selling products at lower prices to increase sales volume. Walton aimed not just to profit but was also committed to delivering added value to customers. This is one of the key factors propelling Walmart's rapid growth amid stiff competition.
Despite its remarkable success, Walmart doesn't cease to innovate. In today's digital era, the company continually undergoes business transformation by incorporating advanced technology to enhance the shopping experience for its customers.
Vision and Mission of Walmart Inc. (WMT)
To understand the navigation direction of a colossal ship like Walmart, grasping its vision and mission is the initial step. Walmart's vision is "To be the global retail host by providing added value to customers, employees, and other stakeholders." This vision reflects Walmart's ambition to continue growing and reaching consumers worldwide.
Walmart's mission, on the other hand, is "To provide goods and services at lower prices so people can live better." This mission reflects Walmart's commitment to providing access to quality goods at affordable prices. The company's success is inextricably linked to the consistent implementation of this mission.
When asked about his business philosophy, Sam Walton once said, "Our key to success is our dedication to providing the best prices, with high service standards." This statement is the essence of Walmart's enduring vision and mission.
Products and Consumer Quantity of Walmart Inc. (WMT)
With its extensive store network, Walmart offers a variety of products. From clothing, food, electronics to household appliances, you can find them at Walmart. Additionally, the company has several other services and business divisions such as Walmart e-commerce, Sam's Club, and Walmart International.
Statistics show that every week, over 240 million consumers visit Walmart stores and websites globally. With such figures, it is unsurprising that Walmart is the prime destination for many people wanting to shop with guaranteed quality at affordable prices.
Not only a shopping destination, but Walmart is also renowned for its financial and pharmacy services. Both have received positive responses from consumers and have become integral parts of Walmart's operations.
Important Figures of Walmart Inc. (WMT)
Behind the success of a company, there are always individuals who offer extraordinary dedication and vision. In Walmart's history, several unforgettable names exist:
1. Sam Walton
There's perhaps no figure more influential for Walmart than its founder, Sam Walton. Born in 1918, Sam began his career in retail while working for J.C. Penney after World War II. In 1962, with a vision of opening a store offering low prices and top-notch service, Sam established the first Walmart in Rogers, Arkansas.
His leadership and innovative philosophy on "value for money" have laid the foundation for Walmart's success. Sam Walton was also known for his down-to-earth leadership style, often visiting his stores unannounced and interacting directly with employees.
2. Rob Walton
As the eldest son of Sam Walton, Rob Walton played a crucial role in continuing his father's legacy after Sam's death in 1992. Rob became the Chairman of Walmart's Board of Directors, and under his leadership, the company continued its international expansion and faced new challenges with innovation. Rob preserved his father's tradition by ensuring Walmart's corporate culture remains customer-focused.
3. Doug McMillon
Starting his career at Walmart as an intern in 1984, Doug McMillon has had an impressive journey. From the shop floor to the executive desk, Doug became the CEO in 2014. With his deep understanding of company operations, he focuses on digital innovation and global expansion and introduces the concept of more modern future stores integrated with technology.
Walmart Inc. (WMT) Stock Price Fluctuations
Walmart executed its initial public offering (IPO) in 1970, pricing each share at $16.50. Since then, the company has experienced various ups and downs in market capitalization and stock value. One of the most notable moments in Walmart's stock price history occurred in the late 1990s to the early 2000s.
Amid the dot-com boom, many investors and analysts doubted Walmart's potential in facing new digital competitors like Amazon. However, with aggressive expansion policies and e-commerce technology adaptation, Walmart's stock price saw significant surges in the mid-2000s.
The global economic crisis in 2008 also impacted Walmart's stock prices. While many companies experienced drastic declines, Walmart showcased its resilience. By offering lower prices for increasingly budget-conscious consumers, Walmart managed to boost its sales, eventually providing positive impacts on its stock prices.
However, one of the biggest challenges came in the last decade, where digital competition intensified. Despite facing stringent competition, Walmart continued to innovate by acquiring several e-commerce startups and enhancing its online services, maintaining stock price stability amidst market volatility.
History and Development of Walmart Inc. (WMT)
Behind its retail dominance, Walmart's journey began with a simple idea implanted by Sam Walton. In 1962, Sam opened the first Walmart store in Rogers, Arkansas. Offering quality products at affordable prices for all societal levels with the "Everyday Low Prices" concept, Walmart received a warm reception and began expanding to other regions in the United States.
In 1970, Walmart listed its shares on the New York Stock Exchange (NYSE). This IPO was a pivotal step in the company's history, providing additional capital for more aggressive expansion. Throughout the 70s, Walmart continued to open branches in various U.S. states and managed to reach more than 200 stores by the end of the decade.
The 1980s witnessed Walmart's growth internationally. In 1991, Walmart entered the Mexican market, marking the beginning of its global expansion. It didn't stop there, continuing to extend its reach to countries like Canada, China, and the United Kingdom.
Meanwhile, in the U.S., Walmart focused not only on physical stores. Anticipating changing shopping trends, Walmart introduced the supercenter concept in 1988. This concept combined a supermarket and a department store in one location, allowing consumers to shop for all needs in one place.
The 2000s were a period of transformation for Walmart. Faced with digital competitors like Amazon, Walmart started heavily investing in the e-commerce sector. The acquisition of Jet.com in 2016 reaffirmed its commitment to competing online. Moreover, service innovations, such as the introduction of curbside pickup and direct-to-home delivery, demonstrated Walmart's effort to enhance consumer shopping experiences.
To date, with a solid foundation and ongoing adaptation to shifting shopping trends, Walmart remains a giant in the global retail industry. They continue to demonstrate that innovation, dedication, and a commitment to serving customers are the keys to long-term success.
Key Metric
| | |
| --- | --- |
| Founded | Jul 2, 1962 |
| Headquarters | Bentonville, Arkansas, United States |
| Website | https://www.stock.walmart.com/ |
| Number of employees | 2,100,000 |
Financial Summary
| Item | 2022 | 2021 | 2020 | 2019 |
| --- | --- | --- | --- | --- |
| Total Revenue | 611,29 M | 572,75 M | 559,15 M | 523,96 M |
| Cost of Revenue | 463,72 M | 429,00 M | 420,32 M | 394,61 M |
| Gross Profit | 147,57 M | 143,75 M | 138,84 M | 129,36 M |
| Operating Income | 20,43 M | 25,94 M | 22,55 M | 20,57 M |
| Operating Expense | 127,14 M | 117,81 M | 116,29 M | 108,79 M |
| Net Income | 11,68 M | 13,67 M | 13,51 M | 14,88 M |
| Item | 2022 | 2021 | 2020 | 2019 |
| --- | --- | --- | --- | --- |
| Total Assets | 243,46 M | 244,86 M | 252,50 M | 236,50 M |
| Total Liabilities | 159,47 M | 152,97 M | 164,67 M | 154,94 M |
| Total Equity | 83,99 M | 91,59 M | 87,53 M | 81,55 M |
| Item | 2022 | 2021 | 2020 | 2019 |
| --- | --- | --- | --- | --- |
| Operating Cash Flow | 29,10 M | 24,18 M | 36,07 M | 25,26 M |
| Investing Cash Flow | -17,72 M | -6,02 M | -10,07 M | -9,13 M |
| Financing Cash Flow | -17,04 M | -22,83 M | -16,12 M | -14,30 M |
| End Cash Position | 9,10 M | 14,83 M | 17,79 M | 9,52 M |
in USD (Jt = million, M = billion, T = trilion)
Executives
| | |
| --- | --- |
| C. Douglas McMillon | Pres, CEO & Director |
| John David Rainey | Exec. VP & CFO |
| Suresh Kumar | Global CTO, Chief Devel. Officer & Exec. VP |
| Judith McKenna | Exec. VP |
| John R. Furner | Exec. VP, CEO & Pres of Walmart US |
| Kathryn J. McLay | Exec. VP, Pres & CEO of Walmart International, |
| Rachel L. Brand | Exec. VP of Global Governance, Chief Legal Officer & Corp. Sec. |
| Matthew Miner | Exec. VP and Global Chief Ethics & Compliance Officer |
| Allyson Park | Chief Communications Officer |
How to Buy
Walmart Inc. (WMT)
Stocks
Interested in buying shares of this tech company? You can buy Walmart Inc. (WMT) shares with simple steps:
Install Nanovest app on the App Store or Play Store.

Register according to the instructions.

Verify your identity for security and convenience when buying stocks through the

KYC feature

which you can do in just 1 minute.

Top Up your balance to your Nanovest account.

Go to the stock menu, search and select

Walmart Inc. (WMT)

.

Click the Buy button and confirm the purchase with your desired amount. You can start with only IDR 5,000.
Before investing in the stocks you want, do some research and analysis first. You can do this by checking company profile, industry conditions, company financial reports, and analyzing previous stock price movements. This analysis is important so that you can develop an accurate investment strategy and minimize losses.
Is it Safe to Buy
Walmart Inc. (WMT)
Stocks on Nanovest?
Of course. Nanovest is supported by a number of professional partners who have a good reputation in providing their services. One of them is supported by S-Quantum Engine technology by Sinarmas Financial Services.
For global and US stocks, Nanovest partners with brokers registered with the United Stated Financial Industry Regulatory Authority (FINRA) – which insures brokerage accounts held by Nanovest users up to U$S 500k by the United States Securities Investor Protection Corporation (SIPC).
For crypto assets, Nanovest is registered with the Commodity Futures Trading Supervisory Agency (Bappebti). The Nanovest platform itself has also been insured through a partnership with Sinarmas Insurance.
Disclaimer
All content on this website is for informational purposes and doesn't constitute a recommendation to buy/sell any stock or digital asset. Investors should understand the nature of stocks and digital assets, including return and risk requirements of the assets. We encourage investors to fully understand the assets and risks before making any investment. Always do your own research.
See More Stocks
---