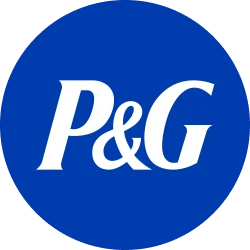 P&G is a multinational consumer goods company based in America. Housing various renowned brands such as Tide, Pampers, and Gillette under its umbrella, the company manufactures and sells hygiene, beauty, and household necessity products.
About
Procter & Gamble Company (PG)
William Procter, a candle maker, and James Gamble, a soap maker, founded Procter & Gamble in Cincinnati in 1837. From the get-go, these two young men envisioned that hard work and innovation would propel them to the summit. It wouldn't be wrong to say, the growth of PG is tangible evidence of the American dream coming to fruition.
From its inception in Cincinnati, Procter & Gamble has grown to become one of the largest consumer companies globally. With branches across various countries, PG has established itself as a kingpin in the consumer goods industry. You might be amazed at how many everyday products originate from PG's warehouses.
Procter & Gamble is renowned not just for its plethora of products. They are known for quality. Every product launched by PG is the result of in-depth research and a commitment to fulfilling consumer needs.
Vision and Mission of Procter & Gamble Company (PG)
"To provide the best quality products and services." Such is the simple yet profound vision of Procter & Gamble. PG wants to ensure every individual has access to quality products that can enhance their quality of life.
Procter & Gamble believe that by providing the best products, they are also making a positive contribution to society. They want every product released to bring tangible benefits to its consumers and become an integral part of their daily routines.
One of PG's missions is sustainability. They are committed to continually innovating and creating environmentally friendly products. This is not just about business, but how PG contributes to this planet.
Unceasing Innovation from Procter & Gamble Company (PG)
1. Wide Product Variants
When you walk in the supermarket, you might see many products with the PG label. From Pampers, Tide to Oral-B, all these products are proof of PG's dedication to consumers. Interestingly, according to data, around 5 billion consumers worldwide use PG products every day.
2. Focus on Innovation
As one of the market leaders, PG continues to push the boundaries of innovation. They are not only improving existing products but also creating new products that meet the consumers' future needs.
3. Consumer Understanding
One reason why PG remains ahead is their understanding of consumers. They conduct deep research to understand what consumers want and how they can meet those needs.
Key Figures of Procter & Gamble Company (PG)
Behind a company's success, there are always individuals who provide extraordinary dedication and vision. In P&G's history, several unforgettable names are:
1. William Procter
As one of the founders of Procter & Gamble, William Procter began his journey as a candle maker. Originally from England, he came to the US looking for new opportunities. Along with James Gamble, he laid the early foundations of PG, combining his candle-making skills with Gamble's soap-making expertise. With his clear vision, Procter shaped the culture of innovation and quality that is now at the core of PG.
2. James Gamble
William's counterpart, James Gamble, was not just a soap maker. He was an innovator. Gamble was always looking for ways to improve the quality of his soaps, producing better products for consumers. His partnership with Procter was not just business-based, but was also founded on mutual trust and a shared vision for the company's future.
3. A.G. Lafley
In a more modern era, A.G. Lafley, as the CEO of Procter & Gamble twice (2000-2009 and 2013-2015), played a pivotal role in shaping PG's future. Under his leadership, PG expanded its scope with several strategic acquisitions and introduced innovative products to the market. Lafley is known for his consumer-focused approach and his dedication to innovation.
Stock Price Fluctuations of Procter & Gamble Company (PG)
Throughout its history, Procter & Gamble has experienced numerous ups and downs in its stock prices, reflecting various phases of its growth and the external challenges it encountered.
In the 1980s, for instance, PG's stocks saw extraordinary growth. The reason? The launch of several innovative products that received positive reception from consumers. However, the global economic crisis in 2008 had a significant impact.
PG's stocks, like many other large companies' shares, experienced a sharp decline. Nevertheless, thanks to strong recovery strategies and quick adaptation to consumer changes, PG managed to recover swiftly.
Then, in 2020, when the global COVID-19 pandemic struck, many industries faced a decline. However, Procter & Gamble, with its portfolio covering daily necessities, saw a rise in demand for several of its products. This reflects the strength and resilience of PG's business, even amidst global uncertainties.
History and Key Developments of Procter & Gamble Company (PG)
William Procter and James Gamble began their journey in Cincinnati in 1837, aiming to deliver top-quality products. This era was the foundation of the company, with the main focus on soap and candle production. In the 1880s, the first innovation came in the form of Ivorine soap, which became an instant hit among consumers.
The early 20th century marked the era of PG's massive expansion. In the 1920s, the company introduced Tide, a laundry detergent that later became one of PG's best-selling products. In the same period, PG also ventured into the advertising industry, creating what we know as "soap operas" on the radio to promote their soap products.
Post World War II, Procter & Gamble began global expansion, opening operations outside the United States. In the 1950s, PG launched other products like Pampers, initiating the era of product diversification. The 1980s and 1990s marked the addition of several renowned brands to PG's portfolio, including Pantene and Oral-B.
Entering the digital age, Procter & Gamble continued to innovate by leveraging technology. In the early 2000s, they launched their e-store, allowing consumers to buy products directly from the manufacturer.
PG also invested in research and development to create technology-based products that meet modern consumers' needs. In this decade, PG acquired several technology and beauty start-ups to strengthen their product portfolio.
Key Metric
| | |
| --- | --- |
| Founded | Oct 31, 1837 |
| Headquarters | Cincinnati, United States |
| Website | https://www.pginvestor.com/ |
| Number of employees | 107,000 |
Financial Summary
| Item | 2022 | 2021 | 2020 | 2019 |
| --- | --- | --- | --- | --- |
| Total Revenue | 82,01 M | 80,19 M | 76,12 M | 70,95 M |
| Cost of Revenue | 42,76 M | 42,16 M | 37,11 M | 35,25 M |
| Gross Profit | 39,25 M | 38,03 M | 39,01 M | 35,70 M |
| Operating Income | 18,13 M | 17,81 M | 17,99 M | 15,71 M |
| Operating Expense | 21,11 M | 20,22 M | 21,02 M | 19,99 M |
| Net Income | 14,65 M | 14,74 M | 14,31 M | 13,03 M |
| Item | 2022 | 2021 | 2020 | 2019 |
| --- | --- | --- | --- | --- |
| Total Assets | 120,83 M | 117,21 M | 119,31 M | 120,70 M |
| Total Liabilities | 73,76 M | 70,35 M | 72,65 M | 73,82 M |
| Total Equity | 47,07 M | 46,85 M | 46,65 M | 46,88 M |
| Item | 2022 | 2021 | 2020 | 2019 |
| --- | --- | --- | --- | --- |
| Operating Cash Flow | 16,85 M | 16,72 M | 18,37 M | 17,40 M |
| Investing Cash Flow | -3,50 M | -4,42 M | -2,83 M | 3,05 M |
| Financing Cash Flow | -12,15 M | -14,88 M | -21,53 M | -8,37 M |
| End Cash Position | 8,25 M | 7,21 M | 10,29 M | 16,18 M |
in USD (Jt = million, M = billion, T = trilion)
Executives
| | |
| --- | --- |
| Jon R. Moeller | Pres, CEO & Chairman |
| Andre Schulten | Chief Financial Officer |
| Shailesh G. Jejurikar | Chief Operating Officer |
| R. Alexandra Keith | Chief Exec. Officer of Beauty & Exec. Sponsor of Corp. Sustainability |
| Ma. Fatima de Vera Francisco | Chief Exec. Officer of Baby, Feminine & Family Care and Exec. Sponsor for Gender Equality |
| Matthew W. Janzaruk | Sr. VP & Chief Accounting Officer |
| Vittorio Cretella | Chief Information Officer |
| John T. Chevalier | Sr. VP of Investor Relations |
| Susan Street Whaley | Chief Legal Officer & Sec. |
How to Buy
Procter & Gamble Company (PG)
Stocks
Interested in buying shares of this tech company? You can buy Procter & Gamble Company (PG) shares with simple steps:
Install Nanovest app on the App Store or Play Store.

Register according to the instructions.

Verify your identity for security and convenience when buying stocks through the

KYC feature

which you can do in just 1 minute.

Top Up your balance to your Nanovest account.

Go to the stock menu, search and select

Procter & Gamble Company (PG)

.

Click the Buy button and confirm the purchase with your desired amount. You can start with only IDR 5,000.
Before investing in the stocks you want, do some research and analysis first. You can do this by checking company profile, industry conditions, company financial reports, and analyzing previous stock price movements. This analysis is important so that you can develop an accurate investment strategy and minimize losses.
Is it Safe to Buy
Procter & Gamble Company (PG)
Stocks on Nanovest?
Of course. Nanovest is supported by a number of professional partners who have a good reputation in providing their services. One of them is supported by S-Quantum Engine technology by Sinarmas Financial Services.
For global and US stocks, Nanovest partners with brokers registered with the United Stated Financial Industry Regulatory Authority (FINRA) – which insures brokerage accounts held by Nanovest users up to U$S 500k by the United States Securities Investor Protection Corporation (SIPC).
For crypto assets, Nanovest is registered with the Commodity Futures Trading Supervisory Agency (Bappebti). The Nanovest platform itself has also been insured through a partnership with Sinarmas Insurance.
Disclaimer
All content on this website is for informational purposes and doesn't constitute a recommendation to buy/sell any stock or digital asset. Investors should understand the nature of stocks and digital assets, including return and risk requirements of the assets. We encourage investors to fully understand the assets and risks before making any investment. Always do your own research.
See More Stocks
---