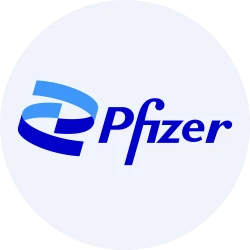 Pfizer, based in New York, is one of the largest pharmaceutical companies in the world. The company is involved in the discovery, development, and production of drugs and vaccines across various therapeutic areas.
About
Pfizer Inc. (PFE)
To many, Pfizer is not just a name. Established firmly since 1849, Pfizer Inc. has a deeply rooted history in the global pharmaceutical industry. Founded by cousins Charles Pfizer and Charles Erhart in Brooklyn, New York, Pfizer started from scratch with a small laboratory and an anthelmintic product.
From there, the company grew, touching every corner of the world with its innovation and dedication to health. Moving on from its storied past, Pfizer now stands as one of the leaders in the global pharmaceutical industry. With a presence in over 125 countries, diverse product innovations, and a commitment to research and development, the company has solidified its position as a major player in creating health solutions.
But why is Pfizer so significant? Simply put, it's because they don't just chase profits; they genuinely contribute to the advancement of medicine, health, and the well-being of the global community.
Pfizer Inc. (PFE) Vision and Mission
Every large company has aspirations, and for Pfizer, those are reflected in its vision and mission. Throughout its journey, Pfizer has always held steadfast to the vision of "Being the leading global pharmaceutical company in improving the health and quality of life of every individual in every corner of the world." In other words, Pfizer aims to contribute more than just drugs and vaccines.
Their mission? "Creating breakthroughs that change patients' lives." In a world filled with health challenges, Pfizer understands the importance of innovation and dedication. Thus, this mission is not merely words, but a promise they demonstrate through tangible actions in the form of health product research and development.
Additionally, consistency and integrity are this company's core pillars. Consequently, you can trust that every product they release has undergone a rigorous process and is grounded in science.
Pfizer Inc. (PFE) Products
When discussing Pfizer's products, one must begin with the ones that have marked significant milestones in medical history. Lipitor, for instance, is a cholesterol-lowering drug that has benefited millions of patients worldwide.
Then there's Viagra, initially developed for high blood pressure but later widely recognized as a solution for erectile dysfunction. Millions regained their confidence thanks to this innovation. Most recently, the COVID-19 vaccine.
Amid the pandemic, Pfizer, in collaboration with BioNTech, developed a vaccine using mRNA technology that has been administered to hundreds of millions globally. However, these products are just a fraction of what Pfizer offers.
From routine medicines to advanced medical solutions, Pfizer continually innovates and contributes to the health world.
Key Figures of Pfizer Inc. (PFE)
Throughout its long history, Pfizer hasn't walked alone. Several individuals have played crucial roles in its growth and advancement.
Albert Bourla

: As the current CEO, Bourla has been instrumental in steering Pfizer into a new era, especially amidst the COVID-19 pandemic. With his visionary leadership, Bourla spearheaded the development of the mRNA-based COVID-19 vaccine with BioNTech, now used worldwide. Before becoming CEO, Bourla held various significant positions, such as leading the vaccine, oncology, and consumer health units.

Ian Read

: Serving as CEO from 2010 to 2018, Read faced several challenges, including the loss of Lipitor's patent rights. Under his leadership, Pfizer navigated these tough times, focusing on research and development and making strategic acquisitions to bolster the company's portfolio.

Charles Pfizer & Charles Erhart

: As founders, they started the company with a vision to create innovative health solutions. Starting with an anthelmintic product, they laid the foundation for Pfizer to grow and evolve into the pharmaceutical giant known today.
Pfizer Inc. (PFE) Stock Price Fluctuations
Understanding the stock price fluctuations of Pfizer is like diving into an odyssey of the stock market world. Giant corporations like Pfizer, of course, encounter numerous events that influence their stock prices, whether those are internal to the company or stem from global dynamics.
At its pinnacle of success, Lipitor, Pfizer's cholesterol-reducing drug, wasn't just the company's flagship but also an icon in the pharmaceutical industry. However, everything changed when the Lipitor patent expired in 2011. The market was soon flooded with generic versions of the drug, which were sold at significantly lower prices.
As a result, Pfizer saw a decline in revenue from this segment, negatively impacting their stock price. Investors, once optimistic about Pfizer's performance, began questioning the company's ability to remain competitive.
In the wake of the patent loss for Lipitor, Pfizer decided to act quickly. 2016 witnessed how Pfizer strategically acquired Medivation, strengthening its position in oncology.
The market positively welcomed this move. Besides showcasing Pfizer's aggressive growth strategy, the acquisition diversified their product line. Pfizer's stock price saw a positive surge, reflecting investors' trust in the company's long-term vision.
The biggest euphoria of the past decade came when the world was grappling with the COVID-19 pandemic. Amid global uncertainties, Pfizer, in collaboration with BioNTech, announced the development of a COVID-19 vaccine using mRNA technology.
When the vaccine received emergency use authorization from various global health regulators, optimism echoed worldwide. The stock market responded very positively. Pfizer's stock price soared, reflecting global hopes for a pandemic solution and trust in Pfizer's medical innovation capabilities.
History and Developments of Pfizer Inc. (PFE)
Tracing back the history of Pfizer, we go to 1849 in a region of Brooklyn, New York. There, two German immigrants, Charles Pfizer and Charles Erhart, established a company with a starting capital of $2,500. Beginning with the production of an antihelminthic, both were committed to creating better and innovative health solutions.
Pfizer, initially operating from a former candle factory in Brooklyn, rapidly expanded. One of their remarkable early achievements was the production of citric acid during World War I. At that time, citric acid supplies from Europe were halted due to the war, and Pfizer seized the opportunity, taking over supplies and becoming the world's largest citric acid producer.
When World War II erupted, Pfizer again played a pivotal role by leading the mass production of penicillin. Through fermentation techniques in large tanks, Pfizer met the allies' penicillin needs, crucial for healing war wounds and preventing infections.
Post-war, the company never ceased to innovate. In the 1950s, they developed Terramycin, an antibiotic capable of treating various infections and became a breakthrough product in its market.
Approaching the late 20th century, Pfizer continued its expansion by acquiring various pharmaceutical companies, enhancing their product line and global market penetration. One of their most significant acquisitions was Warner-Lambert in 2000, bringing Lipitor into Pfizer's portfolio and making it the world's best-selling drug.
In the modern era, Pfizer persistently responds to global health challenges. From research on chronic diseases to its role in developing the COVID-19 vaccine, Pfizer reaffirms its position as a pioneer in the pharmaceutical industry.
Key Metrics
| | |
| --- | --- |
| Founded | 1849 |
| Headquarters | New York, New York, United States |
| Website | https://www.pfizer.com/ |
| Number of employees | 83,000 |
Financial Summary
| Item | 2022 | 2021 | 2020 | 2019 |
| --- | --- | --- | --- | --- |
| Total Revenue | 100,33 M | 81,29 M | 41,91 M | 51,75 M |
| Cost of Revenue | 34,34 M | 30,82 M | 8,69 M | 10,22 M |
| Gross Profit | 65,99 M | 50,47 M | 33,22 M | 41,53 M |
| Operating Income | 37,27 M | 20,24 M | 8,76 M | 13,92 M |
| Operating Expense | 28,71 M | 30,23 M | 24,46 M | 27,61 M |
| Net Income | 31,37 M | 21,98 M | 9,62 M | 16,27 M |
| Item | 2022 | 2021 | 2020 | 2019 |
| --- | --- | --- | --- | --- |
| Total Assets | 197,21 M | 181,48 M | 154,23 M | 167,49 M |
| Total Liabilities | 101,29 M | 104,01 M | 90,76 M | 104,04 M |
| Total Equity | 95,92 M | 77,46 M | 63,47 M | 63,48 M |
| Item | 2022 | 2021 | 2020 | 2019 |
| --- | --- | --- | --- | --- |
| Operating Cash Flow | 29,27 M | 32,58 M | 14,10 M | 12,59 M |
| Investing Cash Flow | -15,78 M | -22,55 M | -4,28 M | -3,95 M |
| Financing Cash Flow | -14,83 M | -9,82 M | -9,65 M | -8,49 M |
| End Cash Position | 468 Jt | 1,98 M | 1,83 M | 1,35 M |
in USD (Jt = million, M = billion, T = trilion)
Executives
| | |
| --- | --- |
| Albert Bourla D.V.M., DVM, Ph.D. | Chairman & CEO |
| Frank A. D'Amelio | CFO & Exec. VP |
| David M. Denton | Chief Financial Officer & Exec. VP |
| Mikael Dolsten M.D., Ph.D. | Chief Scientific Officer and Pres of R&D |
| Angela Hwang | Chief Commercial Officer & Pres of Global Biopharmaceuticals Bus. |
| Jennifer B. Damico | Sr. VP, Controller & Principal Accounting Officer |
| Lidia L. Fonseca | Exec. VP and Chief Digital & Technology Officer |
| Christopher J. Stevo CFA | Sr. VP & Chief Investor Relations Officer |
| Douglas M. Lankler | Exec. VP & Gen. Counsel |
How to Buy
Pfizer Inc. (PFE)
Stocks
Interested in buying shares of this tech company? You can buy Pfizer Inc. (PFE) shares with simple steps:
Install Nanovest app on the App Store or Play Store.

Register according to the instructions.

Verify your identity for security and convenience when buying stocks through the

KYC feature

which you can do in just 1 minute.

Top Up your balance to your Nanovest account.

Go to the stock menu, search and select

Pfizer Inc. (PFE)

.

Click the Buy button and confirm the purchase with your desired amount. You can start with only IDR 5,000.
Before investing in the stocks you want, do some research and analysis first. You can do this by checking company profile, industry conditions, company financial reports, and analyzing previous stock price movements. This analysis is important so that you can develop an accurate investment strategy and minimize losses.
Is it Safe to Buy
Pfizer Inc. (PFE)
Stocks on Nanovest?
Of course. Nanovest is supported by a number of professional partners who have a good reputation in providing their services. One of them is supported by S-Quantum Engine technology by Sinarmas Financial Services.
For global and US stocks, Nanovest partners with brokers registered with the United Stated Financial Industry Regulatory Authority (FINRA) – which insures brokerage accounts held by Nanovest users up to U$S 500k by the United States Securities Investor Protection Corporation (SIPC).
For crypto assets, Nanovest is registered with the Commodity Futures Trading Supervisory Agency (Bappebti). The Nanovest platform itself has also been insured through a partnership with Sinarmas Insurance.
Disclaimer
All content on this website is for informational purposes and doesn't constitute a recommendation to buy/sell any stock or digital asset. Investors should understand the nature of stocks and digital assets, including return and risk requirements of the assets. We encourage investors to fully understand the assets and risks before making any investment. Always do your own research.
See More Stocks
---