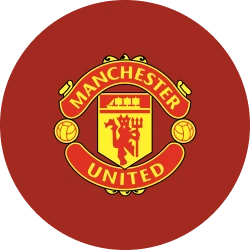 Manchester United is a professional football club based in Manchester, England. Recognized as one of the most successful and popular clubs globally, the "Red Devils" have a broad following worldwide and have won numerous league titles and cups.
About
Manchester United (MANU)
Since its inception in 1878 under the name Newton Heath LYR Football Club, Manchester United has been one of the world's most successful football clubs. The renaming to Manchester United in 1902 symbolized not just an identity change but also the transformation of a local club into a global icon.
Manchester United is more than just a football team; it's an institution. Old Trafford Stadium, established in 1910, proudly bears the title "The Theatre of Dreams." With a capacity of over 74,000 seats, it's one of the largest stadiums in England. However, the greatness of Manchester United is not only visible through the stadium's size but also through its achievements on the field.
This success is attributed to the smart management strategies applied. Over the years, the club has maintained its traditions while adapting to modern football developments.
Vision and Mission of Manchester United (MANU)
Manchester United has a vision to remain the world's leading football club, both in terms of achievements and branding. They are committed to maintaining their long-standing tradition of attractive and attacking football and providing the best experience for their supporters.
Regarding its mission, the club focuses on three main pillars: team success on the field, supporters' loyalty, and business sustainability. Success on the field is measured by the number of trophies won. Supporters' loyalty is reflected in the number of tickets sold and interactions on digital platforms. Meanwhile, business sustainability is seen through financial health and business expansion.
Products of Manchester United (MANU)
Manchester United not only offers world-class football but also a range of products and services that support their business. One of them is official merchandise which includes jerseys, scarves, hats, and much more. With hundreds of thousands sold each year, this merchandise is a significant source of income for the club.
Additionally, Manchester United also has MU TV, a dedicated television channel broadcasting news, interviews, and live matches. It is estimated that over a million subscribers worldwide subscribe to this channel.
Lastly, Manchester United also collaborates with various global sponsors. From automotive companies to technology firms, they establish mutually beneficial relationships. These partnerships not only generate income for the club but also help promote the Manchester United brand globally.
Figures in Manchester United (MANU)
Behind a company's success, there are always individuals who provide extraordinary dedication and vision. In the history of Manchester United, several unforgettable names stand out:
1. Sir Matt Busby
In the long history of Manchester United, Sir Matt Busby is one of the most influential figures. Serving as a manager from 1945 to 1969, Busby transformed the club from an ordinary team to a major force in English football.
Under his control, Manchester United won five English League titles and became the first English team to win the European Cup in 1968. Busby is known for his philosophy that emphasized developing young players and attacking football.
2. Sir Alex Ferguson
Taking over the leadership after Busby, Sir Alex Ferguson emerged as the greatest manager in the club's history. Leading from 1986 to 2013, Ferguson guided United to 13 Premier League titles, two European Cups, and many other trophies. With his firm leadership and talent development strategies, he created several generations of great players for Manchester United.
3. George Best
Beyond management, players also have crucial roles in the club's history. George Best is one of the biggest stars ever to wear the Manchester United jersey. With his speed, agility, and goal-scoring ability, Best captured the hearts of fans and helped the team achieve many victories during the 1960s.
Fluctuation of Manchester United's Stock Prices (MANU)
The history of Manchester United's stocks presents intriguing dynamics, reflecting accomplishments on the field and the global economic conditions. One of the most notable fluctuating periods was when the company first went public on the London Stock Exchange in 1991. At that time, the initial stock price experienced a significant rise in line with the team's success on the field.
However, when the global financial crisis struck in 2008, Manchester United's stock prices were also affected. Even though the team's performance remained stable, global economic uncertainties worried investors. This resulted in a decrease in stock prices for several months.
Another interesting momentum was when Manchester United listed its shares on the New York Stock Exchange (NYSE) in 2012. At that moment, many analysts predicted that this move would enhance the club's valuation. Indeed, the stock prices skyrocketed after the IPO, showing investor confidence in the business potential of the club.
History and Evolution of Manchester United (MANU)
From roots growing on the railway streets of Newton Heath, Manchester United has evolved into one of the most valuable football entities in the world. Initially known as Newton Heath LYR Football Club in 1878, they were founded by workers from the Lancashire and Yorkshire Railway. The distinctive green and yellow colors they once wore reflected the club's railway history.
In 1902, after experiencing financial difficulties, the club was taken over by J.H. Davies, who then changed its name to Manchester United. With a new name and vision, MU began its golden era. In 1908, they won their first league title, followed by their first FA Cup victory two years later.
The 1950s era was one of the most emotional periods in the club's history. Under Sir Matt Busby, Manchester United created the "Busby Babes," a group of talented young players.
However, tragedy struck in 1958 when the plane carrying the team crashed in Munich. Several talented players passed away, but the club's spirit did not extinguish. Only ten years later, with a squad mostly composed of young players, MU won its first European Cup.
During the 1980s, the club faced several challenges, but success returned in the 1990s under Sir Alex Ferguson's leadership. With a mix of star players and young talent, Manchester United dominated English and European football for over two decades.
In the 2010s, the club witnessed leadership changes and new challenges. Nevertheless, with a rich history, a loyal fan base, and a commitment to success, Manchester United remains one of the most influential football clubs in the world.
Key Metrics
| | |
| --- | --- |
| Founded | 1878 |
| Headquarters | Old Trafford, Greater Manchester, United Kingdom |
| Website | https://www.manutd.com/ |
| Number of employees | 1,243 |
Financial Summary
| Item | 2022 | 2021 | 2020 |
| --- | --- | --- | --- |
| Total Revenue | 583 Jt | 494 Jt | 509 Jt |
| Operating Expense | 692 Jt | 538 Jt | 522 Jt |
| Operating Income | -109 Jt | -44 Jt | -13 Jt |
| Other Income Expense | 22 Jt | 7 Jt | 18 Jt |
| Pretax Income | -150 Jt | -24 Jt | -21 Jt |
| Net Income | -115 Jt | -92 Jt | -23 Jt |
| Item | 2022 | 2021 | 2020 |
| --- | --- | --- | --- |
| Total Assets | 1,29 M | 1,26 M | 1,38 M |
| Total Liabilities | 1,17 M | 987 Jt | 1,03 M |
| Total Equity | 127 Jt | 272 Jt | 351 Jt |
| Item | 2022 | 2021 | 2020 |
| --- | --- | --- | --- |
| Operating Cash Flow | 96 Jt | 113 Jt | -3 Jt |
| Investing Cash Flow | -93 Jt | -99 Jt | -212 Jt |
| Financing Cash Flow | 5 Jt | 47 Jt | -46 Jt |
| End Cash Position | 121 Jt | 110 Jt | 51 Jt |
in USD (Jt = million, M = billion, T = trilion)
Executives
| | |
| --- | --- |
| Joel M. Glazer | Exec. Co-Chairman |
| Avram A. Glazer | Exec. Co-Chairman |
| Richard Arnold | CEO & Director |
| John Clifford Baty | CFO & Director |
| Collette Roche | Chief Operating Officer |
| Darren Fletcher | Technical Director |
| Corinna Freedman | Head of Investor Relations |
| Patrick Stewart | Chief Legal Officer & Director |
| Charlie Brooks | Director of Communications |
How to Buy
Manchester United (MANU)
Stocks
Interested in buying shares of this tech company? You can buy Manchester United (MANU) shares with simple steps:
Install Nanovest app on the App Store or Play Store.

Register according to the instructions.

Verify your identity for security and convenience when buying stocks through the

KYC feature

which you can do in just 1 minute.

Top Up your balance to your Nanovest account.

Go to the stock menu, search and select

Manchester United (MANU)

.

Click the Buy button and confirm the purchase with your desired amount. You can start with only IDR 5,000.
Before investing in the stocks you want, do some research and analysis first. You can do this by checking company profile, industry conditions, company financial reports, and analyzing previous stock price movements. This analysis is important so that you can develop an accurate investment strategy and minimize losses.
Is it Safe to Buy
Manchester United (MANU)
Stocks on Nanovest?
Of course. Nanovest is supported by a number of professional partners who have a good reputation in providing their services. One of them is supported by S-Quantum Engine technology by Sinarmas Financial Services.
For global and US stocks, Nanovest partners with brokers registered with the United Stated Financial Industry Regulatory Authority (FINRA) – which insures brokerage accounts held by Nanovest users up to U$S 500k by the United States Securities Investor Protection Corporation (SIPC).
For crypto assets, Nanovest is registered with the Commodity Futures Trading Supervisory Agency (Bappebti). The Nanovest platform itself has also been insured through a partnership with Sinarmas Insurance.
Disclaimer
All content on this website is for informational purposes and doesn't constitute a recommendation to buy/sell any stock or digital asset. Investors should understand the nature of stocks and digital assets, including return and risk requirements of the assets. We encourage investors to fully understand the assets and risks before making any investment. Always do your own research.
See More Stocks
---