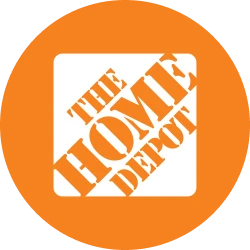 Home Depot stands as the largest home improvement retail company in the U.S. They supply tools, construction materials, and services for home improvement projects to both consumers and professionals.
About
Home Depot, Inc. (HD)
In the fast-paced world of retail, Home Depot emerges as one of the few giants that continue to expand. Established in 1978 in Atlanta, Georgia, Home Depot was founded by Bernie Marcus and Arthur Blank with a simple vision: to aid consumers in fulfilling their home improvement needs.
From one store in Atlanta, Home Depot has now expanded its network to over 2,200 stores across North America, becoming the largest home improvement store in the world. At every step, Home Depot has always focused on innovation.
Whether it's in customer service, technology, or how they give back to the community, this dedication is evidently ingrained in the company's DNA. Perhaps, this is one of the reasons why Home Depot has been a top choice for many consumers for over four decades.
Vision and Mission of Home Depot, Inc. (HD)
Home Depot's vision, "To be the first choice retail company for consumers in all things related to home improvement," reflects the company's aspiration to always be the best in its field. This vision drives Home Depot to continuously innovate and ensure customer satisfaction.
Their mission emphasizing "Delivering outstanding customer service, having the best people in the business, and supporting our community," portrays Home Depot's commitment to fostering strong relationships with its customers, employees, and surrounding community. It's not just about selling products, but also about creating lasting relationships.
Products of Home Depot, Inc. (HD)
Home Depot is widely recognized as a paradise for home improvement enthusiasts. They offer everything from hand tools, electrical appliances, building materials, to garden needs. Given this product diversity, it's unsurprising that Home Depot always attracts crowds. Hand tools, for example, draw interest from professionals to DIY enthusiasts.
Through collaborations with various renowned brands, Home Depot ensures that the products offered are the best in their class. And for those with a passion for gardening, Home Depot is the prime destination. With a selection of seeds, plants, fertilizers, and other equipment, your gardening needs will surely be met here.
Key Figures of Home Depot, Inc. (HD)
Behind the success of a company, there are always individuals who provide extraordinary dedication and vision. In Home Depot's history, there are several unforgettable names:
1. Bernie Marcus
As one of the founders of Home Depot, Bernie Marcus played a crucial role in the formation and early development of the company. With a background in pharmacy, Marcus was able to apply principles of customer service and business ethics in developing Home Depot. Marcus's vision of a home improvement store offering a variety of affordable yet high-quality products became a fundamental pillar of Home Depot's business philosophy.
2. Arthur Blank
As a co-founder alongside Bernie Marcus, Blank played a significant role in the business and financial strategies of Home Depot. With his experience in finance and management, Blank formulated business strategies that positioned Home Depot as a market leader in the home improvement retail industry. Moreover, Blank is also known for his commitment to sustainability and corporate social responsibility.
3. Craig Menear
As the current Chairman and CEO, Craig Menear has led Home Depot into the digital era. Under his leadership, Home Depot has expanded its online services and enhanced customer shopping experiences with technology. Menear started his career at Home Depot in 1997 and has held various key positions before eventually becoming CEO in 2014. Menear's vision regarding the integration of offline and online shopping experiences has positioned Home Depot as a major player in the era of e-commerce.
Stock Price Fluctuation of Home Depot Inc. (HD)
Being one of the largest companies listed on the stock exchange, Home Depot inevitably has an intriguing stock price history. One of the most notable fluctuating moments occurred during the global financial crisis in 2008. At that time, many companies experienced a significant drop in stock prices, including Home Depot.
However, what is interesting about Home Depot is its ability to recover swiftly post-crisis. With the right business strategies and adaptation to market changes, Home Depot managed to increase its stock value again. The company's decision to focus on innovation and enhancing service quality was key to their successful recovery.
Moreover, in 2020, amid the COVID-19 pandemic, while many companies struggled, Home Depot actually recorded a rise in stock prices. With the increasing need for home improvements during the pandemic, the demand for Home Depot products increased. The adaptive strategy implemented by strengthening the e-commerce platform also played a vital role in this stock value increase.
History and Development of Home Depot Inc. (HD)
Home Depot was conceived from a simple idea: how to create a home improvement store that not only offers a variety of products but also provides knowledge and inspiration. Bernie Marcus and Arthur Blank embarked on this journey in 1978 in Atlanta, Georgia, after being fired from their jobs at another retail company. Ironically, this dismissal turned out to be a pivotal moment, leading these two visionaries to create a revolution in the home improvement retail industry.
In 1979, Home Depot opened its first two stores in Atlanta. Spanning over 60,000 square feet, these stores offered thousands of home improvement products. However, what set them apart was the "do-it-yourself" concept, where consumers were empowered with knowledge and tools to perform repairs themselves. These stores quickly gained popularity, and Home Depot's growth began.
Throughout the 1980s, Home Depot continued its expansion to various states in the U.S., focusing mainly on customer service and education. They initiated training programs for employees, ensuring everyone working at Home Depot had profound knowledge about the products and their uses. These initiatives positioned Home Depot as a leader in the home improvement retail industry.
In the 1990s, Home Depot continued its expansion into international markets, starting from Canada to Latin America. With the same approach—focus on customers and education—Home Depot successfully adapted to the needs of the local markets.
The 2000s marked a period of digital transformation for Home Depot. Facing competition from e-commerce and changing consumer behaviors, Home Depot invested in technology and innovation. They launched an e-commerce website, mobile apps, and introduced services like "Buy Online, Pick Up in Store," blending online and offline shopping experiences.
Home Depot's most recent developments focus on sustainability and corporate social responsibility. With initiatives like "Path to 2020," Home Depot is committed to enhancing energy efficiency, reducing carbon emissions, and supporting local communities.
Key Metric
| | |
| --- | --- |
| Founded | Feb 6, 1978 |
| Headquarters | Atlanta, Georgia, United States |
| Website | https://www.homedepot.com/ |
| Number of employees | 471,600 |
Financial Summary
| Item | 2022 | 2021 | 2020 | 2019 |
| --- | --- | --- | --- | --- |
| Total Revenue | 157,40 M | 151,16 M | 132,11 M | 110,23 M |
| Cost of Revenue | 104,63 M | 100,33 M | 87,26 M | 72,65 M |
| Gross Profit | 52,78 M | 50,83 M | 44,85 M | 37,57 M |
| Operating Income | 24,04 M | 23,04 M | 18,48 M | 15,84 M |
| Operating Expense | 28,74 M | 27,79 M | 26,58 M | 21,73 M |
| Net Income | 17,11 M | 16,43 M | 12,87 M | 11,24 M |
| Item | 2022 | 2021 | 2020 | 2019 |
| --- | --- | --- | --- | --- |
| Total Assets | 76,45 M | 71,88 M | 70,58 M | 51,24 M |
| Total Liabilities | 74,88 M | 73,57 M | 67,28 M | 54,35 M |
| Total Equity | 1,56 M | -1,70 M | 3,30 M | -3,12 M |
| Item | 2022 | 2021 | 2020 | 2019 |
| --- | --- | --- | --- | --- |
| Operating Cash Flow | 14,62 M | 16,57 M | 18,84 M | 13,72 M |
| Investing Cash Flow | -3,14 M | -2,97 M | -10,17 M | -2,65 M |
| Financing Cash Flow | -10,99 M | -19,12 M | -2,98 M | -10,83 M |
| End Cash Position | 2,76 M | 2,34 M | 7,90 M | 2,13 M |
in USD (Jt = million, M = billion, T = trilion)
Executives
| | |
| --- | --- |
| Edward P. Decker | Chairman, Pres & CEO |
| Richard V. McPhail | Exec. VP & CFO |
| Matthew A. Carey | Exec. VP of Customer Experience |
| Ann-Marie Campbell | Exec. VP of U.S. Stores & International Operations |
| Angie Brown | Sr. VP of Technology |
| Haydn Chilcott | Sr. VP of Operations |
| Kimberly R. Scardino | SVP of Fin., Chief Accounting Officer & Controller |
| Fahim Siddiqui | Exec. VP & Chief Information Officer |
| Isabel Janci | VP of Investor Relations & Treasurer |
How to Buy
Home Depot, Inc. (HD)
Stocks
Interested in buying shares of this tech company? You can buy Home Depot, Inc. (HD) shares with simple steps:
Install Nanovest app on the App Store or Play Store.

Register according to the instructions.

Verify your identity for security and convenience when buying stocks through the

KYC feature

which you can do in just 1 minute.

Top Up your balance to your Nanovest account.

Go to the stock menu, search and select

Home Depot, Inc. (HD)

.

Click the Buy button and confirm the purchase with your desired amount. You can start with only IDR 5,000.
Before investing in the stocks you want, do some research and analysis first. You can do this by checking company profile, industry conditions, company financial reports, and analyzing previous stock price movements. This analysis is important so that you can develop an accurate investment strategy and minimize losses.
Is it Safe to Buy
Home Depot, Inc. (HD)
Stocks on Nanovest?
Of course. Nanovest is supported by a number of professional partners who have a good reputation in providing their services. One of them is supported by S-Quantum Engine technology by Sinarmas Financial Services.
For global and US stocks, Nanovest partners with brokers registered with the United Stated Financial Industry Regulatory Authority (FINRA) – which insures brokerage accounts held by Nanovest users up to U$S 500k by the United States Securities Investor Protection Corporation (SIPC).
For crypto assets, Nanovest is registered with the Commodity Futures Trading Supervisory Agency (Bappebti). The Nanovest platform itself has also been insured through a partnership with Sinarmas Insurance.
Disclaimer
All content on this website is for informational purposes and doesn't constitute a recommendation to buy/sell any stock or digital asset. Investors should understand the nature of stocks and digital assets, including return and risk requirements of the assets. We encourage investors to fully understand the assets and risks before making any investment. Always do your own research.
See More Stocks
---