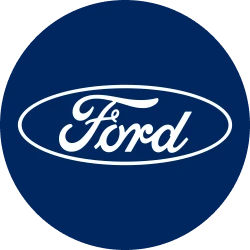 Ford is an American multinational car manufacturer based in Dearborn, Michigan. Founded by Henry Ford in 1903, this company is notable for introducing assembly line production methods for car manufacturing and has been a major player in the automotive industry for over a century.
About
Ford Motor Company (F)
Discussing Ford Motor Company is incomplete without delving into the footsteps of its founder, Henry Ford. Henry started with a simple vision: to produce cars that the average American citizen could afford. In 1903, when the company was established, the automotive concept was still considered a luxury item. However, with the innovation of mass production lines, Ford changed this paradigm.
In the process, Henry Ford not only revolutionized the automotive industry but also altered the world of work. The underlying philosophy in Ford's creation was to provide quality products at affordable prices while offering fair wages to its workers. Hence, the Model T, widely known as "the people's car," was brought to life.
Throughout its history, Ford has always upheld the values of innovation and sustainability. The company continues to innovate by developing technologies like electric and autonomous vehicles. Despite transformations, the commitment to providing safe, efficient, and environmentally friendly vehicles remains the core of the company.
Vision and Mission of Ford Motor Company (F)
Ford understands the importance of a vision for reaching the future. With the slogan "Go Further," Ford aims to create unforgettable experiences for its customers. Moreover, "Go Further" reflects Ford's spirit to continue innovating for a better future.
Ford's primary mission is to be a leading global automotive company. This is achieved by focusing on customers, quality, sustainability, safety, and integrity. With this mission, Ford is committed to delivering the best value to shareholders, customers, and the global community.
Ford comprehends that a car is not just a means of transportation. For many people, cars are a part of their life story. Therefore, Ford strives to continually create products that touch the hearts of its customers, while maintaining quality and integrity.
Products of Ford Motor Company (F)
Being one of the pioneers of the automotive industry, Ford possesses a legendary product lineup. From the revolutionary Model T, the iconic Mustang, to the robust F-Series trucks. Every product is crafted with high innovation and dedication.
With awareness of the importance of sustainability, Ford is also heavily investing in the development of electric and autonomous vehicles. For instance, the Mustang Mach-E, an electric SUV that combines performance and efficiency. Additionally, Ford is active in research and development of autonomous vehicles, moving towards the future of transportation.
Undeniably, Ford has touched the lives of millions worldwide. For instance, the F-Series has been the best-selling truck in America for over 40 years. This not only reflects the quality of the products but also the trust consumers place in Ford.
Key Figures in Ford Motor Company (F)
Behind the success of a company, there are always individuals who provide extraordinary dedication and vision. In Ford's history, there are several unforgettable names:
1. Henry Ford
Henry Ford, not just the founder of Ford Motor Company, is also a pioneer in the automotive industrial revolution. Born on July 30, 1863, Henry had a vision to bring cars to the hands of the common people, not just the elite. With the introduction of mass production lines, he managed to reduce production costs and make cars more affordable.
Under his leadership, the Model T was born and quickly became one of the most popular vehicles in America. He is also known for his philosophy on fair wages, allowing his workers to buy the products they made.
2. Edsel Ford
Edsel Ford, the son of Henry Ford, continued his father's legacy by contributing to the design and aesthetics of cars. Although often overshadowed by his father, Edsel had a progressive view on car design and technology. He played a vital role in introducing the Ford Model A in 1927 and was a key figure behind the birth of the Ford V8, defining the era of luxury cars in America.
3. Alan Mulally
Facing the 2008 global financial crisis, Ford, like many other automotive companies, was on the brink of bankruptcy. However, under Alan Mulally's leadership, Ford underwent a dramatic transformation. With the "One Ford" strategy, Mulally consolidated the company's global operations and focused on the main brand. This idea not only helped Ford avoid bankruptcy without government aid but also put the company on a path to sustainable growth.
Fluctuation of Ford Motor Company's (F) Stock Price
In the 1970s, the global energy crisis had a substantial impact on the automotive industry, including Ford. With its dominance in the market for large, fuel-inefficient vehicles, Ford experienced a significant decline in sales. Consequently, Ford's stock price plummeted, reflecting investor concerns about the company's future amidst these challenges.
Entering the '90s, with the introduction of trending SUVs and pickup trucks, Ford enjoyed a surge in sales and profits. New technologies and global market expansion fueled growth, and Ford's stock price reached its peak at the end of the '90s. This era also marked the introduction of several iconic models defining that generation.
Then the global financial crisis of 2008 struck the automotive industry severely. Many automotive companies sought government aid to survive. Although Ford did not receive a bailout like its competitors, its stock price fell to the lowest levels in decades. However, with the right strategies and leadership, Ford quickly recovered, demonstrating its resilience in weathering economic storms.
History and Development of Ford Motor Company (F)
In the early 20th century, when many still viewed cars as a luxury, Henry Ford saw greater potential. In 1903, with an investment of $28,000 from eleven investors, the Ford Motor Company was officially founded.
Three years later, in 1908, the company released the Model T. This car was not just an ordinary vehicle but a revolution. With innovative mass production lines, Ford managed to reduce car production time from 12 hours to 2.5 hours. Consequently, the Model T became widely affordable and popular.
Further, when World War II broke out, Ford Motor Company played a crucial role in the United States' war efforts. Its factories were converted to produce war equipment, including bomber planes, tank engines, and other military components. This effort not only showed Ford's dedication to the country but also its ability to adapt to the needs of the times.
Being an industry leader, Ford faced numerous challenges at the end of the 20th century. The energy crisis, competition from foreign car manufacturers, and changes in consumer taste forced Ford to innovate. In response, Ford launched fuel-efficient cars, invested in technology, and developed global strategies. For instance, the introduction of the Ford Taurus in 1985 quickly became one of the best-selling sedans in America.
In the early 21st century, with technological advancements and digitalization, Ford understood the importance of transformation. Through investments in autonomous car technology, electric vehicles, and new mobility solutions, Ford showcased its commitment to a sustainable future and global connectivity. Ford Smart Mobility, for example, is a corporate initiative to develop smart and efficient transportation solutions for today's urban societies.
Key Metrics
| | |
| --- | --- |
| Founded | Jun 16, 1903 |
| Headquarters | Dearborn, Michigan, United States |
| Website | https://www.ford.com/ |
| Number of employees | 173,000 |
Financial Summary
| Item | 2022 | 2021 | 2020 | 2019 |
| --- | --- | --- | --- | --- |
| Total Revenue | 158,06 M | 136,34 M | 127,14 M | 155,90 M |
| Cost of Revenue | 134,40 M | 114,65 M | 112,75 M | 134,69 M |
| Gross Profit | 23,66 M | 21,69 M | 14,39 M | 21,21 M |
| Operating Income | 12,77 M | 9,78 M | 4,20 M | 10,05 M |
| Operating Expense | 10,89 M | 11,92 M | 10,19 M | 11,16 M |
| Net Income | -1,98 M | 17,94 M | -1,28 M | 47 Jt |
| Item | 2022 | 2021 | 2020 | 2019 |
| --- | --- | --- | --- | --- |
| Total Assets | 255,88 M | 257,04 M | 267,26 M | 258,54 M |
| Total Liabilities | 212,72 M | 208,41 M | 236,45 M | 225,31 M |
| Total Equity | 43,17 M | 48,62 M | 30,81 M | 33,23 M |
| Item | 2022 | 2021 | 2020 | 2019 |
| --- | --- | --- | --- | --- |
| Operating Cash Flow | 6,85 M | 15,79 M | 24,27 M | 17,64 M |
| Investing Cash Flow | -4,35 M | 2,75 M | -18,62 M | -13,72 M |
| Financing Cash Flow | 2,51 M | -23,50 M | 2,32 M | -3,13 M |
| End Cash Position | 25,34 M | 20,74 M | 25,94 M | 17,74 M |
in USD (Jt = million, M = billion, T = trilion)
Executives
| | |
| --- | --- |
| William Clay Ford Jr. | Exec. Chairman |
| James D. Farley Jr. | Pres, CEO & Director |
| John T. Lawler | VP & CFO |
| John Douglas Field | Chief Advanced Product Devel. & Technology Officer |
| Ashwani Kumar Galhotra | Pres of Ford Blue |
| Lynn Antipas Tyson | Exec. Director of Investor Relations |
| Steven P. Croley | Chief Policy Officer & Gen. Counsel |
| Beth A. Rose | Chief Compliance, Ethics & Integrity Officer |
| Mark Truby | Chief Communications Officer |
How to Buy
Ford Motor Company (F)
Stocks
Interested in buying shares of this tech company? You can buy Ford Motor Company (F) shares with simple steps:
Install Nanovest app on the App Store or Play Store.

Register according to the instructions.

Verify your identity for security and convenience when buying stocks through the

KYC feature

which you can do in just 1 minute.

Top Up your balance to your Nanovest account.

Go to the stock menu, search and select

Ford Motor Company (F)

.

Click the Buy button and confirm the purchase with your desired amount. You can start with only IDR 5,000.
Before investing in the stocks you want, do some research and analysis first. You can do this by checking company profile, industry conditions, company financial reports, and analyzing previous stock price movements. This analysis is important so that you can develop an accurate investment strategy and minimize losses.
Is it Safe to Buy
Ford Motor Company (F)
Stocks on Nanovest?
Of course. Nanovest is supported by a number of professional partners who have a good reputation in providing their services. One of them is supported by S-Quantum Engine technology by Sinarmas Financial Services.
For global and US stocks, Nanovest partners with brokers registered with the United Stated Financial Industry Regulatory Authority (FINRA) – which insures brokerage accounts held by Nanovest users up to U$S 500k by the United States Securities Investor Protection Corporation (SIPC).
For crypto assets, Nanovest is registered with the Commodity Futures Trading Supervisory Agency (Bappebti). The Nanovest platform itself has also been insured through a partnership with Sinarmas Insurance.
Disclaimer
All content on this website is for informational purposes and doesn't constitute a recommendation to buy/sell any stock or digital asset. Investors should understand the nature of stocks and digital assets, including return and risk requirements of the assets. We encourage investors to fully understand the assets and risks before making any investment. Always do your own research.
See More Stocks
---