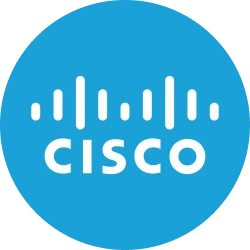 Cisco is a multinational technology company based in San Jose, California. Specializing in network and communication technology, Cisco produces and sells hardware, software, and other telecommunication products.
About
Cisco Systems, Inc. (CSCO)
Since its establishment in 1984, Cisco Systems, Inc. has marked itself as one of the technology industry pioneers in the United States. It was founded by the duo Len Bosack and Sandy Lerner, who initially were part of the research team at Stanford University, and Cisco subsequently evolved to symbolize excellence in network technology.
When you connect your device to the internet, there's a high likelihood that Cisco plays a role behind the scenes. With its headquarters located in San Jose, California, this company has carved significant footsteps in the global information technology development history.
Throughout its journey, Cisco's focus has not been solely on profit. Commitment to innovation and quality has always been the foundation of their operation. Every product released is not just a tool, but rather a smart solution tailored to contemporary needs. If this company was known only as a network router provider in the past, now Cisco has evolved into a global technology giant offering various digital solutions.
Of course, these achievements are inseparable from the leadership of several visionary CEOs. John Chambers, for example, who led Cisco for two decades since 1995, successfully brought Cisco to reach the peak of glory in the early digital era. However, the company's journey is certainly not over. With growing assets and incessant innovation, Cisco remains at the forefront of the technology industry.
Vision and Mission of Cisco Systems, Inc. (CSCO)
Cisco has a simple yet profound vision: "Changing the way we work, live, play, and learn." This vision depicts Cisco's determination to make technology an integral part of every aspect of human life. They believe that through technology, we can create a better, smarter, and of course, more connected world.
From this vision, Cisco's mission lays clear before us: "Providing solutions that transform how people connect, communicate, and collaborate." This is not just a beautiful sentence but a philosophy deeply rooted in every Cisco product and service. The company is dedicated to creating innovative solutions that not only meet needs but also inspire communities to continue growing.
Looking further, we can see how Cisco is committed to creating a positive impact on global society. They are not just talking about technological innovation but how this technology can bring tangible benefits to every individual's life. Whether it's in education, health, or even entertainment, Cisco is always striving to give the best to the world.
Products of Cisco Systems, Inc. (CSCO)
1. Router and Switch
One of Cisco's hallmark products is its network routers and switches. Designed with advanced technology, these products ensure every piece of data you send can reach its destination quickly and securely. No wonder, over 60% of companies in the US entrust their network needs to these products.
2. Security Products
In today's digital era, security is a priority. Cisco provides a variety of security products, ranging from firewalls, VPNs, to cloud security solutions. It is estimated that over 50% of major tech companies rely on Cisco's security solutions to protect their digital assets.
3. Collaboration Tools
Webex, one of Cisco's collaboration products, has now become a part of the working routine of millions of professionals around the world. This tool facilitates users to communicate, collaborate, and share information with colleagues wherever they are.
Important Figures in Cisco Systems, Inc. (CSCO)
Understanding Cisco would certainly be incomplete without considering the individuals who have made significant contributions to its growth. Let's delve into the journeys of three pivotal figures behind Cisco's success.
1. John Chambers
Thanks to his insightful leadership for over 20 years, Chambers has transformed Cisco from merely a technology startup into one of the world's largest technology companies. Starting his career at Cisco as Senior Vice President, Chambers quickly showcased his talents and was elected CEO in 1995. Under his leadership, Cisco weathered various economic and technological storms yet managed to maintain its position at the forefront of innovation.
2. Chuck Robbins
Succeeding Chambers in 2015, Robbins faced new challenges in maintaining Cisco's momentum amidst rapidly advancing technology. His focus on cloud solutions and security has helped Cisco navigate stiff competition. Robbins is also known for his inclusive approach, ensuring every team member has the opportunity to contribute and grow.
3. Len Bosack
One of the founders of Cisco, Bosack began his journey at Stanford University. Combining his love for technology with sharp business insight, Bosack, along with Sandy Lerner, successfully created revolutionary networking products, which later became the inception of Cisco. Although Bosack left Cisco in the early 1990s, his contributions remain unforgettable.
Cisco Systems, Inc. (CSCO) Stock Price Fluctuations
Historically, Cisco's stocks have seen dramatic fluctuations, reflecting the dynamics of the technology industry and the global economy.
In the late 1990s to the early 2000s, the world witnessed the turmoil of the 'dot-com bubble'. Cisco, being a key player in the technology industry, was not immune to its effects. In 2000, Cisco's stock price reached its peak, making it one of the companies with the largest market capitalization globally. However, this joy was short-lived. When the 'dot-com' bubble burst, Cisco's stocks plummeted drastically, experiencing a decline of over 80% from its highest price.
Like other major tech companies, Cisco successfully rebounded. Focusing on innovation and product diversification, Cisco was able to regain investors' trust. By the mid-2010s, Cisco's stocks were climbing again, although not reaching the same peak as in the 'dot-com' era.
These stock price fluctuations offer valuable lessons for investors. Although the growth potential of the tech industry is immense, the risks are also considerable. For Cisco itself, this journey proves its resilience and adaptability in facing market dynamics.
History and Development of Cisco Systems, Inc. (CSCO)
Entering the technology world in the 1980s, Cisco Systems, Inc. grew and evolved in tandem with the advancement of the digital era. Their story is an inspirational tale of transformation, from humble beginnings to becoming a global technology giant.
1984 marks a historical milestone for Len Bosack and Sandy Lerner. From a research room at Stanford University, they developed multi-protocol router technology, allowing computers in different laboratories to communicate with each other. This was the inception of the first Cisco router. With this revolutionary idea, they founded Cisco at their home, with initial funding from personal credit cards.
In the early 1990s, Cisco began expanding its wings by acquiring several small companies with potential technology. These acquisitions enriched Cisco's product portfolio and strengthened its market leadership. 1998 marked another significant milestone when Cisco bought switch manufacturer, Selsius Systems, marking Cisco's entry into the voice and video communications market.
As mentioned before, the early 2000s were characterized by the boom and subsequent bust of the 'dot-com'. Cisco successfully navigated through this difficult period by focusing on innovation and expansion. They began entering various other market segments like security, data storage, etc. By the middle of this decade, with the help of CEO John Chambers, Cisco managed to recover and enhance its market capitalization.
With the increasing development of cloud technology and internet-based solutions, Cisco intensified its efforts to compete in this market. The introduction of solutions like Cisco Webex marked the company's endeavor to stay relevant in a new era. Additionally, under Chuck Robbins' leadership, Cisco started focusing on cybersecurity solutions and cloud technology, ensuring that the company remains a key player in the technology industry.
Over a span of almost 40 years, Cisco has undergone an extraordinary journey, transforming from a small startup to one of the largest technology companies in the world. Behind every challenge and opportunity, Cisco continues to demonstrate its dedication and commitment to creating the best technology solutions for the world.
Key Metrics
| | |
| --- | --- |
| Founded | Dec 10, 1984 |
| Headquarters | San Jose, California, United States |
| Website | https://www.cisco.com/ |
| Number of employees | 84,900 |
Financial Summary
| Item | 2022 | 2021 | 2020 | 2019 |
| --- | --- | --- | --- | --- |
| Total Revenue | 57,00 m | 51,56 m | 49,82 m | 49,30 m |
| Cost of Revenue | 21,25 m | 19,31 m | 17,92 m | 17,62 m |
| Gross Profit | 35,75 m | 32,25 m | 31,89 m | 31,68 m |
| Operating Income | 15,56 m | 13,98 m | 13,72 m | 14,10 m |
| Operating Expense | 20,19 m | 18,27 m | 18,18 m | 17,58 m |
| Net Income | 12,61 m | 11,81 m | 10,59 m | 11,21 m |
| Item | 2022 | 2021 | 2020 | 2019 |
| --- | --- | --- | --- | --- |
| Total Assets | 101,85 m | 94,00 m | 97,50 m | 94,85 m |
| Total Liabilities | 57,50 m | 54,23 m | 56,22 m | 56,93 m |
| Total Equity | 44,35 m | 39,77 m | 41,28 m | 37,92 m |
| Item | 2022 | 2021 | 2020 | 2019 |
| --- | --- | --- | --- | --- |
| Operating Cash Flow | 19,89 m | 13,23 m | 15,45 m | 15,43 m |
| Investing Cash Flow | -5,11 m | 1,55 m | -5,29 m | 3,50 m |
| Financing Cash Flow | -11,63 m | -16,14 m | -12,04 m | -18,89 m |
| End Cash Position | 11,63 m | 8,58 m | 9,94 m | 11,81 m |
in USD (Jt = million, M = billion, T = trilion)
Executives
| | |
| --- | --- |
| Charles H. Robbins | Chairman & CEO |
| Richard Scott Herren | Exec. VP & CFO |
| Maria N. Martinez | Exec. VP & COO |
| Deborah L. Stahlkopf | Exec. VP, Chief Legal Officer & Chief Compliance Officer |
| Jeffery S. Sharritts | Exec. VP and Chief Customer & Partner Officer |
| M. Victoria Wong | Sr. VP & Chief Accounting Officer |
| Andrew Ashton | Sr. VP of Corp. Fin. |
| Fletcher Previn | Sr. VP & Chief Information Officer |
| Marilyn Mora | Director of Global Investor Relations |
How to Buy
Cisco Systems, Inc. (CSCO)
Stocks
Interested in buying shares of this tech company? You can buy Cisco Systems, Inc. (CSCO) shares with simple steps:
Install Nanovest app on the App Store or Play Store.

Register according to the instructions.

Verify your identity for security and convenience when buying stocks through the

KYC feature

which you can do in just 1 minute.

Top Up your balance to your Nanovest account.

Go to the stock menu, search and select

Cisco Systems, Inc. (CSCO)

.

Click the Buy button and confirm the purchase with your desired amount. You can start with only IDR 5,000.
Before investing in the stocks you want, do some research and analysis first. You can do this by checking company profile, industry conditions, company financial reports, and analyzing previous stock price movements. This analysis is important so that you can develop an accurate investment strategy and minimize losses.
Is it Safe to Buy
Cisco Systems, Inc. (CSCO)
Stocks on Nanovest?
Of course. Nanovest is supported by a number of professional partners who have a good reputation in providing their services. One of them is supported by S-Quantum Engine technology by Sinarmas Financial Services.
For global and US stocks, Nanovest partners with brokers registered with the United Stated Financial Industry Regulatory Authority (FINRA) – which insures brokerage accounts held by Nanovest users up to U$S 500k by the United States Securities Investor Protection Corporation (SIPC).
For crypto assets, Nanovest is registered with the Commodity Futures Trading Supervisory Agency (Bappebti). The Nanovest platform itself has also been insured through a partnership with Sinarmas Insurance.
Disclaimer
All content on this website is for informational purposes and doesn't constitute a recommendation to buy/sell any stock or digital asset. Investors should understand the nature of stocks and digital assets, including return and risk requirements of the assets. We encourage investors to fully understand the assets and risks before making any investment. Always do your own research.
See More Stocks
---