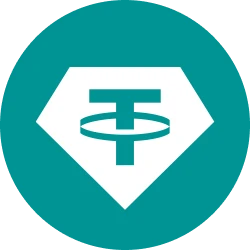 Tether is a type of cryptocurrency known as a "stablecoin" whose value is pegged to the US dollar. Tether is often used by traders and investors as a means to quickly exit or enter other crypto positions, given its stable price.
About
Tether (USDT)
In 2014, an entity called Realcoin emerged in the cryptocurrency scene. However, within a few months, Realcoin found its true identity and changed its name to Tether (USDT), as we know it today. Tether was designed as a cryptocurrency that tries to address issues in the crypto world.
With its value pegged one-to-one with the US dollar, Tether provides a balance amid the price fluctuations often seen in Bitcoin and other cryptocurrencies. With widespread adoption by various platforms, USDT has managed to establish its position as the dominant stablecoin.
Tether has experienced significant growth in recent years, reaching a remarkable market capitalization, making it one of the largest cryptocurrencies today.
Tether (USDT) Utilities
1. Value Stability
As a stablecoin, Tether allows its users to 'park' their funds in a digital form that doesn't experience price fluctuations like other cryptocurrencies. This is very useful, for example, when traders want to avoid market volatility for a while.
2. Transaction Bridge
Tether also serves as a transaction bridge between cryptocurrencies and fiat currencies. With a value equivalent to the dollar, USDT can be easily converted to fiat or other cryptocurrencies, facilitating transactions and increasing liquidity in the crypto market.
Tether (USDT) Working Mechanism
1. Blockchain Technology
Like other cryptocurrencies, Tether operates on blockchain technology. Tether originally operated on the Omni chain, but since then it has evolved to operate on various other chains such as Ethereum, Tron, and others.
2. Pegging Mechanism
The value of each Tether is pegged to the value of the US dollar. This is achieved by Tether Ltd. maintaining dollar reserves equivalent to the amount of Tether in circulation. These reserves are regularly audited to ensure that each circulating USDT is always backed by an equivalent dollar.
3. Security and Transparency
Security and transparency are two crucial aspects of Tether's operations. Transactions involving Tether are recorded in the blockchain, ensuring that every transaction can be verified and tracked. Additionally, regular audits ensure that the company adheres to the principles of transparency and fairness.
Tether (USDT) Uniqueness
1. Price Stability
The main uniqueness of Tether lies in its price stability. Despite being in the world of crypto known for its high price fluctuations, Tether offers stability because the value of each of its units is always pegged to the US dollar.
2. Operates on Multiple Blockchains
While other cryptocurrencies generally operate on a specific blockchain platform, Tether is unique in this respect as it functions on various blockchains such as Ethereum, Tron, Omni, and others.
Advantages of Tether (USDT)
1. Hedging Tool
In the highly volatile crypto market, Tether offers a safe hedge. When the market is volatile or there is market uncertainty, traders or investors can switch to Tether.
2. Transaction Facility
Tether facilitates quick transactions between fiat and crypto, and between different crypto exchanges. This means that traders and investors can quickly and easily move their funds.
Disadvantages of Tether (USDT)
1. Controversy and Lack of Transparency
Tether has been accused of a lack of transparency regarding their US dollar reserves. Some parties are skeptical of Tether's claim that every circulating USDT is backed by an equivalent US dollar.
2. Cannot Generate Passive Profits
Unlike some other cryptocurrencies, Tether does not provide opportunities for its holders to earn passive profits through mechanisms such as staking or farming.
Every investment instrument has its own advantages and disadvantages, and Tether is no exception. Understanding these pros and cons can help you make better and more informed investment decisions.
Key Features of Tether (USDT) Cryptocurrency
1. Value Stability
The main feature of Tether is the stability of its value. Every USDT is always pegged to the US Dollar, making it an effective tool to minimize volatility risks in the crypto ecosystem.
2. Blockchain Compatibility
USDT is not limited to one blockchain platform. Currently, Tether operates on Ethereum, Tron, Omni, and several other platforms, thereby expanding its reach within the crypto ecosystem.
3. Transparency
In an effort to maintain public trust, Tether strives to be as transparent as possible. Tether transactions can be traced and verified on the blockchain, and the US Dollar reserves supporting USDT are also regularly audited.
Key People in Tether (USDT) Cryptocurrency
Here are three important figures behind Tether.
1. J.R. Willett
Willett is the person who first proposed the concept of Tether. He released a white paper in 2012 that outlined the basic concept of what would later become Tether. He contributed to the basic idea of a "cryptocurrency pegged to fiat assets."
2. Brock Pierce
Brock Pierce is an entrepreneur and founder of Tether. He played a crucial role in introducing Tether to the world and guiding its early growth. He is also highly influential in the broader blockchain and crypto industry.
3. Reeve Collins
Reeve Collins is the CEO and one of the founders of Tether. He has extensive experience in building and managing technology businesses, and that experience has helped Tether navigate the highly competitive and dynamic environment of the crypto industry.
Knowing the key figures behind Tether and understanding its main features helps us understand how Tether has become a dominant cryptocurrency today. However, it should be remembered that as the crypto world evolves, there could be further changes and evolutions in Tether's features and operations.
History and Development of Tether (USDT)
Tether first emerged in 2014 under the name Realcoin, a project founded by Brock Pierce, Reeve Collins, and Craig Sellars. Realcoin was the first cryptocurrency that sought to combine the value stability of fiat currency with the advantages of blockchain technology. A few months after this announcement, Realcoin changed its name to Tether and created the first tokens pegged to the value of the US Dollar.
From the beginning, Tether's primary goal was to be a stablecoin, a cryptocurrency whose exchange rate is pegged to a certain asset to minimize price volatility. Over time, Tether managed to fulfill this goal and became one of the largest and most widely used stablecoins in the crypto market.
While initially operating on the Omni chain, Tether later expanded its scope to other platforms like Ethereum and Tron. This allowed Tether to reach more users and leverage the features offered by different blockchains.
Not free from controversy, Tether experienced a crisis of trust in 2017 and 2018 when the promised independent audits to prove their US Dollar reserves never materialized. This controversy affected Tether's reputation, yet Tether remained as the most dominant stablecoin in the market.
Despite past controversies, Tether remains one of the largest cryptocurrencies to date, with a large market capitalization and widespread use throughout the crypto ecosystem. The future of Tether seems to be closely tied to the development of the general crypto market, which continues to show rapid growth.
How to Buy
Tether (USDT)
Interested in purchasing this particular crypto asset? You can buy Tether (USDT) by following these steps:
Install Nanovest app on the App Store or Play Store.

Register according to the instructions.

Verify your identity for security and convenience when buying crypto through the

KYC feature

which you can do in just 1 minute.

Top Up your balance to your Nanovest account.

Go to the Crypto menu, search and select

Tether (USDT)

.

Click the Buy button and confirm the purchase with your desired amount. You can start with only IDR 5,000.
Before investing in the crypto asset you want, be sure to conduct research and analysis first. You can do this by checking the crypto asset profile, industry conditions, monitoring price movement trends, and observing its liquidity and trading volume. Performing this analysis is crucial so you can formulate an accurate investment strategy and minimize losses.
Is it Safe to Buy
Tether (USDT)
on Nanovest?
Absolutely. Nanovest is supported by a number of professional partners with a strong reputation for providing quality services. One of these includes the technology backing of the S-Quantum Engine by Sinarmas Financial Services.
For global and US stocks, Nanovest collaborates with brokers registered with the Financial Industry Regulatory Authority (FINRA) in the United States – which ensures Nanovest users' broker accounts up to US$500k by the Securities Investor Protection Corporation (SIPC) in the United States.
As for crypto assets, Nanovest is an Indonesian crypto exchange registered with the Commodity Futures Trading Regulatory Agency (Bappebti). The Nanovest platform itself is also insured through a partnership with Sinarmas Insurance.
Disclaimer
All content on this website is for informational purposes and doesn't constitute a recommendation to buy/sell any stock or crypto. Investors should understand the nature of stocks and digital assets, including return and risk requirements of the assets. We encourage investors to fully understand the assets and risks before making any investment. Always do your own research.
See More Cryptocurrency
---