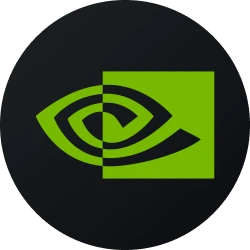 A multinational technology company based in Santa Clara, California. Nvidia is renowned for its graphic products and plays a vital role in the development of the market for Graphics Processing Units (GPUs), used in various applications from video games to artificial intelligence and cryptocurrency mining.
About Nvidia Corp. (NVDA)
Formed in 1993 by a visionary trio; Jensen Huang, Chris Malachowsky, and Curtis Priem, Nvidia Corporation has grown into one of the major players in the global technology world.
Headquartered in Santa Clara, California, USA, Nvidia made its debut as a developer of graphics chips for computer games. Over time, Nvidia evolved into an AI (Artificial Intelligence)-based technology company focusing on the gaming market, professional computing, and data centers.
Not only that, the company also entered the automotive market by developing AI systems for autonomous vehicles. The company has created a GPU (Graphics Processing Unit) chip that has revolutionized the world of gaming and visual-based computing. Every product they create always shows Nvidia's commitment to delivering innovation and advanced technology.
Nvidia's Vision and Mission
Nvidia's vision is "Building the most advanced computer technology to advance the future of mankind," while its mission is "Changing the world with the power of visual computing." The company's vision and mission demonstrate their dedication to being a leader in high technology and have a strong desire to help drive human progress through technology.
Nvidia is committed to continuously designing and developing advanced technologies that help individuals and businesses achieve their goals. This mission is reflected in every product and innovation they create.
Main Products of Nvidia
There are several main Nvidia products that have achieved global recognition and acceptance. Here are two of their greatest products:
1. Nvidia GeForce RTX 30 Series
The GeForce RTX 30 Series is Nvidia's latest product, a major technological leap in the world of computer graphics. This series is equipped with second-generation RTX technology, AI DLSS, and other technologies that provide better gaming performance.
This graphics chip is equipped with tensor cores, ray tracing cores, and new streaming multiprocessors that help in delivering realistic and detailed images in games.
2. Nvidia Drive AGX
Nvidia Drive AGX is a smart autonomous vehicle platform developed by Nvidia. This platform is designed to provide an integrated solution for automotive manufacturers to develop advanced autonomous vehicle systems.
Using AI and deep learning technology, Drive AGX can process sensor data and make decisions in real-time, providing a high level of safety and efficiency.
Key People of Nvidia
The following are three key figures behind Nvidia's success:
1. Jensen Huang
Jensen Huang is one of the founders and CEO of Nvidia. He has a background in electrical and computer engineering and is key in the company's vision and strategy. Huang has played a role in the development and production of several important Nvidia innovations, including the GPU, which has helped make Nvidia a leader in the graphics chip market.
2. Chris Malachowsky
Chris Malachowsky is also a founder of Nvidia and serves as a Fellow and Senior Vice President of Research and Development Operations. With a strong background in electrical engineering and computer engineering, Malachowsky has been the driving force behind some of Nvidia's most important technology innovations, including the Tesla GPU architecture and CUDA.
3. Curtis Priem
Curtis Priem, the third founder of Nvidia, played a crucial role in the formation of Nvidia's initial engineering team and in the development of their first GPU. Priem has an engineering background and previously worked at Sun Microsystems, where he was the chief chip designer for their graphics workstations.
Nvidia Stock Price Fluctuation
Throughout its history, Nvidia's stock price has experienced significant fluctuations. One notable event was the stock growth explosion in 2016. At that time, Nvidia released the Pascal GPU architecture, which provided a significant improvement in performance and energy efficiency.
This drove the adoption of Nvidia's GPUs in various applications, from gaming to data centers. As a result, Nvidia's stock price skyrocketed more than 200% in one year, marking one of the largest stock price increases in the company's history.
However, throughout 2018, Nvidia experienced a rather sharp decline in stock prices. This was due to a slowdown in growth in the gaming market and a decrease in demand for GPUs from cryptocurrency miners, which had previously been a major driver of Nvidia GPU sales.
In 2020, Nvidia again experienced a significant rise in stock prices, along with an increase in demand for their GPUs in the data center and gaming markets due to the COVID-19 pandemic.
Interesting History of Nvidia
Nvidia was founded in 1993 by Jensen Huang, Chris Malachowsky, and Curtis Priem. They focused on developing graphic processor technology known as Graphics Processing Units (GPUs). With strong ambition and clear vision, they released their first GPU, the NV1, in 1995. This product paved the way for Nvidia in the technology industry.
1. Shift in Focus to GPU and CUDA
In 1999, Nvidia released the GeForce 256, the first GPU designed to compute geometric transformations, which was previously a task for the main processor (CPU). This innovation brought Nvidia to the forefront of the computer graphics industry.
The company continued its innovation momentum by launching CUDA in 2006, a parallel computing platform and programming model that allows the use of GPUs for general data processing, not just graphics. CUDA has influenced various fields, from scientific research to cryptocurrency mining.
2. Gaming and AI Industry Explosion
Nvidia became an integral part of the gaming industry boom in the 2010s. With their advanced GPUs, they enabled game developers to create more realistic and detailed virtual worlds. At the same time, Nvidia began to shift their focus to artificial intelligence (AI), adapting their GPUs for training deep neural networks.
In 2016, Nvidia released the Pascal GPU architecture, which provided a significant improvement in performance and energy efficiency. This drove the adoption of Nvidia's GPUs in various applications, from gaming to data centers, and caused an explosion in Nvidia's stock price growth.
3. Expansion into Autonomous Vehicles
Over the past few years, Nvidia has expanded its scope to the automotive market by developing AI systems for autonomous vehicles. Nvidia Drive, the latest product in this field, has been well received by car manufacturers, who see this technology as a way to accelerate the development of autonomous cars.
Over time, Nvidia continues to solidify its position as a leader in the technology world, pushing the boundaries of innovation and redefining the way we interact with the digital world.
Key Metrics
| | |
| --- | --- |
| Founded | April 1993 |
| Headquarters | Santa Clara, California, United States |
| Website | http://www.nvidia.com/ |
| Number of employees | 26,196 |
Financial Summary
| Item | 2022 | 2021 | 2020 | 2019 |
| --- | --- | --- | --- | --- |
| Total Revenue | 26,97 M | 26,91 M | 16,68 M | 10,92 M |
| Cost of Revenue | 11,62 M | 9,44 M | 6,28 M | 4,15 M |
| Gross Profit | 15,36 M | 17,48 M | 10,40 M | 6,77 M |
| Operating Income | 5,58 M | 10,04 M | 4,53 M | 2,85 M |
| Operating Expense | 9,78 M | 7,43 M | 5,86 M | 3,92 M |
| Net Income | 4,37 M | 9,75 M | 4,33 M | 2,80 M |
| Item | 2022 | 2021 | 2020 | 2019 |
| --- | --- | --- | --- | --- |
| Total Assets | 41,18 M | 44,19 M | 28,79 M | 17,31 M |
| Total Liabilities | 19,08 M | 17,58 M | 11,90 M | 5,11 M |
| Total Equity | 22,10 M | 26,61 M | 16,89 M | 12,20 M |
| Item | 2022 | 2021 | 2020 | 2019 |
| --- | --- | --- | --- | --- |
| Operating Cash Flow | 5,64 M | 9,11 M | 5,82 M | 4,76 M |
| Investing Cash Flow | 73,38 M | -9,83 M | -19,68 M | 6,15 M |
| Financing Cash Flow | -11,62 M | 1,87 M | 3,80 M | -792 Jt |
| End Cash Position | 3,39 M | 1,99 M | 847 Jt | 10,90 M |
in USD (Jt = million, M = billion, T = trilion)
Executives
| | |
| --- | --- |
| Jen-Hsun Huang | Co-Founder, CEO, Pres & Director |
| Colette M. Kress | Exec. VP & CFO |
| Debora Shoquist | Exec. VP of Operations |
| Timothy S. Teter | Exec. VP, Gen. Counsel & Sec. |
| Ajay K. Puri | Exec. VP of Worldwide Field Operations |
| Chris A. Malachowsky | Co-Founder |
| Donald F. Robertson Jr. | VP & Chief Accounting Officer |
| William J. Dally | Chief Scientist & Sr. VP of Research |
| Simona Jankowski C.F.A., J.D. | VP of Investor Relations |
How to Buy NVDA Stocks
Interested in buying shares of this tech company? You can buy NVDA shares with simple steps:
Install Nanovest app on the App Store or Play Store.

Register according to the instructions.

Verify your identity for security and convenience when buying stocks through the

KYC feature

which you can do in just 1 minute.

Top Up your balance to your Nanovest account.

Go to the stock menu, search and select Nvidia Corp. (NVDA).

Click the Buy button and confirm the purchase with your desired amount. You can start with only IDR 5,000.
Before investing in the stocks you want, do some research and analysis first. You can do this by checking company profile, industry conditions, company financial reports, and analyzing previous stock price movements. This analysis is important so that you can develop an accurate investment strategy and minimize losses.
Is it Safe to Buy NVDA Stocks on Nanovest?
Of course. Nanovest is supported by a number of professional partners who have a good reputation in providing their services. One of them is supported by S-Quantum Engine technology by Sinarmas Financial Services.
For global and US stocks, Nanovest partners with brokers registered with the United Stated Financial Industry Regulatory Authority (FINRA) – which insures brokerage accounts held by Nanovest users up to U$S 500k by the United States Securities Investor Protection Corporation (SIPC).
For crypto assets, Nanovest is registered with the Commodity Futures Trading Supervisory Agency (Bappebti). The Nanovest platform itself has also been insured through a partnership with Sinarmas Insurance.
Disclaimer
All content on this website is for informational purposes and doesn't constitute a recommendation to buy/sell any stock or digital asset. Investors should understand the nature of stocks and digital assets, including return and risk requirements of the assets. We encourage investors to fully understand the assets and risks before making any investment. Always do your own research.
See More Stocks
---