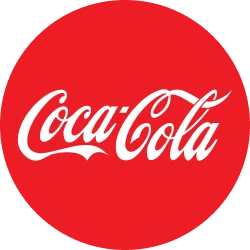 Coca-Cola is a multinational beverage company based in Atlanta, Georgia. Founded in 1892, Coca-Cola is a leading producer, retailer, and marketer of non-alcoholic beverages, with its flagship product being the carbonated drink Coca-Cola.
About
The Coca Cola Company (KO)
The Coca-Cola Company, widely known as Coca-Cola, is an American multinational company focused on carbonated beverages. The company was founded by a pharmacist named John S. Pemberton on May 8, 1886. The company's headquarters are located in Atlanta, Georgia, United States.
The company has grown and developed throughout the 20th century, through careful and aggressive expansion to various countries around the world. Today, Coca-Cola has achieved global recognition as one of the most famous and valuable brands in the world, ranking high in various surveys and global brand indices.
Vision and Mission
The Coca-Cola Company has a clear vision and mission that focus on self-renewal. Coca-Cola is committed to driving sustainable growth and creating value for its shareholders.
The company's vision is "To refresh the world…To inspire moments of optimism and happiness…To create value and make a difference."
In carrying out this vision, Coca-Cola has formulated a series of specific missions. Their mission is to provide drinks that can refresh the world, create an inspiring workplace for employees, maintain sustainability, create value for shareholders, and be responsible global citizens.
Main Products of The Coca-Cola Company
As one of the largest beverage companies in the world, The Coca-Cola Company produces a variety of drinks loved by millions of people worldwide. Here are some of its flagship products:
1. Coca-Cola
This is the company's iconic product first introduced by John Stith Pemberton in 1886. Coca-Cola, often called "Coke", is a carbonated drink with a distinctive sweet taste that has become a symbol of American culture and is popular worldwide.
2. Diet Coke
Launched in 1982, Diet Coke is The Coca-Cola Company's answer to consumer demand for low-calorie carbonated beverages. Diet Coke has become the world's most popular diet drink and has driven the company to continue innovating in providing healthy drink choices for its consumers.
3. Coca-Cola Zero Sugar
As part of the company's effort to offer healthier products, The Coca-Cola Company launched Coca-Cola Zero Sugar in 2005. This product offers the same taste as classic Coca-Cola but without calories and sugar, and has become a favorite among consumers looking for a sugar-free carbonated drink alternative.
4. Sprite and Fanta
The Coca-Cola Company also produces Sprite, a carbonated beverage with lemon and lime flavors, and Fanta, a carbonated fruit-flavored beverage. Both products offer fun taste and color variations and have become favorites among young consumers worldwide.
5. Non-Carbonated Beverages
Recognizing a shift in consumer preferences towards non-carbonated beverages, The Coca-Cola Company also introduced various non-carbonated drink products, including fruit juice (Minute Maid), tea (Honest Tea), mineral water (Dasani), and sports drinks (Powerade).
3 Key Figures in The Coca-Cola Company
Here are three key figures behind the success of The Coca-Cola Company:
John Stith Pemberton

– Pemberton is the founder of The Coca-Cola Company. As a pharmacist, he created the formula for a carbonated drink that later became the basis for Coca-Cola in 1886. Although he sold the Coca-Cola patent rights before his death, his contribution to the company cannot be overlooked.

Asa Griggs Candler

– After buying the Coca-Cola patent rights from Pemberton, Candler developed Coca-Cola into the world's largest carbonated beverage company by the end of the 19th century. His leadership and marketing strategies turned Coca-Cola from a pharmacy experiment into an American cultural symbol and a global brand.

Robert W. Goizueta

– Goizueta served as Coca-Cola's CEO from 1981 to 1997. Under his leadership, Coca-Cola experienced rapid growth and showed significant revenue increases. Goizueta is also known for his role in introducing Diet Coke and Coca-Cola Classic.
Fluctuations in The Coca-Cola Company's Stock Price
Since its initial public offering (IPO) in 1919, The Coca-Cola Company has shown an interesting history of stock price fluctuations. The company's stock was traded at $40 per share at its initial offering, and has now grown to be one of the most valuable stocks on the stock exchange.
There have been several key moments in the history of Coca-Cola's stock price. For example, in the 1980s, the company's stock price soared sharply in line with Coca-Cola's increased global sales and the launch of new products like Diet Coke.
Next, in 1997, when CEO Robert Goizueta passed away, Coca-Cola's stock price plummeted dramatically. However, the company managed to recover and continued to show stable growth in the following years.
Another period of fluctuation occurred during the 2008-2009 global economic crisis, where Coca-Cola's stock price experienced a significant drop. However, thanks to effective management strategies and increased markets in developing countries, its stock price recovered and continued to grow in the following years.
Interesting History of The Coca-Cola Company
The history and development of The Coca-Cola Company is an extraordinary story of innovation, expansion, and adaptation to changing times.
The Coca-Cola Company was founded by John Stith Pemberton, a pharmacist in Atlanta, Georgia, in 1886. Pemberton created a syrup formula mixed with soda water, which was later known as Coca-Cola. However, this product did not immediately become popular. Pemberton then sold the Coca-Cola patent rights to a local businessman, Asa Griggs Candler, who saw great business potential.
Under the leadership of Asa Griggs Candler, Coca-Cola grew rapidly. Candler used innovative marketing techniques to promote Coca-Cola, such as offering free coupons to try the drink, which eventually popularized Coca-Cola throughout America. He also sold the rights to bottle and distribute Coca-Cola, which allowed the product to reach a wider market.
Coca-Cola continued to grow throughout the 20th century. Under the leadership of Robert W. Goizueta, Coca-Cola launched new products like Diet Coke in 1982, which became the world's most popular diet drink. The company also developed other variants like Coca-Cola Cherry and Coca-Cola Vanilla, and changed their packaging and logo design over time.
Heading into the digital era, Coca-Cola continues to innovate and adapt to changes in consumer lifestyles. The company has launched new products like Coca-Cola Zero Sugar and various types of non-carbonated beverages, and utilized digital technology in the marketing and distribution of its products. Coca-Cola has also taken significant steps to promote sustainability and social responsibility, such as efforts to reduce plastic and community programs.
Key Metric
| | |
| --- | --- |
| Founded | 1892 |
| Headquarters | Atlanta, Georgia, United States |
| Website | http://www.coca-colacompany.com/ |
| Number of employees | 82,500 |
Financial Summary
| Item | 2022 | 2021 | 2020 | 2019 |
| --- | --- | --- | --- | --- |
| Total Revenue | 43,00 M | 38,66 M | 33,01 M | 37,27 M |
| Cost of Revenue | 18,00 M | 15,36 M | 13,43 M | 14,62 M |
| Gross Profit | 25,00 M | 23,30 M | 19,58 M | 22,65 M |
| Operating Income | 10,91 M | 10,31 M | 8,99 M | 10,09 M |
| Operating Expense | 14,10 M | 12,99 M | 10,58 M | 12,56 M |
| Net Income | 9,54 M | 9,77 M | 7,75 M | 8,92 M |
| Item | 2022 | 2021 | 2020 | 2019 |
| --- | --- | --- | --- | --- |
| Total Assets | 92,76 M | 94,35 M | 87,30 M | 86,38 M |
| Total Liabilities | 66,94 M | 69,49 M | 66,01 M | 65,28 M |
| Total Equity | 25,83 M | 24,86 M | 21,28 M | 21,10 M |
| Item | 2022 | 2021 | 2020 | 2019 |
| --- | --- | --- | --- | --- |
| Operating Cash Flow | 11,02 M | 12,63 M | 9,84 M | 10,47 M |
| Investing Cash Flow | -763 Jt | -2,77 M | -1,48 M | -3,98 M |
| Financing Cash Flow | -10,25 M | -6,79 M | -8,07 M | -9,00 M |
| End Cash Position | 9,83 M | 10,02 M | 7,11 M | 6,74 M |
in USD (Jt = million, M = billion, T = trilion)
Executives
| | |
| --- | --- |
| James Robert B. Quincey | Chairman & CEO |
| John Murphy | Pres & CFO |
| Manuel Arroyo Prieto | Chief Marketing Officer |
| Mark Randazza | VP, Assistant Controller & Chief Accounting Officer |
| Nancy W. Quan | Sr. VP and Chief Technical & Innovation Officer |
| Neeraj Tolmare | Global Chief Information Officer |
| Robin Halpern | VP & Global Head of Investor Relations |
| Monica Howard Douglas | Sr. VP & Gen. Counsel |
| Beatriz R. Perez | Sr. VP & Global Chief of Communications, Sustainability and Strategic Partnerships Officer |
How to Buy
Coca Cola (KO)
Stocks
Interested in buying shares of this tech company? You can buy KO shares with simple steps:
Install Nanovest app on the App Store or Play Store.

Register according to the instructions.

Verify your identity for security and convenience when buying stocks through the

KYC feature

which you can do in just 1 minute.

Top Up your balance to your Nanovest account.

Go to the stock menu, search and select

The Coca Cola Company (KO)

.

Click the Buy button and confirm the purchase with your desired amount. You can start with only IDR 5,000.
Before investing in the stocks you want, do some research and analysis first. You can do this by checking company profile, industry conditions, company financial reports, and analyzing previous stock price movements. This analysis is important so that you can develop an accurate investment strategy and minimize losses.
Is it Safe to Buy
Coca Cola
Stocks on Nanovest?
Of course. Nanovest is supported by a number of professional partners who have a good reputation in providing their services. One of them is supported by S-Quantum Engine technology by Sinarmas Financial Services.
For global and US stocks, Nanovest partners with brokers registered with the United Stated Financial Industry Regulatory Authority (FINRA) – which insures brokerage accounts held by Nanovest users up to U$S 500k by the United States Securities Investor Protection Corporation (SIPC).
For crypto assets, Nanovest is registered with the Commodity Futures Trading Supervisory Agency (Bappebti). The Nanovest platform itself has also been insured through a partnership with Sinarmas Insurance.
Disclaimer
All content on this website is for informational purposes and doesn't constitute a recommendation to buy/sell any stock or digital asset. Investors should understand the nature of stocks and digital assets, including return and risk requirements of the assets. We encourage investors to fully understand the assets and risks before making any investment. Always do your own research.
See More Stocks
---