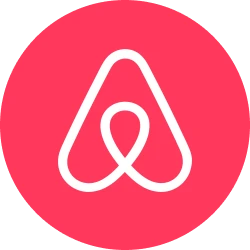 Airbnb is an online marketplace that connects people wanting to rent out their homes with people seeking accommodation. Established in 2008, Airbnb has revolutionized the hospitality industry with its unique business model that allows individuals to rent out their properties or spaces to guests.
About
Airbnb, Inc. (ABNB)
Airbnb, Inc. is an online marketplace platform headquartered in San Francisco, California. Airbnb introduced a revolutionary concept in the travel and hospitality sectors, leveraging digital technology to bridge unique accommodation providers and travelers worldwide.
Founded in 2008 by Brian Chesky, Joe Gebbia, and Nathan Blecharczyk, Airbnb has shifted the paradigm about where to stay while traveling. Initially springing from the idea of creating affordable accommodation alternatives by utilizing their apartment's spare space, Airbnb has now expanded to over 100,000 cities in 220+ countries.
Airbnb, Inc.'s Vision and Mission
Airbnb strives to create a world where everyone can feel part of a community, no matter where they are. To achieve this vision, the company has a mission to create an environment where everyone can feel "at home" anytime and anywhere.
Key Products of Airbnb, Inc.
Airbnb offers a variety of unique products that go beyond mere accommodation. Here are some key products offered by Airbnb:
1. Airbnb Homes
This product is the core of Airbnb, providing millions of unique accommodations worldwide, from apartments and houses to even castles. This product allows hosts to share their spaces with travelers, offering a more local and authentic experience.
2. Experiences
Airbnb Experiences enable locals to share their knowledge and expertise with travelers. From cooking with professional chefs, local walking tours, to meditating with monks, all can be accessed through the Airbnb platform.
3. Airbnb Plus
This is a collection of premium accommodations that have been rigorously inspected by Airbnb. All properties on Airbnb Plus have passed a 100+ point inspection, ensuring quality and comfort for users.
4. Airbnb for Work
This product is designed to meet business travel needs. From comfortable places to stay to shared workspaces, everything is provided in Airbnb for Work.
5. Airbnb Luxe
As the highest segment, Airbnb Luxe provides ultra-luxury accommodations with specialized concierge services.
Airbnb continues to innovate in creating products that enrich travelers' experiences. Moreover, with its "Host Guarantee" policy that insures host losses up to $1 million, Airbnb is committed to creating a safe and reliable platform.
Airbnb has successfully built an ecosystem that helps people from various corners of the world to connect, share, and experience unique experiences that traditional hotels or inns cannot offer.
Key Figures in Airbnb, Inc.
Airbnb was built by three key individuals who have played a significant role in the development and success of the company. Here are their profiles:
1. Brian Chesky
As the CEO and one of the founders of Airbnb, Brian Chesky is a key figure in turning Airbnb's vision into reality. A graduate of the Rhode Island School of Design, he is known for his innovative and creative leadership. Chesky believes that design is not just about aesthetics, but also about how a product or service can help solve people's problems.
2. Joe Gebbia
Joe Gebbia is the Chief Product Officer and another founder of Airbnb. Gebbia is responsible for the appearance and functionality of Airbnb products, with a mission to create extraordinary user experiences. He is also a graduate of the Rhode Island School of Design and, together with Chesky, they both pioneered the idea of Airbnb from their living room.
3. Nathan Blecharczyk
Nathan Blecharczyk is the CTO and the third founder of Airbnb. He is the figure behind Airbnb's technology, ensuring that the platform works well and is safe for millions of users. This Harvard graduate also played a vital role in Airbnb's global expansion.
Airbnb, Inc. Stock Price History
As a public company listed on NASDAQ under the symbol ABNB, Airbnb's stock price history is quite volatile. Here are some significant moments in their stock price history:
Airbnb went public in December 2020, with an initial offering price (IPO) of $68 per share. However, at the close of the first day of trading, Airbnb's share price soared to $144.99 per share, more than doubling from the IPO price. This shows the high enthusiasm of investors towards Airbnb's business model.
The COVID-19 pandemic had a significant impact on Airbnb. In early 2020, Airbnb's share price plunged up to 50% from the IPO price. This was due to a drastic decline in the travel and tourism sector. However, Airbnb bounced back and showed an increase in the second quarter of 2021, with share prices reaching $156 per share.
Interesting History of Airbnb, Inc.
Airbnb was born from what seemed to be a simple yet revolutionary idea: opening up their homes to people needing a place to stay. Here's a recap of Airbnb's journey:
When a design conference in San Francisco made hotels full, Brian Chesky and Joe Gebbia, the two founders of Airbnb, saw an opportunity to make extra money. They rented out their living room and provided breakfast, hence the original name 'Airbed and Breakfast,' which was later shortened to Airbnb.
In August 2008, Airbnb officially launched its website. The company was then accepted into the Y Combinator accelerator program, which provided initial capital and guidance for startups.
Airbnb began its global expansion by opening offices in London and Germany, starting from 2009 to 2011. They also began offering more than just accommodations, such as 'Experiences,' allowing locals to share their expertise and knowledge with travelers.
In just four years, precisely in 2012, Airbnb had served more than 10 million guests. The company continued to grow, entering the Asian market by opening an office in Singapore.
Fast forward to 2014, Airbnb launched several new products such as 'Business Travel' and 'Airbnb for Work,' aimed to meet business travel needs.
Despite the major challenges of the COVID-19 pandemic in 2020, Airbnb successfully carried out an initial public offering (IPO) in December 2020. They managed to get through the tough times and returned to a growth trajectory in 2021.
Through this journey, Airbnb has changed the way people travel and stay. With their innovative business model, Airbnb has created a new market and opened opportunities for millions of people worldwide.
Key Metric
| | |
| --- | --- |
| Founded | August 2008 |
| Headquarters | San Francisco, California, United States |
| Website | http://www.airbnb.com/ |
| Number of employees | 6,811 |
Financial Summary
| Item | 2022 | 2021 | 2020 | 2019 |
| --- | --- | --- | --- | --- |
| Total Revenue | 8,40 M | 5,99 M | 3,38 M | 4,81 M |
| Cost of Revenue | 1,50 M | 1,16 M | 876 Jt | 1,20 M |
| Gross Profit | 6,90 M | 4,84 M | 2,50 M | 3,61 M |
| Operating Income | 1,89 M | 542 Jt | -3,44 M | -501 Jt |
| Operating Expense | 5,01 M | 4,29 M | 5,94 M | 4,11 M |
| Net Income | 1,89 M | -352 Jt | -4,58 M | -674 Jt |
| Item | 2022 | 2021 | 2020 | 2019 |
| --- | --- | --- | --- | --- |
| Total Assets | 16,04 M | 13,71 M | 10,49 M | 8,31 M |
| Total Liabilities | 10,48 M | 8,93 M | 7,59 M | 9,12 M |
| Total Equity | 5,56 M | 4,78 M | 2,90 M | -807 Jt |
| Item | 2022 | 2021 | 2020 | 2019 |
| --- | --- | --- | --- | --- |
| Operating Cash Flow | 3,43 M | 2,19 M | -629 Jt | 222 Jt |
| Investing Cash Flow | -28 Jt | -1,35 M | 79 Jt | -347 Jt |
| Financing Cash Flow | -689 Jt | 1,43 M | 2,94 M | 854 Jt |
| End Cash Position | 12,10 M | 9,73 M | 7,67 M | 5,14 M |
in USD (Jt = million, M = billion, T = trilion)
Executives
| | |
| --- | --- |
| Brian Chesky | Co-Founder, CEO, Head of Community & Chairman |
| Nathan Blecharczyk | Co-Founder, Chief Strategy Officer & Director |
| David E. Stephenson | CFO & Head of Employee Experience |
| Aristotle N. Balogh | Chief Technology Officer |
| Catherine Powell | Global Head of Hosting |
| Joseph Gebbia | Co-Founder, Chairman of Airbnb.org. and Director |
| Tara Lynn Bunch | Global Head of Operations |
| Richard N. Baer | Chief Legal Officer |
| Jay Carney | Global Head of Policy & Communications |
How to Buy
ABNB
Stocks
Interested in buying shares of this tech company? You can buy ABNB shares with simple steps:
Install Nanovest app on the App Store or Play Store.

Register according to the instructions.

Verify your identity for security and convenience when buying stocks through the

KYC feature

which you can do in just 1 minute.

Top Up your balance to your Nanovest account.

Go to the stock menu, search and select

Airbnb, Inc. (ABNB)

.

Click the Buy button and confirm the purchase with your desired amount. You can start with only IDR 5,000.
Before investing in the stocks you want, do some research and analysis first. You can do this by checking company profile, industry conditions, company financial reports, and analyzing previous stock price movements. This analysis is important so that you can develop an accurate investment strategy and minimize losses.
Is it Safe to Buy
ABNB
Stocks on Nanovest?
Of course. Nanovest is supported by a number of professional partners who have a good reputation in providing their services. One of them is supported by S-Quantum Engine technology by Sinarmas Financial Services.
For global and US stocks, Nanovest partners with brokers registered with the United Stated Financial Industry Regulatory Authority (FINRA) – which insures brokerage accounts held by Nanovest users up to U$S 500k by the United States Securities Investor Protection Corporation (SIPC).
For crypto assets, Nanovest is registered with the Commodity Futures Trading Supervisory Agency (Bappebti). The Nanovest platform itself has also been insured through a partnership with Sinarmas Insurance.
Disclaimer
All content on this website is for informational purposes and doesn't constitute a recommendation to buy/sell any stock or digital asset. Investors should understand the nature of stocks and digital assets, including return and risk requirements of the assets. We encourage investors to fully understand the assets and risks before making any investment. Always do your own research.
See More Stocks
---